The Go-Go's and the Psychedelic Furs closed out my own personally selected Summer concert series at the always awesome Mountain Winery last night and I can't imagine a better send off, with two classic and important 80s bands in top form playing their many hits, back to back.  A bit of a contrast in styles (though both bands, in their own ways, were a result of and reaction to the 70s punk movement), it was very much a celebration of the wide ranging and innovation music born during my favorite decade.  The Furs opened with what I would characterize as the best live performance I've seen from them, and the Go-Go's closed it out with a fun and energetic set that felt very warm and personalized for the audience.  A great night hosted by two stellar bands, and I feel fortunate to have had a chance to be part of it.
Who: The Go-Go's
Supporting: The Psychedelic Furs
Venue: Mountain Winery
Presented By: Goldenvoice / AEG and Canadian Solar
Where: Saratoga, California
When: September 30, 2012
Seating: Section 1, Row A, Seat 3 & 4 (front row slightly to right of center, center floor section)
For me, the show was very much a double header – I would have paid to see either band independently – so an evening filled with music from both was just fantastic.  With this show, the Psychedelic Furs opened, so I will start with their half and continue on with The Go-Go's further below.
The Psychedelic Furs
Members
Richard Butler
Tim Butler
Richard Good
Mars Williams
Amanda Kramer
Paul Garisto
The Psychedelic Furs are a principal band in the post-punk New Wave movement that was born out of the UK in the late 70s and early 80s.
Formed in the British punk scene in 1977, the band, founded by brothers Richard Butler on lead vocals and Tim Butler on bass, went through a series of band names (RKO, Radio, The Europeans) before committing to The Psychedelic Furs.
The first (eponymous) album was produced by the legendary Steve Lillywhite (who worked with U2, The Rolling Stones, Morrissey, Sioxusie and the Banshees, Talking Heads, Peter Gabriel, and more) and released in 1980.  The first song of theirs I remember hearing was "Love My Way", which came off of their 1982 album, Forever Now.
Their biggest moment in the U.S. came from a re-recorded version of "Pretty in Pink", which was featured in the John Hughes film starring Molly Ringwold.  The song has, over the decades, really come to represent much about the 80s…  the New Wave/post punk movement, it's captured a bit of the vibe and atmosphere which was unique at that time, college radio, John Hughes' teen-centric films reflecting those times, and more.
The band did part ways in the early 90s, and Richard and Tim formed their own Love Spit Love.  The band came back together again in 2000 and have toured on and off.
The last time I saw the band perform was in support of the Yazoo (Yaz) "Reconnected" tour, which I managed to catch in Orange County in 2008.  For that show, I was nowhere near the front, so it was incredible to witness last night's show from just below the low stage set-up at Mountain Winery.
Below is a photo of Richard Butler's setlist:
Psychedelic Furs Setlist:
Only You and I
Love My Way
Jones
Heartbreak Beat
No Easy Street
Little Miss World
All Of This And Nothing
Pretty in Pink
Highwire Days
Heaven
Highlights for me last night were "Love My Way", "Heartbreak Beat", "All Of This And Nothing" and "Pretty in Pink".  Ah, they did skip two of my favorites though – "President Gas" and "All That Money Wants".
All in all, it was simply awesome to get to catch them live again, and look forward to seeing them again should I get the chance.
Below is a video of The Psychedelic Furs performing "Pretty in Pink":
Below are some photos of The Psychedelic Furs performing on stage: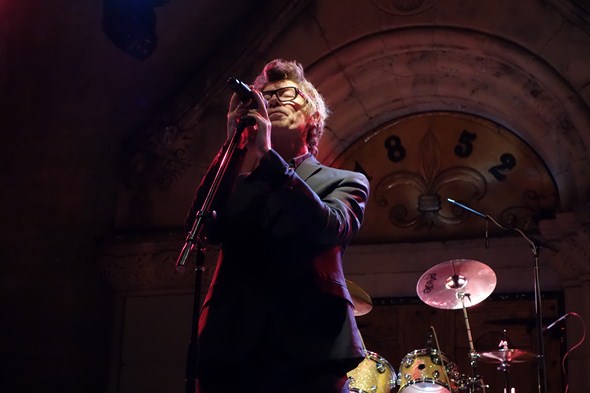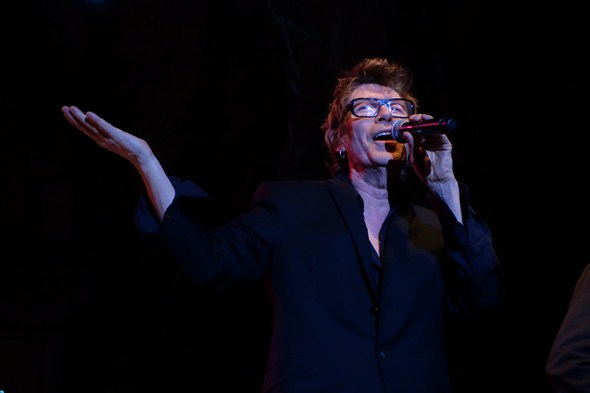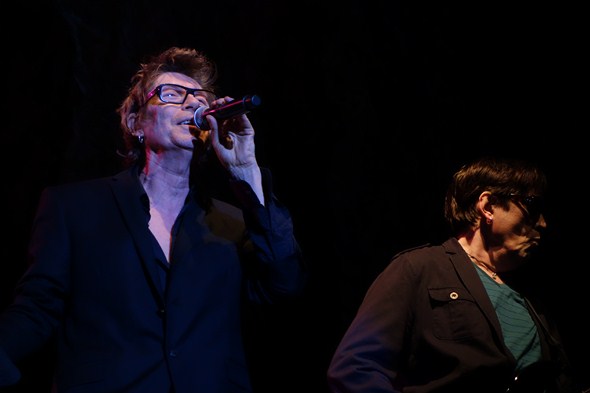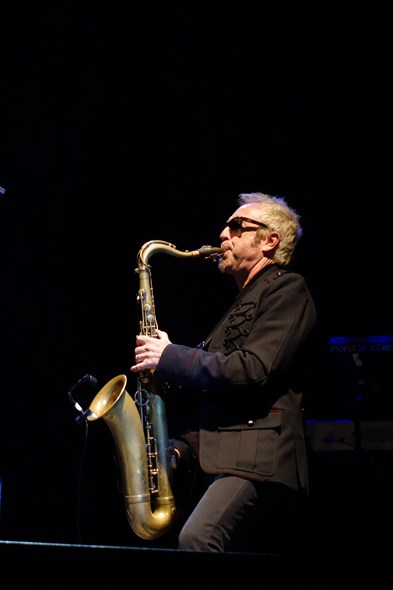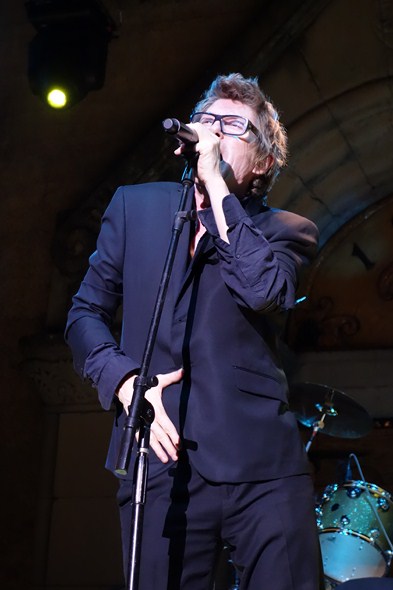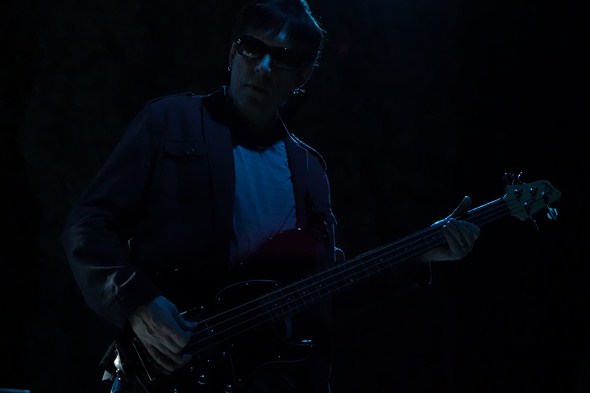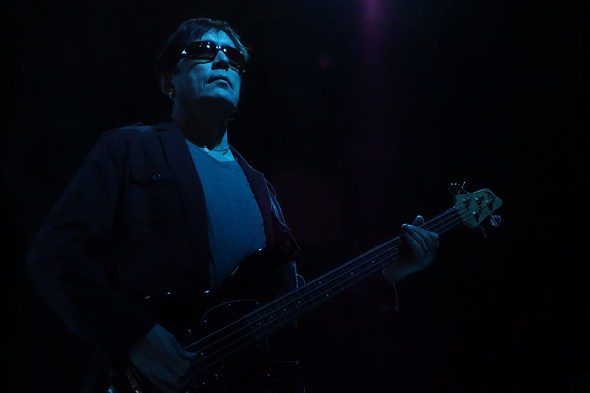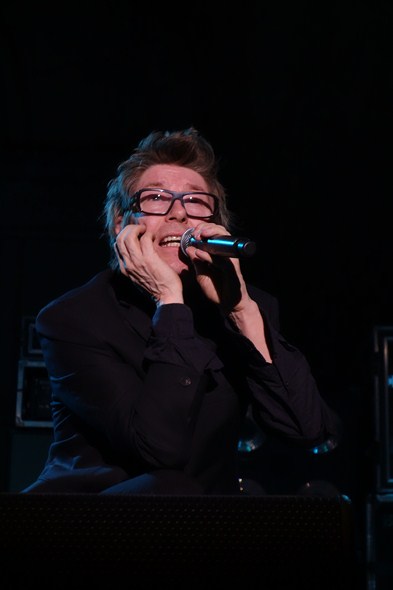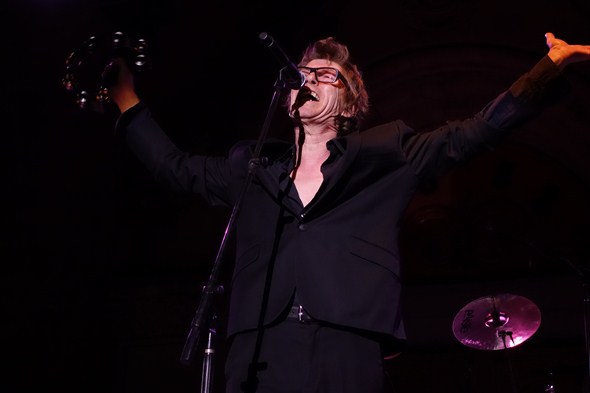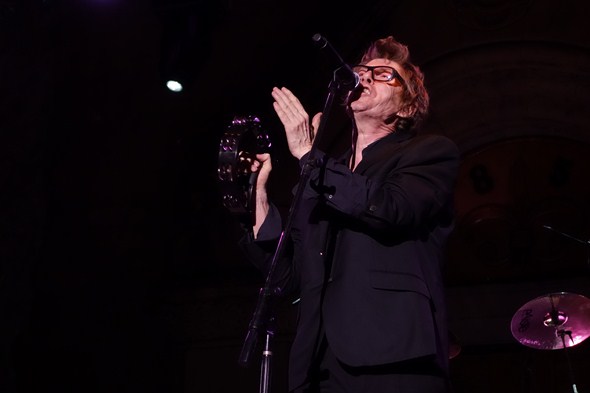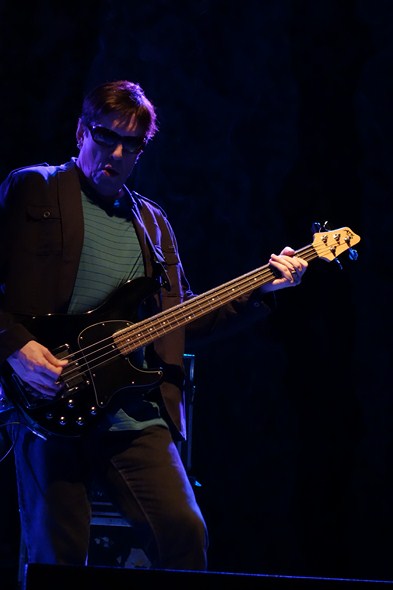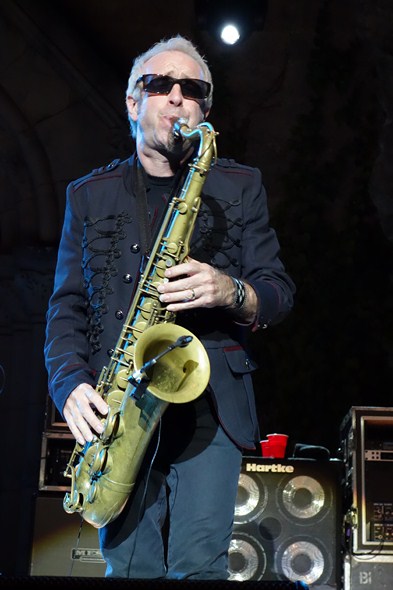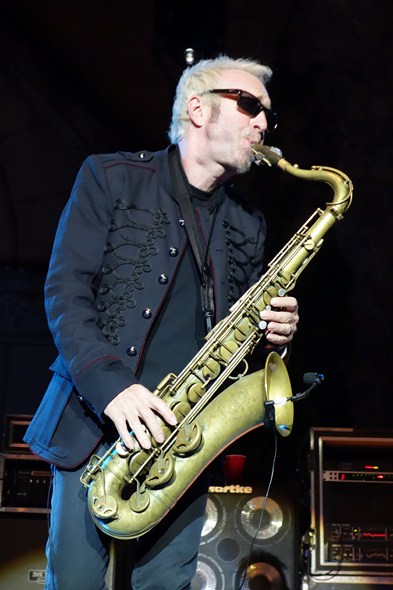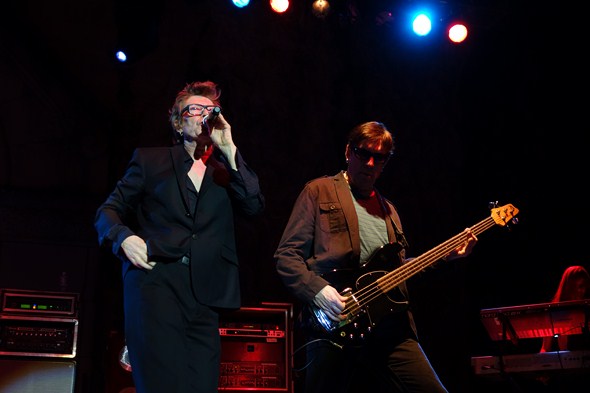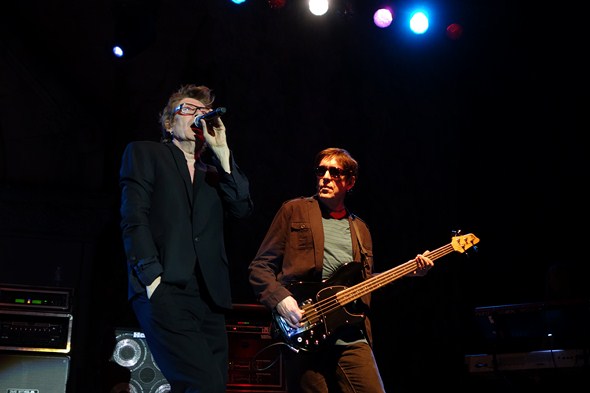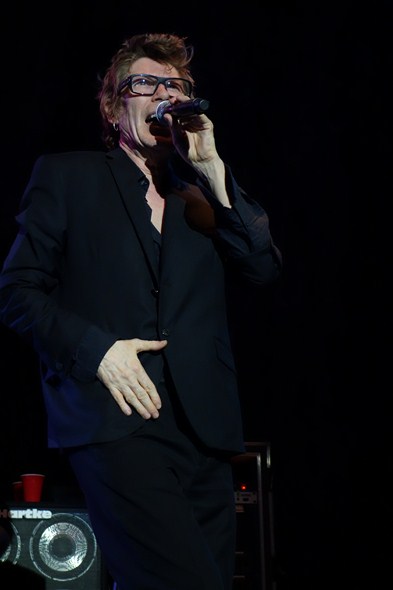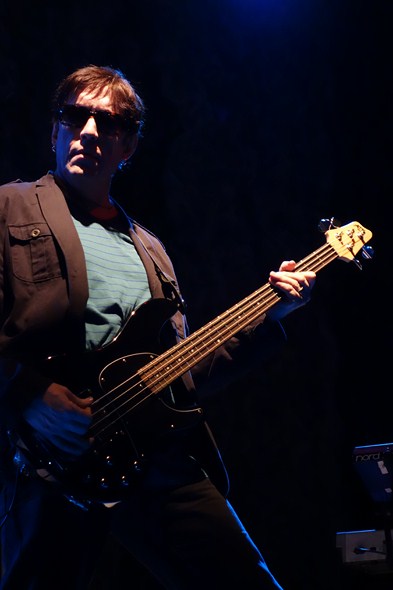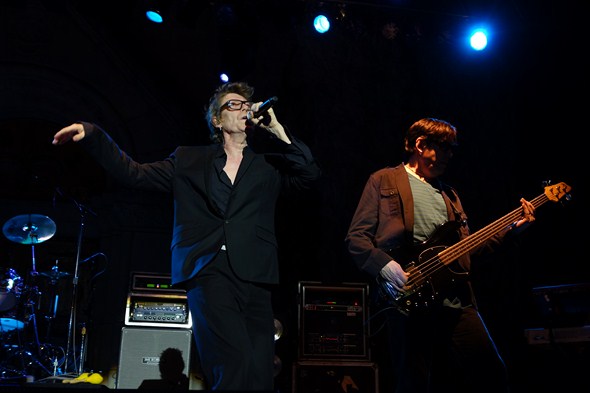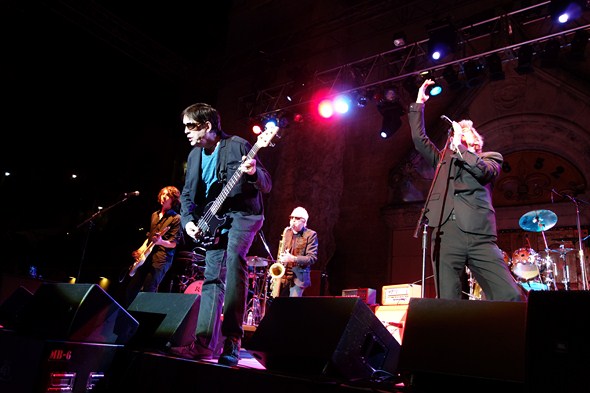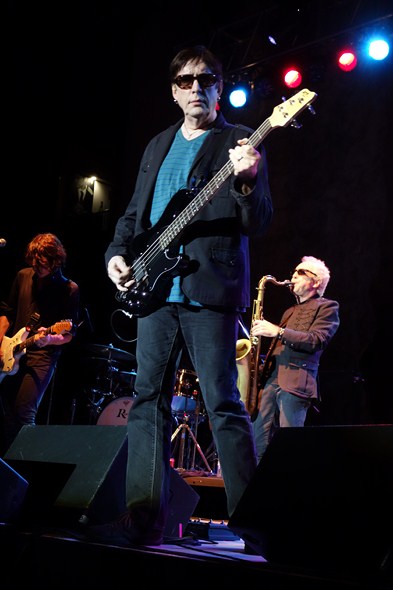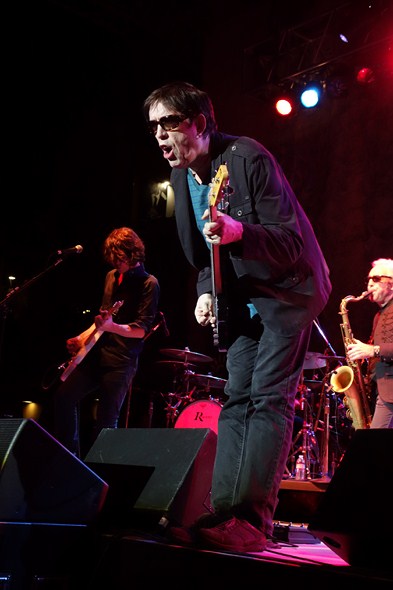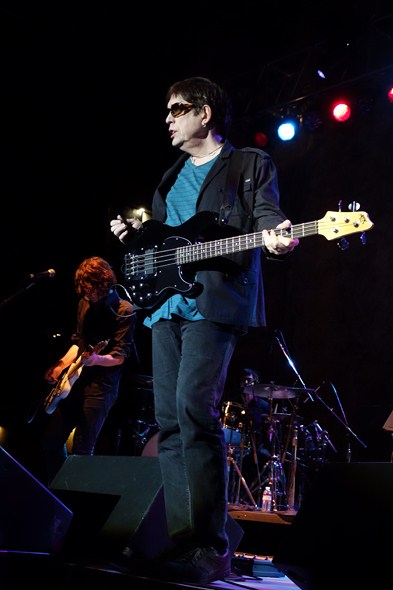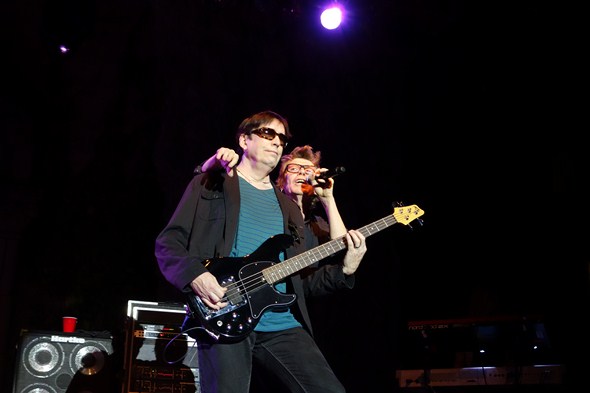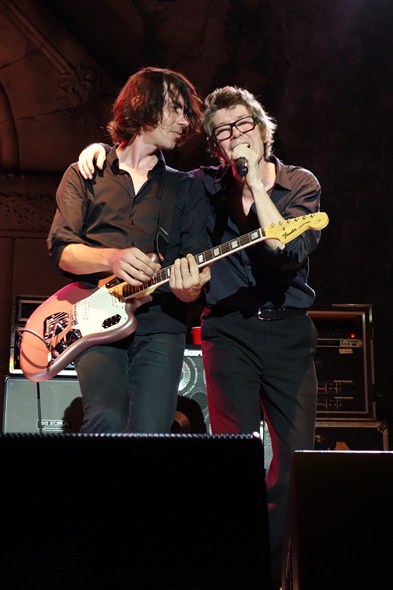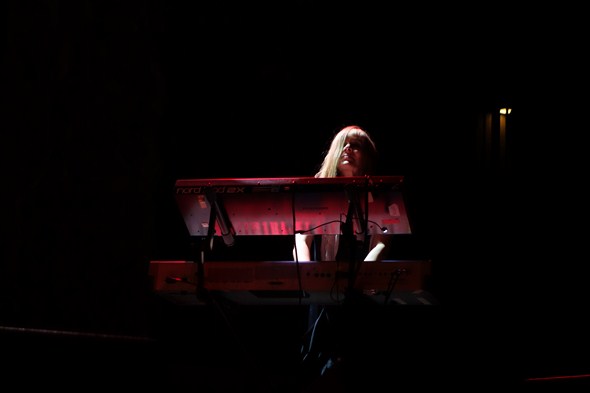 The Go-Go's
Members
Belinda Carlisle
Jane Wiedlin
Charlotte Caffey
Kathy Valentine (out for injury – Abby Travis filling in)
Gina Schock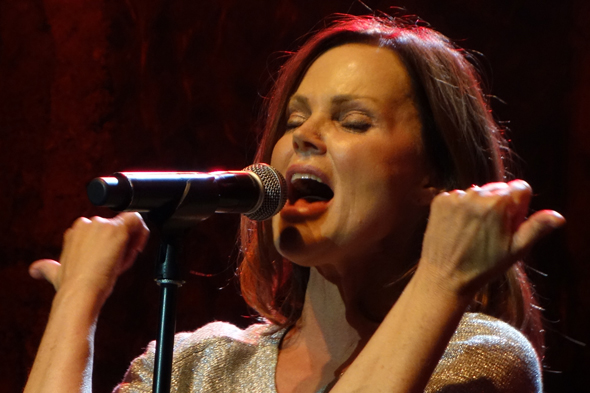 The Go-Go's are one of the most popular all-female bands of the 80s, though they formed in Los Angeles 1978.  As such, they were trailblazers on many fronts, in that they were the first band comprised only of females who were songwriters, played their own instruments, and topped the Billboard charts, with their first album, Beauty and the Beat, holding at #1 for six consecutive weeks and selling three million copies, as well as ranking in Rolling Stone magazine's 500 Greatest Albums of All Time.
Funny enough, for a New Wave band that sounded very pop-oriented, with some "beach" or party music vibes, they actually formed as a punk band, and early on toured with Madness.
Their debut album was a huge hit, and while the subsequent two had hits, they did not match the success of the first.  Ultimately, for a variety of reasons, the band broke up in 1985.
Front woman and lead vocalist Belinda Carlisle went on to cultivate a hugely successful solo career with a series of hits, and other band members have also had a variety of solo projects and collaborations.  The band did have a reunion for a benefit concert in 1990, which resulted in more collaboration in and out of the studio, touring frequently since 1999.
This was actually my first Go-Go's concert, so I was really looking forward to it, and they definitely did not disappoint.  Sadly, Kathy Valentine had broken her wrist a few months ago and had surgery thereafter, so is not currently touring with the band, but Abby Travis filled in for her, and did a fabulous job.
The band opened with my favorite song from their catalog, "This Town", which immediately got everyone out of their seats, which pretty much was the case for the entire set, apart from one or two slower songs.  They brought tremendous energy and joy to the stage, and it was one of the most energized audiences I've seen for some time.  There were also some real die hard fans in attendance, including a contingent from, if I remember correctly, Norway, as well as one "interesting" character known as "Hulkmania"…
There was definitely a very cool and relaxed vibe coming from the band – there was no formal atmosphere or ego in play at all – I felt, and I'm sure others did as well, that they were happy to be performing these amazing songs and sharing the experience with their fans.  It was also a more interactive show than most…  when "Cool Jerk" came up on the list, the band began to hand pick members of the audience to join them on stage and rock it out – and I was impressed by some of the moves of the fans!
One of Belinda Carlisle's solo songs was played – "Mad About You" – was was awesome to experience.  And it was a pretty long set with 18 songs, though they tend to be so upbeat that it plays through at a steady pace.
Unlike a lot of bands that have been around for decades, this group really "feel" like good friends – like family, really – and that always makes the experience that much more genuine, and is a tribute to these amazing women that were real pioneers in music and have been through so much, starting at such a young age, that they are still together and performing and appearing to enjoy life.  Really a spectacular show, and I hope to have an opportunity to see them again.
Here is a photo of the setlist from last night's show: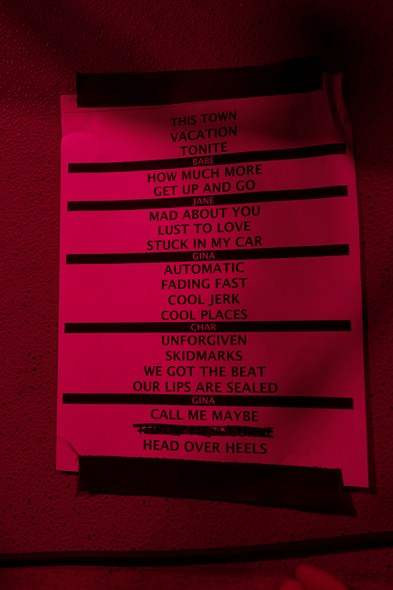 The Go-Go's Setlist:
This Town
Vacation
Tonite
How Much More
Get Up And Go
Mad About You (Belinda Carlisle song)
Lust To Love
Stuck In My Car
Automatic
Fading Fast
Cool Jerk (Capitols cover)
Cool Places (Sparks cover)
Unforgiven
Skidmarks On My Heart
We Got The Beat
Our Lips Are Sealed
Encore
Call Me Maybe (Carly Rae Jepsen cover)
Head Over Heels
Below are some photos of The Go-Go's performing on stage: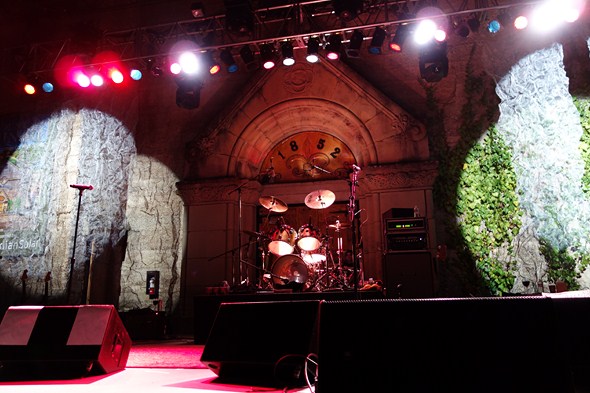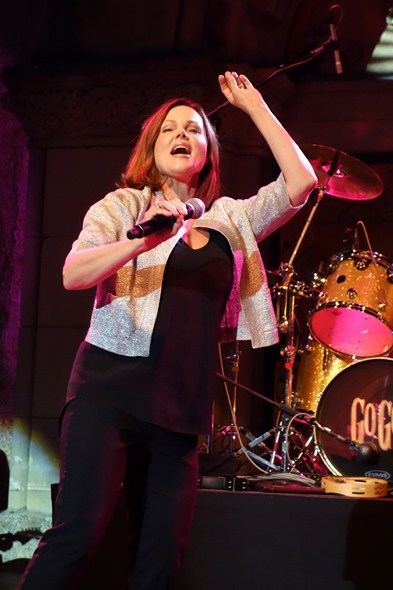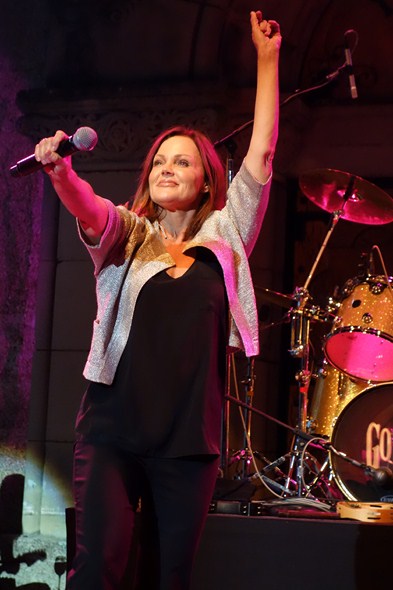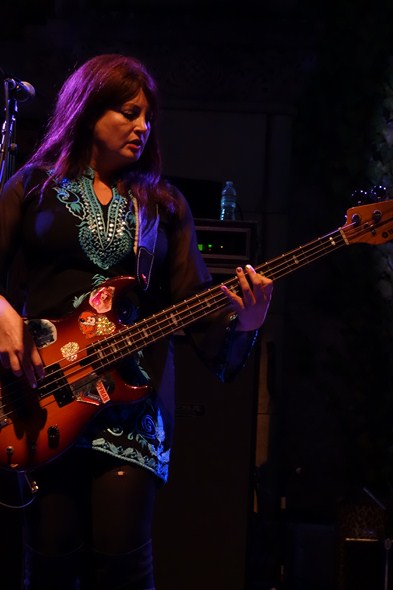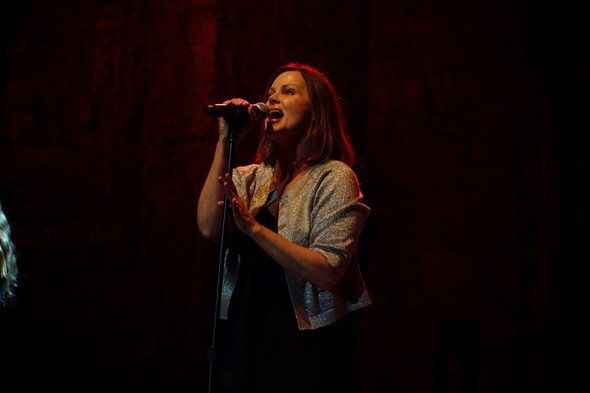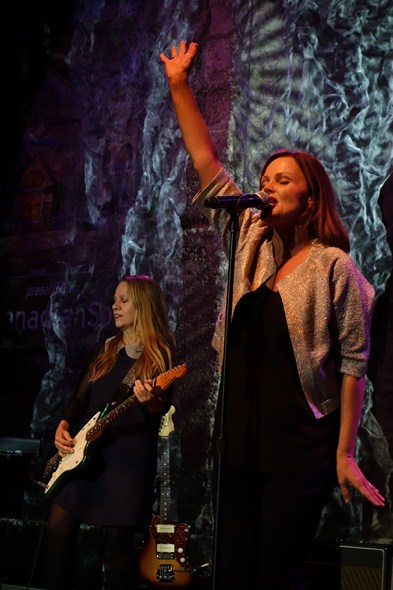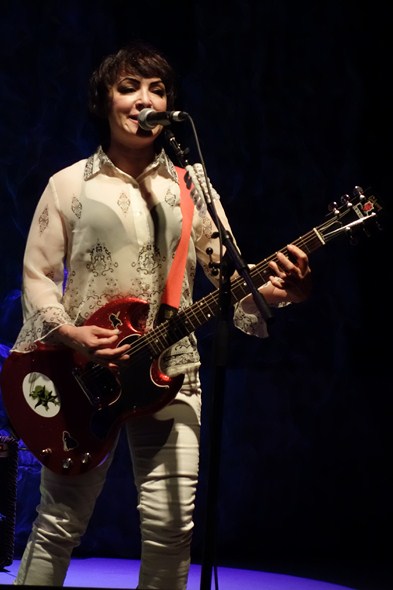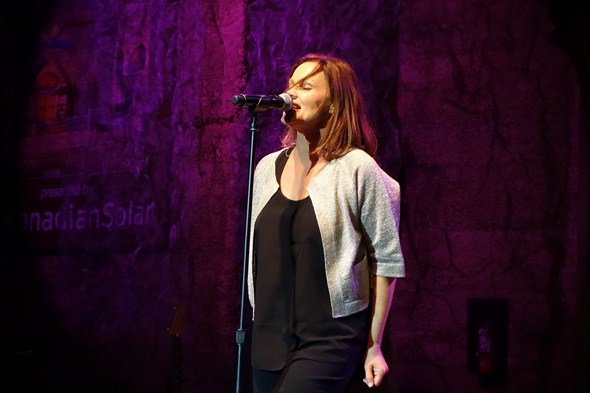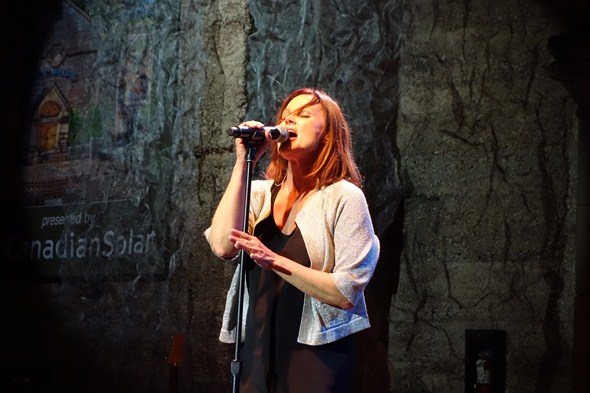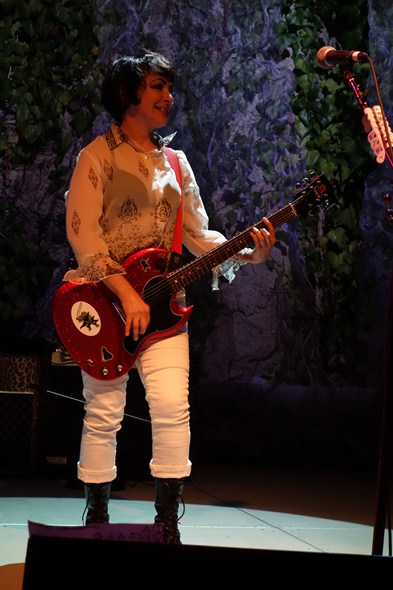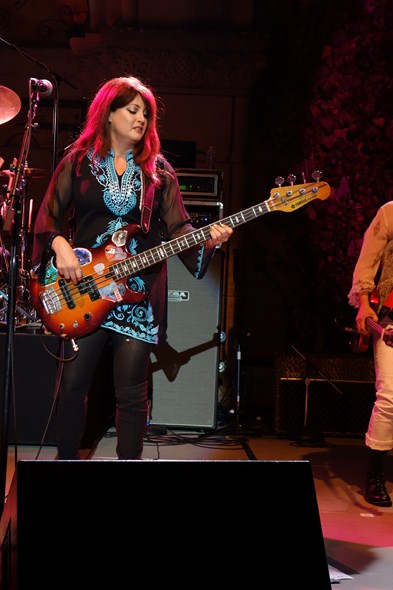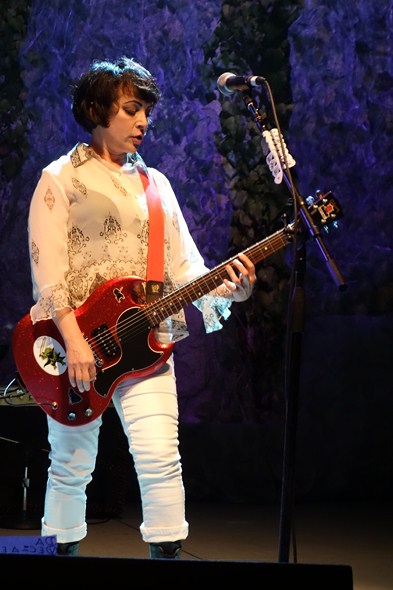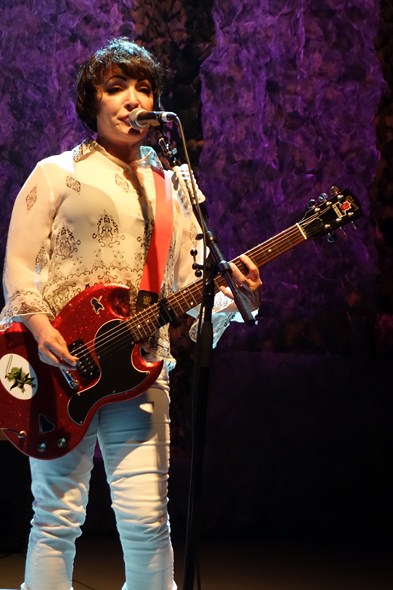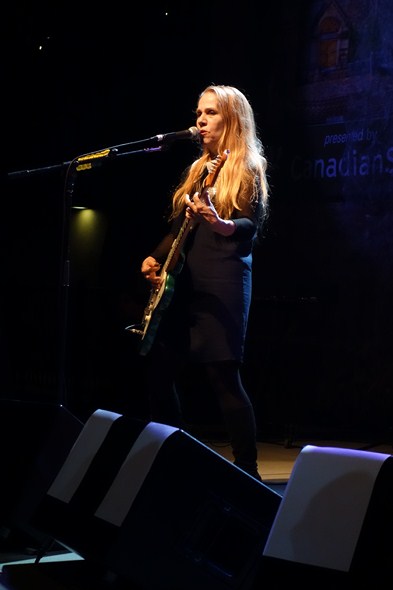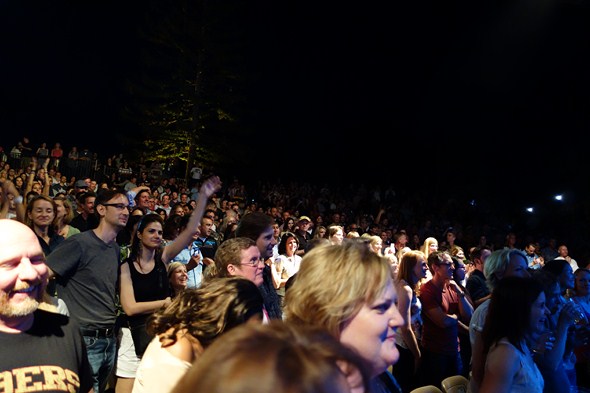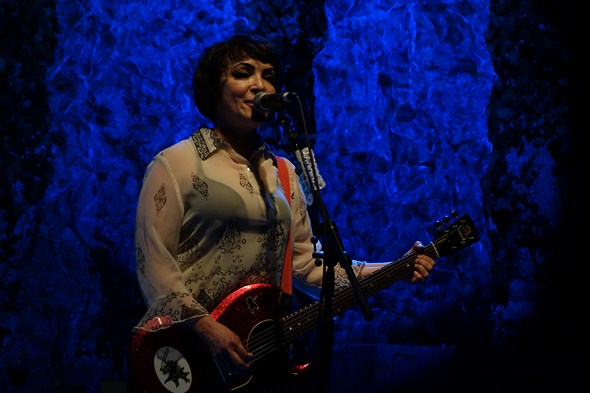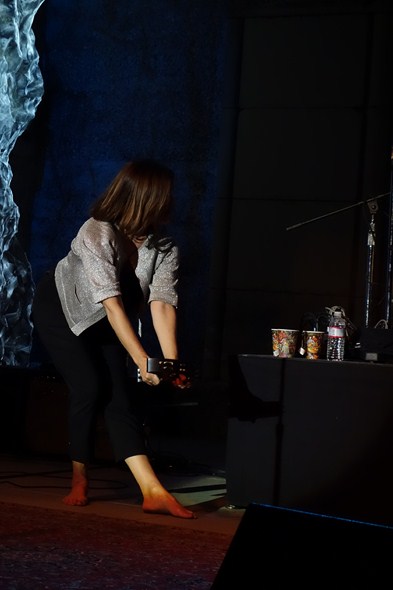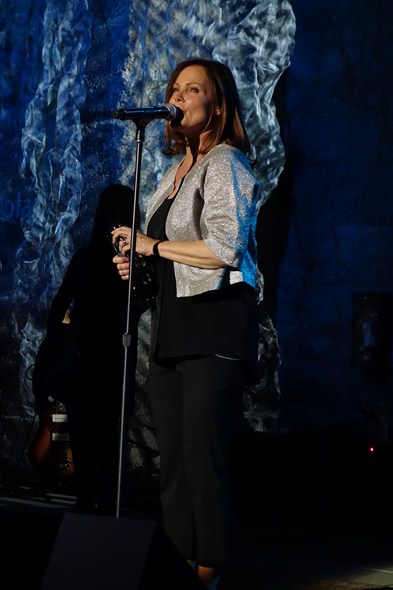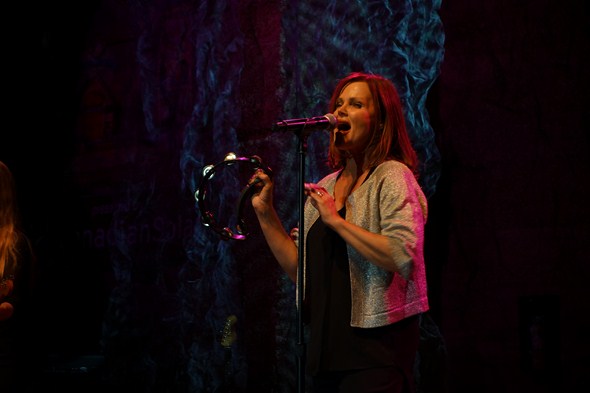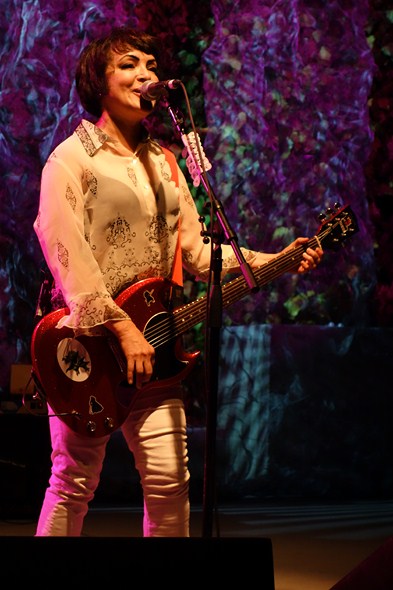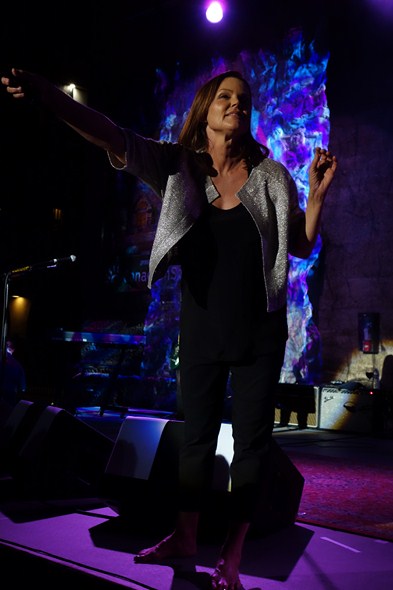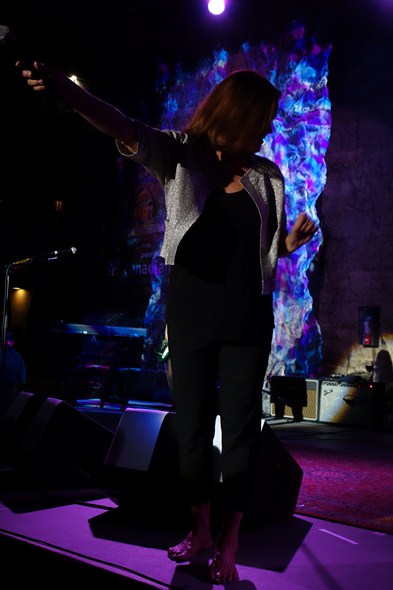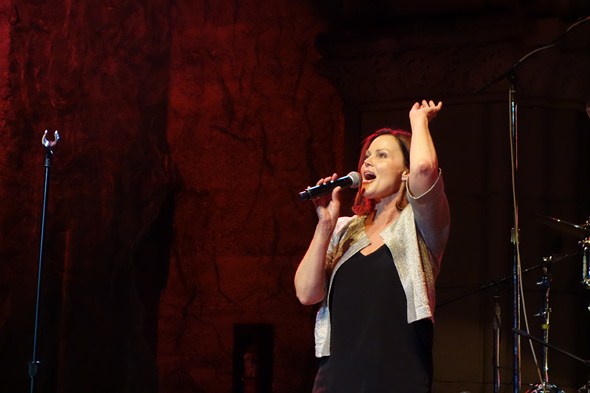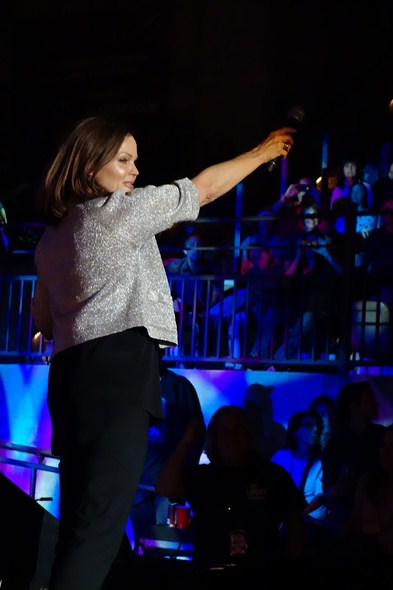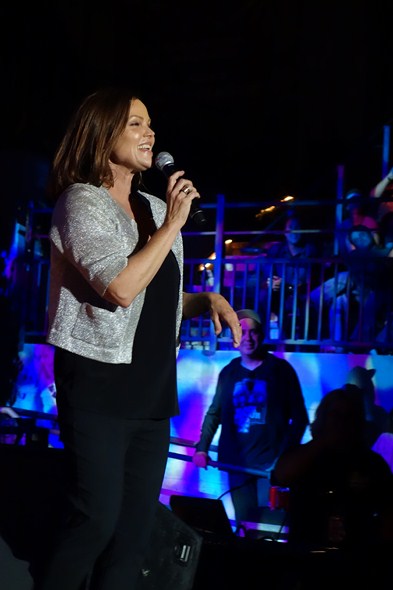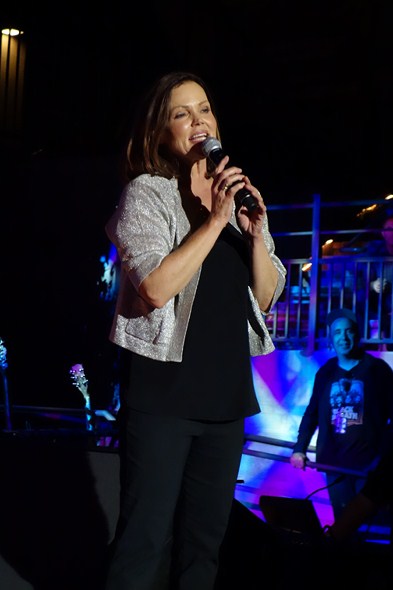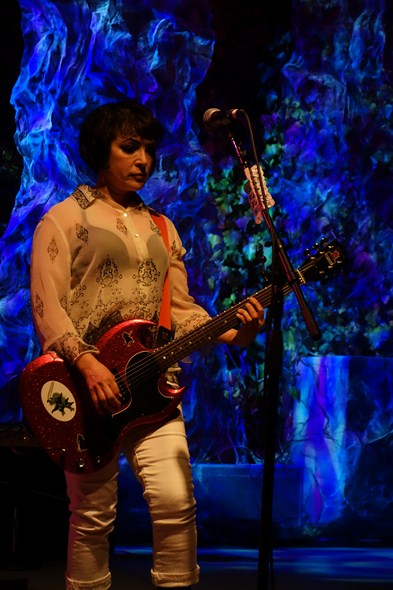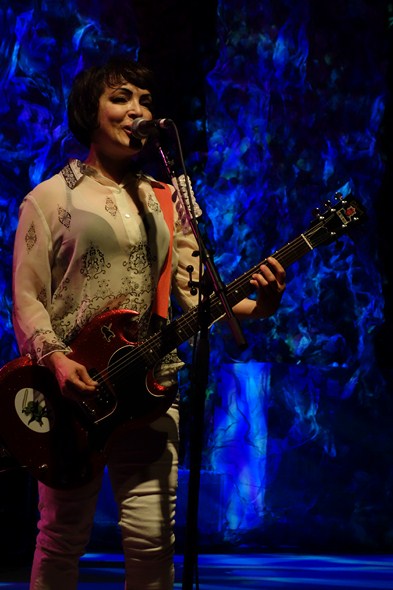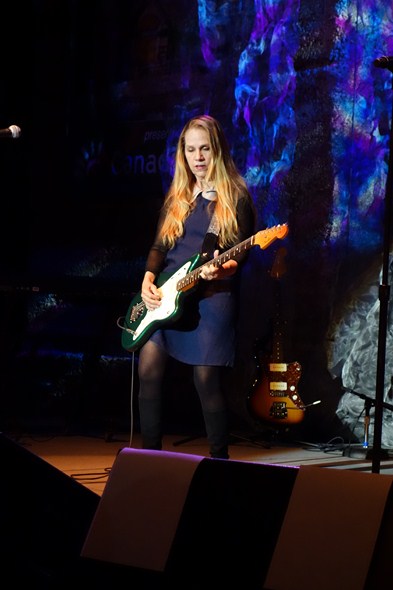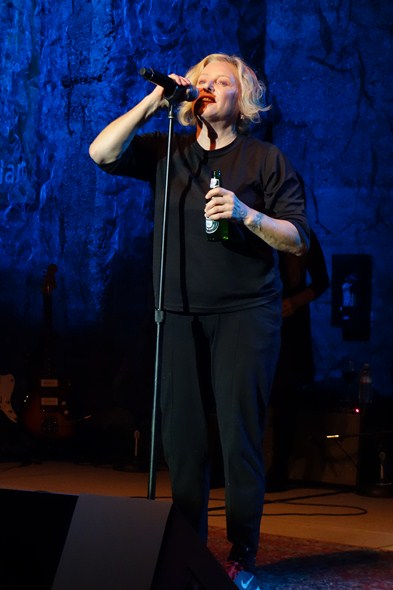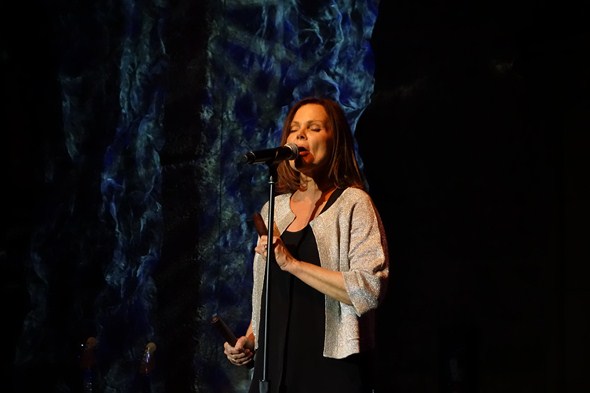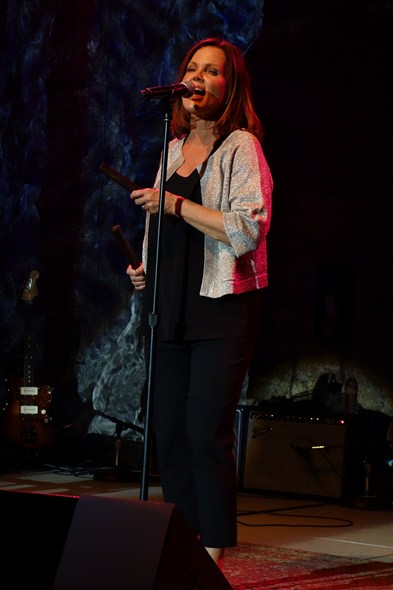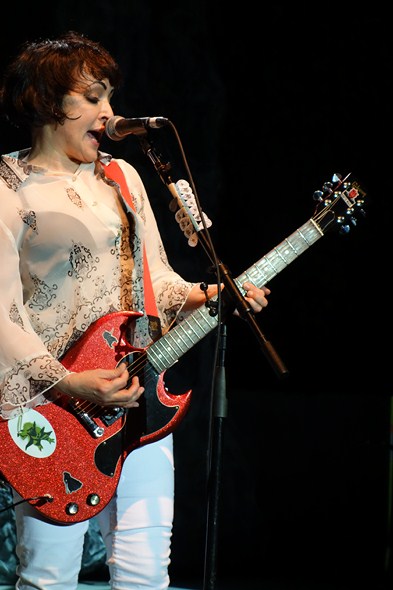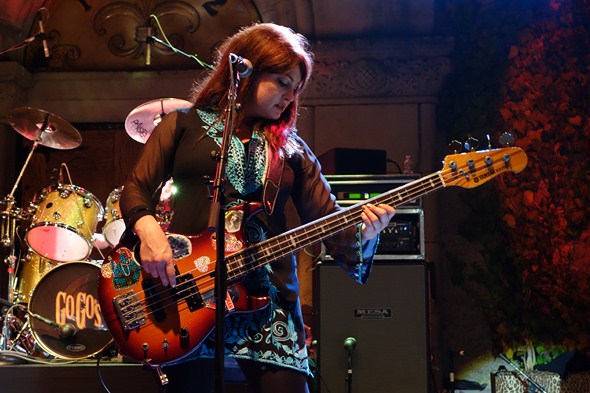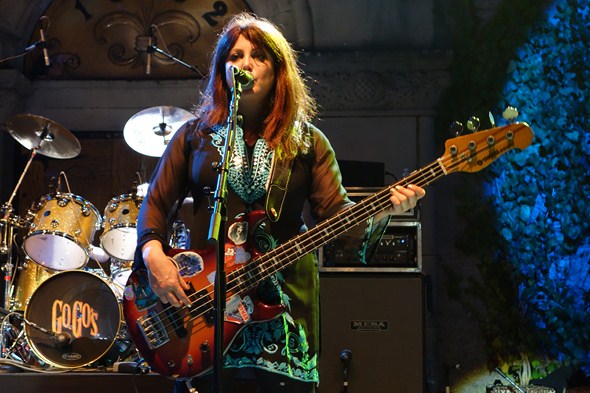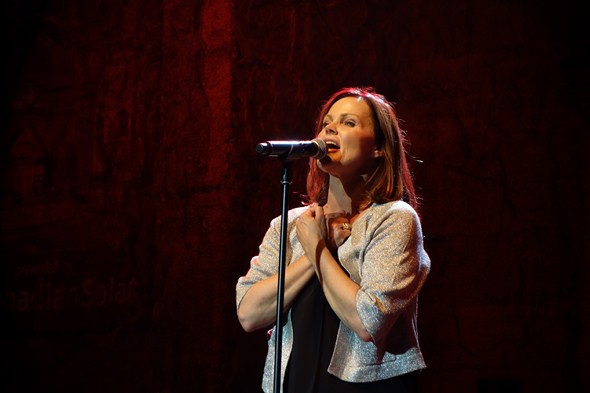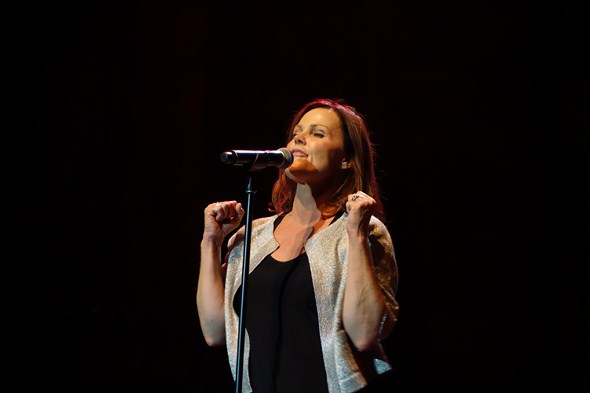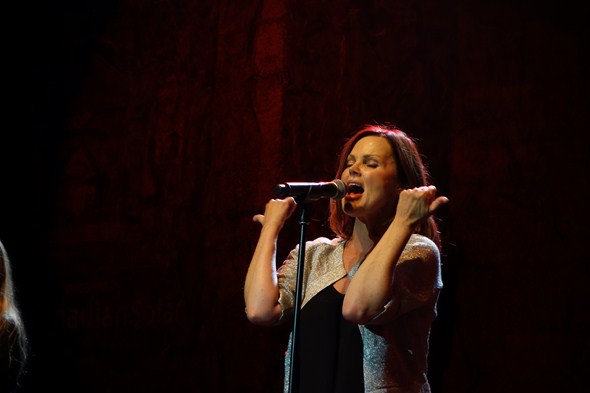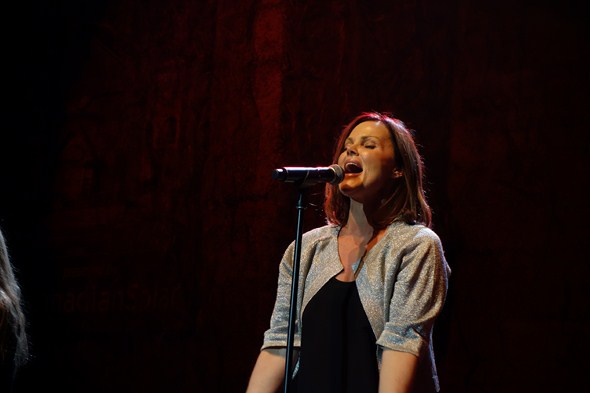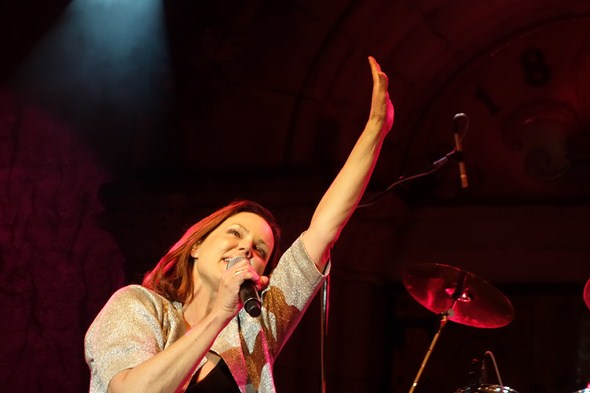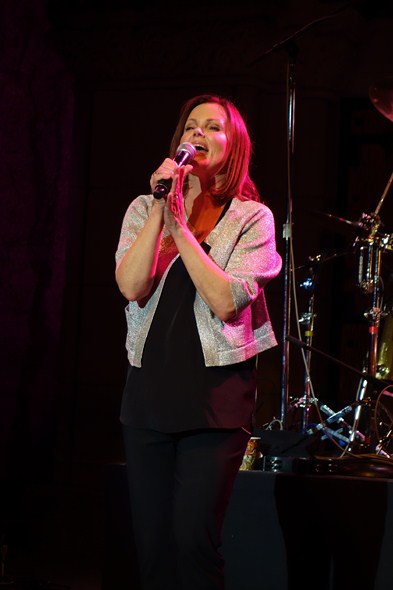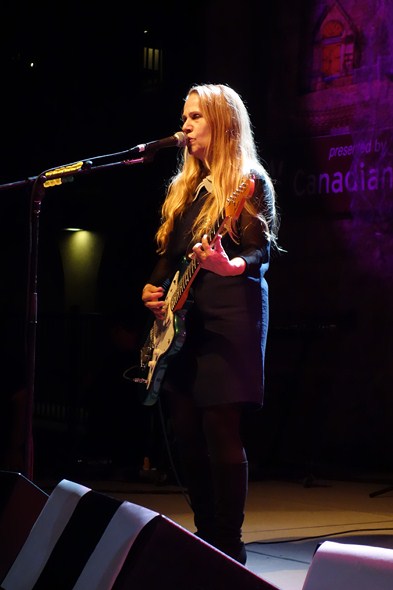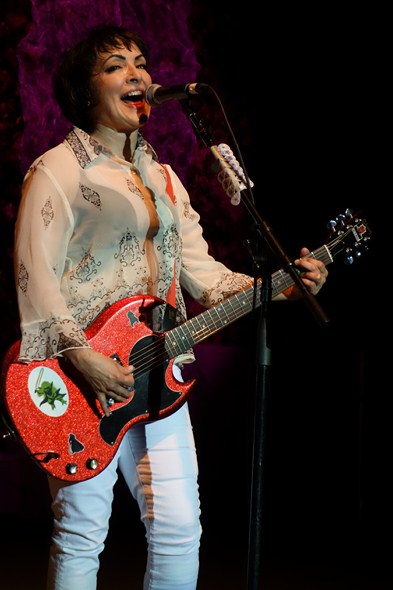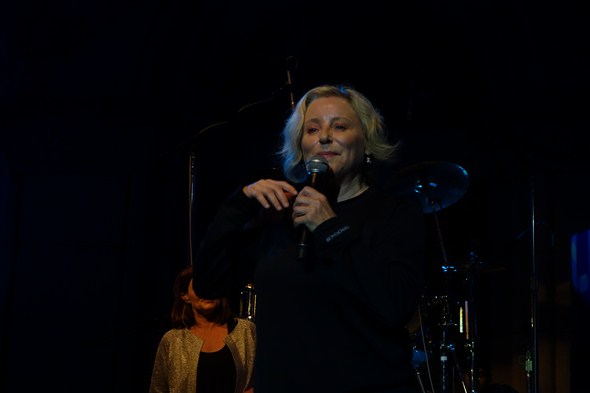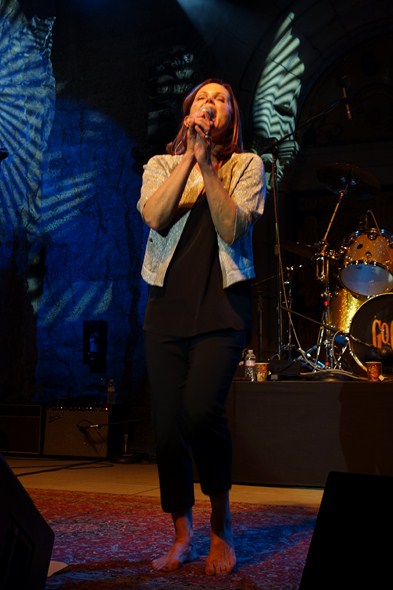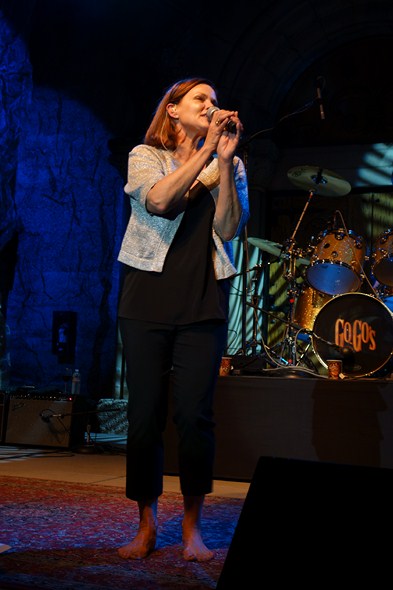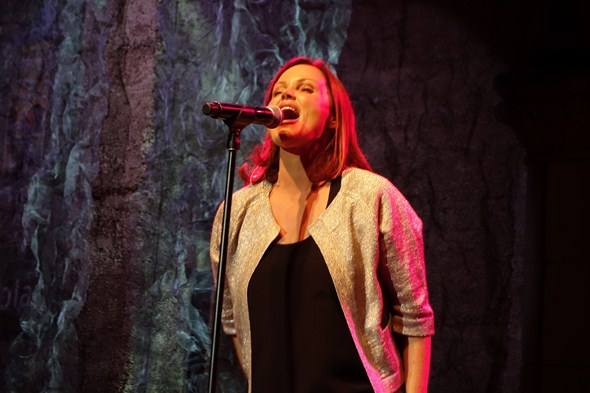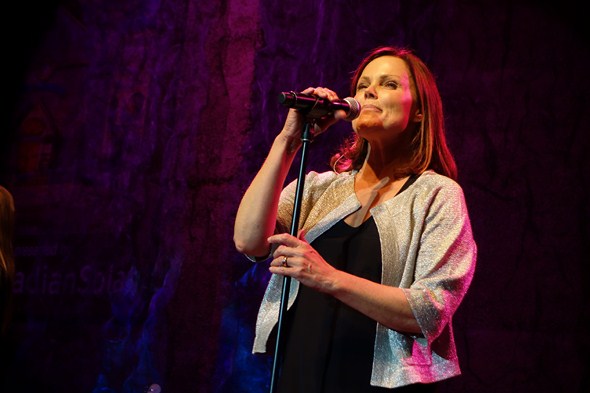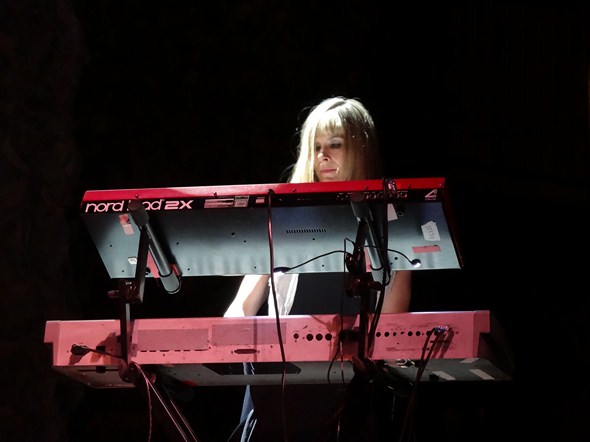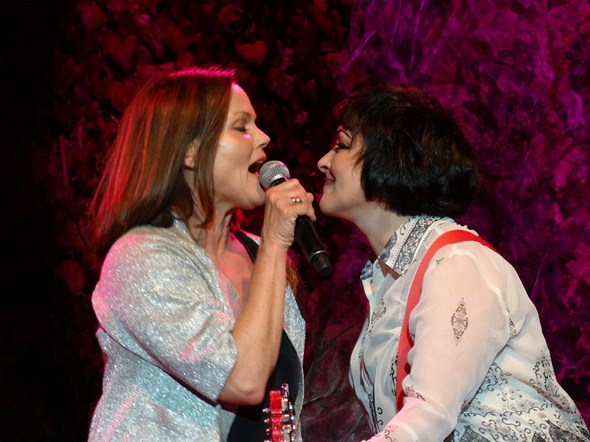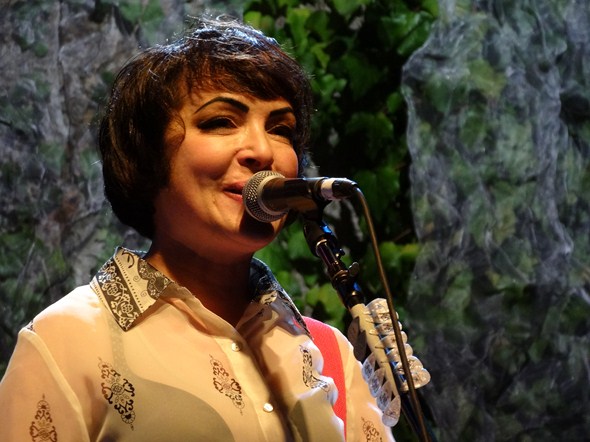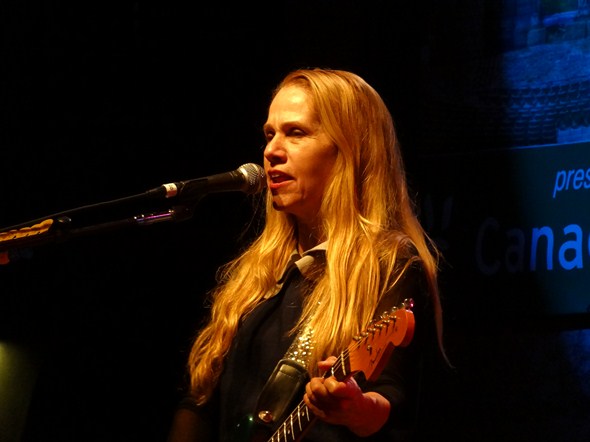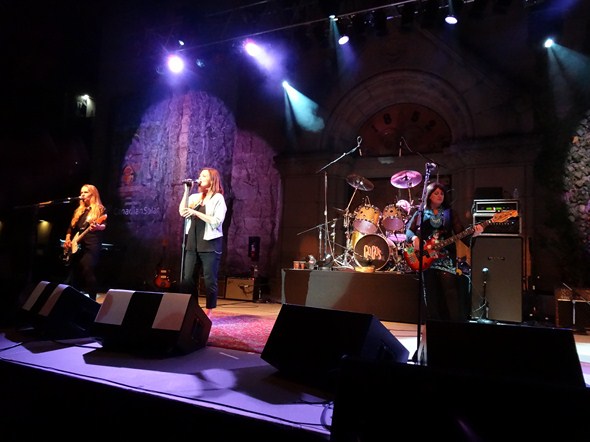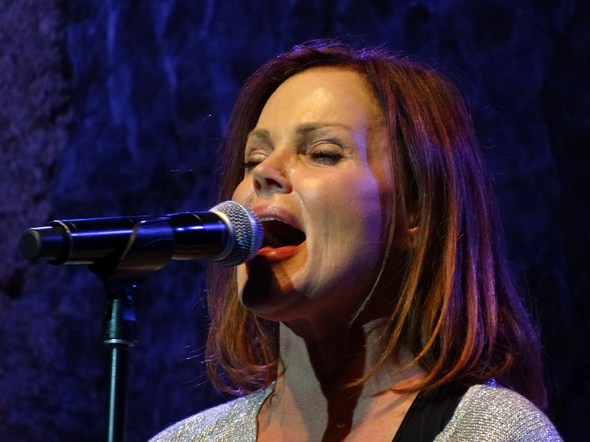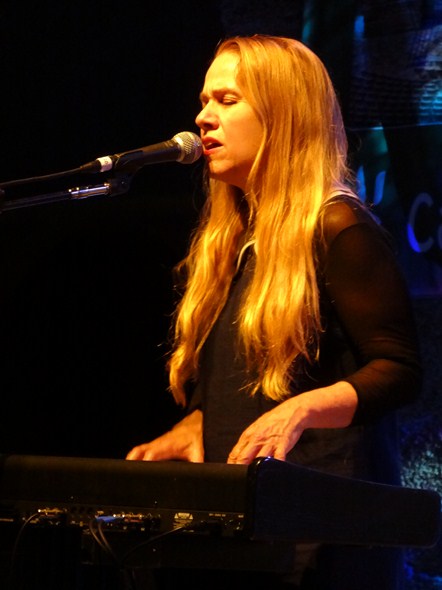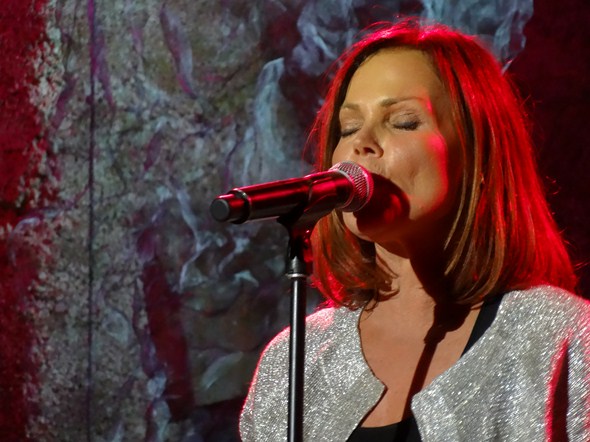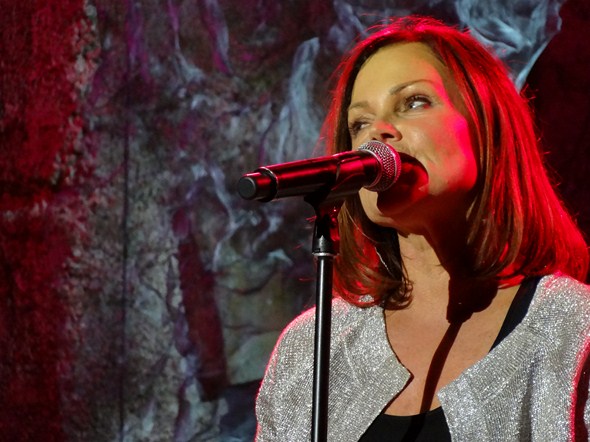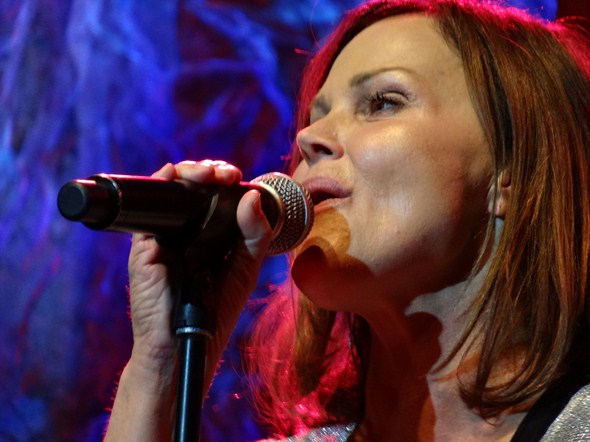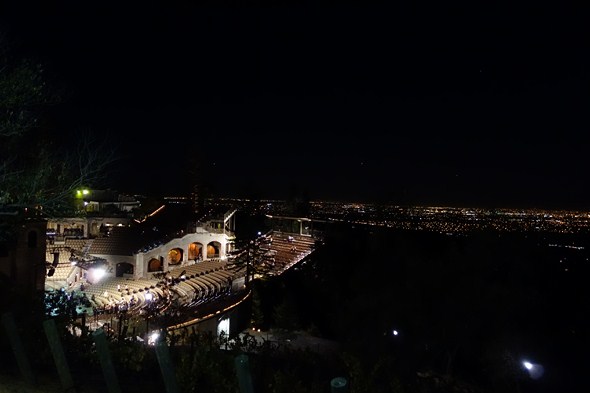 Jason DeBord