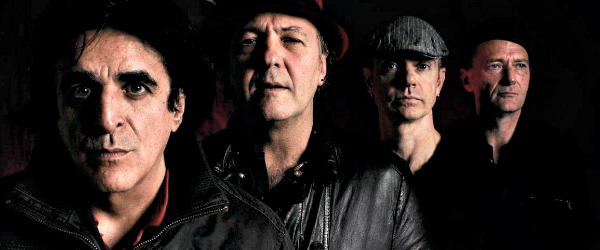 Legendary post-punk band Killing Joke will be celebrating their 35th anniversary with the April 15th release of their The Singles Collection 1972-2012 via Spinefarm/Universal, a new studio album, and a world tour that kicks off in England in March and terminates in Los Angeles in May.
From the official site, www.KillingJoke.com:
"Considering it's supposed to be the end of the world in a short time, it gives me great pleasure to announce a new singles album with some real rarities on it, shortly followed by a new studio recording. The book 'Letters From Cythera' is coming out, and yes, gigs are starting in March. Have a great 2012 and fuck the Mayans! After all, their calendar didn't predict their own demise…" – Jaz Coleman
The Singles Collection 1979-2012 will be available in three formats: digital download, limited 3-CD set, and a super deluxe "cigar box" edition.
The 3-CD Edition includes 34 career-spanning tracks over 2 CDs + a third disc of rarities, including previously unreleased studio tracks. This 3-CD version will be limited in number, reverting to 2 CDs containing the singles tracks.
The Super Deluxe Edition is available for pre-order exclusively through PledgeMusic.com through February 4th, and includes:
Hand-numbered hinged-lid "cigar box" made from 1500mcn black-lined rigid board finished with matt print retrospective artwork.
33 career-spanning CD singles plus selected B-Sides in full-color card wallets featuring original artwork.
Rarities disc, including previously unreleased studio tracks.
32-page perfect-bound book including rare photos, archive notes, band commentary.
Poster designed and personally signed by long-time KILLING JOKE artist/champion, Mike Coles, printed on 250gsm silk art.
Aluminum screw-top branded cigar tube containing original wrappers of cigars smoked by Jaz Coleman and Paul Raven during the recording of the Hosannas From The Basements Of Hell album.
The band's most recent album, MMXII, was received to very positive reviews and reception, and released in the U.S. this past October via Universal Music Group.
Killing Joke front man Jaz Coleman has also recently released a solo album via PledgeMusic, Letters from Cythera, as well as a book, The Island of Symphony.
A note from Jaz Coleman regarding the announcement of Letters from Cythera; the book, and The Island Symphony.

"Letters from Cythera outlines how the occult sciences have shaped my philosophical outlook, my preferred system for a personalized renaissance (the supersynthesis), giving a detailed account of my hidden history and involvement with Hermetics, Earth Sciences and various Kabalistic innovations."

The companion work – The Island Symphony in Colemans' words, "is a reflection of moments for contemplation composed to celebrate my NZ Citizenship."
In addition to the special collection and as yet unnamed forthcoming studio album, the band will be going on a world tour with a limited number of dates between March and early May.  Full details are on the official site: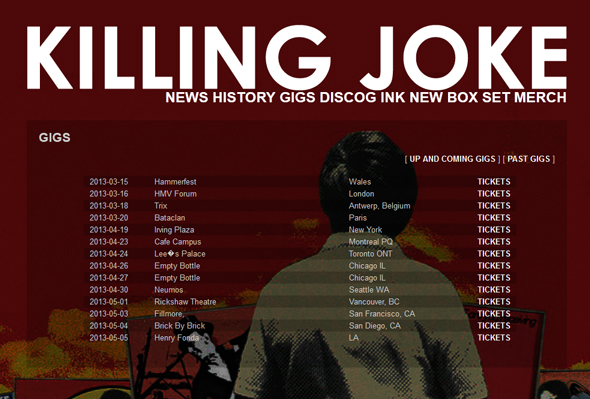 Below is a list of concert dates announced as of the publication of this article:
Mar 15: Wales, UK – Hammerfest
Mar 16: London, UK – Forum
Mar 18: Antwerp, BE – Trix
Mar 20: Paris, FR – Bataclan
Apr 19: New York, NY – Irving Plaza
Apr 23: Montreal, QC – Café Campus
Apr 24: Lee's Palace – Toronto, ON
Apr 26: Empty Bottle – Chicago, IL
Apr 27: Empty Bottle, Chicago, IL
Apr 30: Neumos – Seattle, WA
May 01: Vancouver, BC – Rickshaw, Theatre
May 03: San Francisco, CA – Fillmore
May 04: San Diego, CA – Brick by Brick
May 05: Los Angeles, CA – Henry Fonda
The Rock Subculture Journal will be reviewing the gig at The Fillmore in San Francisco on May 3rd.
Click on the image below for the latest and up to date full Rock Subculture Journal schedule of pop and rock music concerts/tours coming up for review (2013 Rock Subculture Schedule):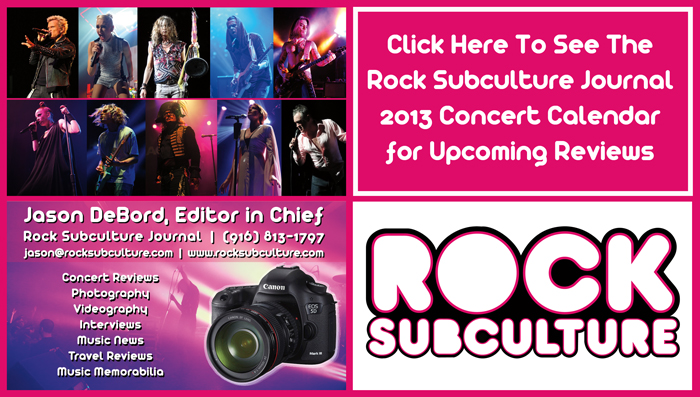 Jason DeBord