2013 is maybe the best year since the early 90s to be a Pixies fan.  Interestingly, having been in attendance now at the first two of three consecutive shows this week at El Rey Theatre in Los Angeles (and a fourth coming right after at the Mayan Theatre), the crowd overall skewed very young, which really underscores my long held belief that the Pixies were way, way, way ahead of their time, and also had bad timing (maybe in an alternate universe they could have had Nirvana-sized mainstream success).  In any event, as I've often referenced in countless articles here on the Rock Subculture Journal, the Pixies are solid in my Top Three favorite artists of all time.  Before going into recent and ancient history, the big question those reading this are probably wondering is, 'how were these shows?'  The short answer is, absolutely phenomenal.  Everything one could hope for in a Pixies concert has been present in Night 1 and Night 2.  With their new touring efforts and new music (music that is on par with their classic material), it is an awesome time to be into the Pixies, whether you were around back in the day or not.  A time to celebrate, and the band and the fans all brought the party to El Rey Theatre this week.

Who: Pixies
Supporting (9/9/2013): Meg Myers
Supporting (9/10/2013: Reignwolf
Venue: El Rey Theatre
Where: Los Angeles, California
Promoter: Goldenvoice
When: Night 1 on September 9, 2013 | Night 2 on September 10, 2013
Seating: GA Standing Front Row Both Nights (also photo pass first three songs on Night 2)
On Monday (Night 1), I attended strictly as a fan, sans photo pass, so just have a handful of images shot with a pocket camera from that night.  Last night (Night 2), I was approved press, so shot photography from front center on the floor in the small, intimate, and historic theater.

Supporting the band on Monday night was Meg Myers with an incredibly powerful performance, with Reignwolf killing it on the stage on Tuesday night.  Side note…  a huge thank you to the Pixies for introducing me (and others, obviously) to these tremendously talented bands.  Both turned me into a huge fan of each, I will definitely be following them, and I will certainly turn out for their own headlining gigs in the future.  Awesome bands.
Meg Myers
Meg Myers kicked off the first night of shows this week, and will also play Night 4 at the Mayan.
She is a real rock and roll powerhouse.  Stylistically and in sound, she immediately reminded me a bit of Pixies' 4AD label mates Throwing Muses, who I love going way back.
Daughter In The Choir, her latest EP, can be streamed from her official website (though I went ahead and bought it from iTunes already).
Definitely at the top of my list for favorite new (to me) artists for 2013…  She has such power in her songs, that all comes through in her singing and guitar, supported by her band with players on guitar, drums, and cello.
Following the show I picked up her EP and I have to say that her song "Adelaide" is in the running as my favorite new song of 2013.  Brilliant.
Below is a photo of the set list from Monday night: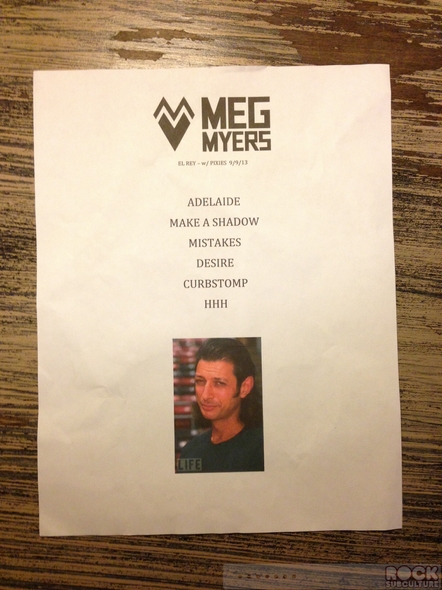 Apologies for not having the quality photos that the band deserves, but the lighting was pretty challenging for pocket point and shoot cameras in this venue, so only have the one image below to share:
Reignwolf
Jordan Cook (vocals, guitar, bass, drums)
Joseph Braley (drums)
Stitcx (David T. Rapaport) (bass)
Reignwolf…  I don't even know where to begin with this one.  All I have to say is that if I was a major music artist, I would never want to have Reignwolf open for me on tour.  Seriously, who would want to follow them?  They put on one of the most amazing live shows I've ever seen (not just this year – any year).  And words, even poetry, could not do justice to giving some semblance of an idea what these guys do on stage.  Holy crap.
Front man Jordan Cook (on vocals, guitar, drums, and whatever else he can get his hands on) came onto the stage by himself initially, with a very intense on stage persona and dripping not just in sweat but intensity and the kind of vibe you imagine you might get from some of the classic Blues singers in their prime, decades ago.  Who is this guy?
After finishing one song with his guitar and kick drum, he moved to the full drum kit and sat and sang and played guitar and played the drums all at the same time  He even used a drumstick to play his guitar.  It's like he has a full band of multiple personalities within him, all vying for control to do their thing on their instrument of choice.
Eventually, his guitar player David T. Rapaport ("Stitcx") and drummer (Joseph Braley) came out and did a pretty good job of quickly ramping up to an equivalent (though different) energy level.  Joseph was a mad man on the drums throwing down a barrage of beats and David jammed and bounced around the stage.
I've honestly never seen anyone play an instrument in anywhere near the same manner as Jordan Cook.  I could make an analogy about what he was doing to these instruments, but even that would be misunderstood.  But the man can play, and to me it screams a special breed of Blues-infused hard rock; something I'd never heard before.
It reminded me of the scene in Back to the Future in which Marty McFly played his 1985 style, guitar shredding version of Johnny B. Goode in 1955…  Jordan Cook came to show us the future of rock and roll last night.
The stage at the El Rey is pretty small, but with Jordan Cook playing on it, it felt like the head of a pin.
I can totally see this guy and his band getting a break, and blowing up to The Black Keys proportions.  It will happen.  It can't not happen – they're too great.  The music, the raw talent, the drive, the emotion…
You can check out a 20 minute video of a radio station performance here on YouTube…
Now imagine that times 10, with an audience.  The guy is a fucking musical genius.  Mark my words here and now – this guy is going places.
The funny thing is, I met Jordan Cook after the show, and his personality is about as opposite as I could have expected – very kind demeanor, a bit of a shy vibe, and very modest. It's like he is a man possessed on stage. I love it.
Below are some photos of Reignwolf performing on stage: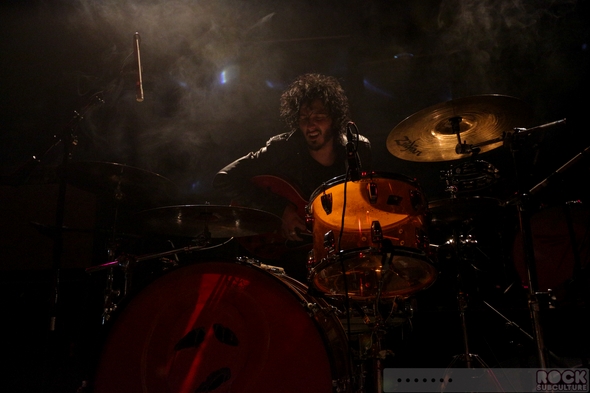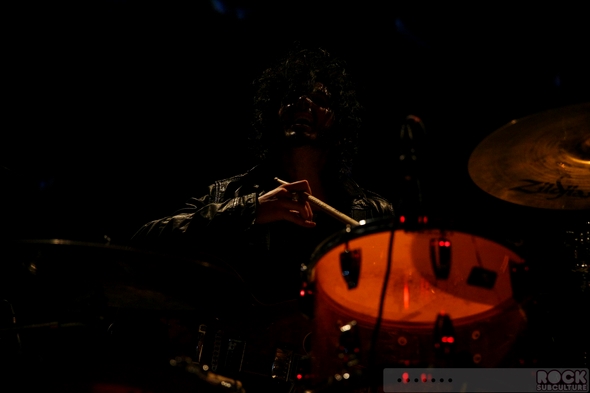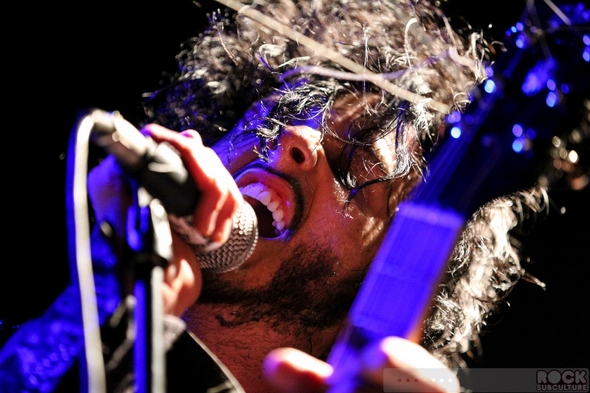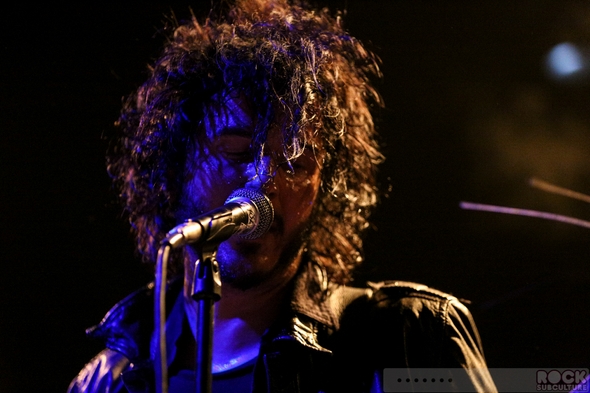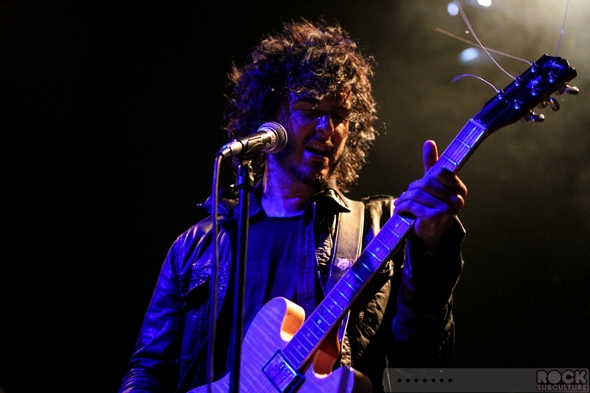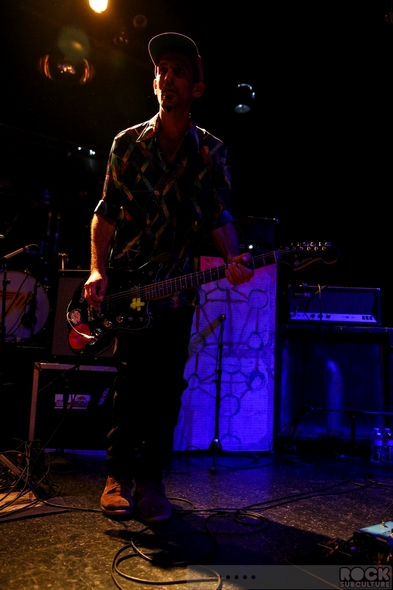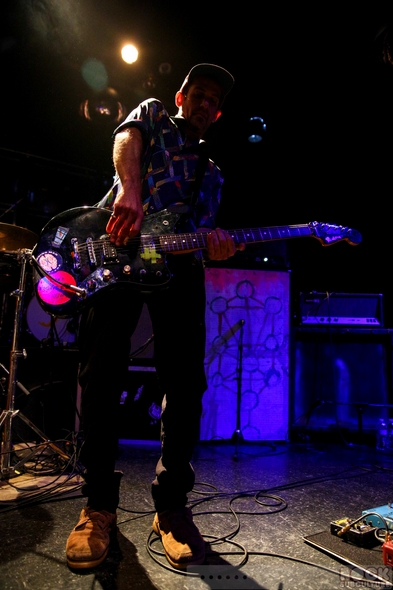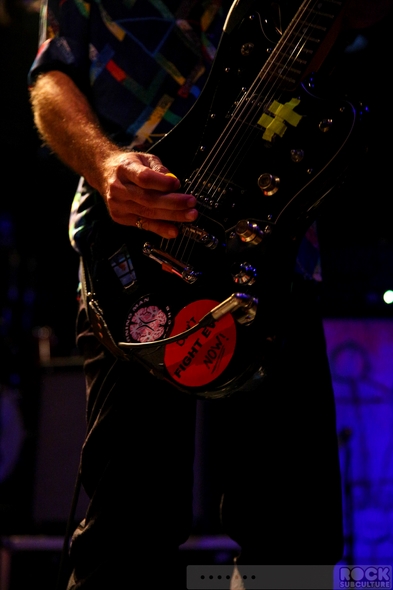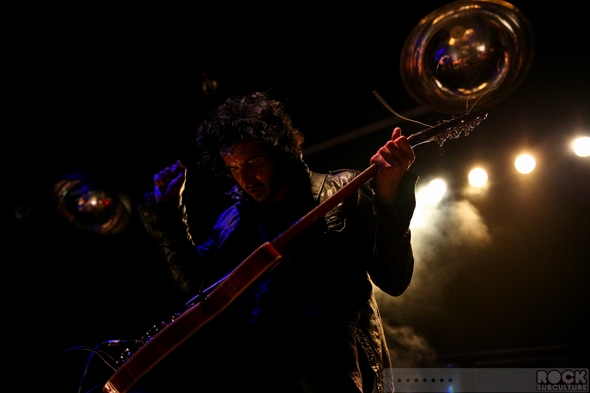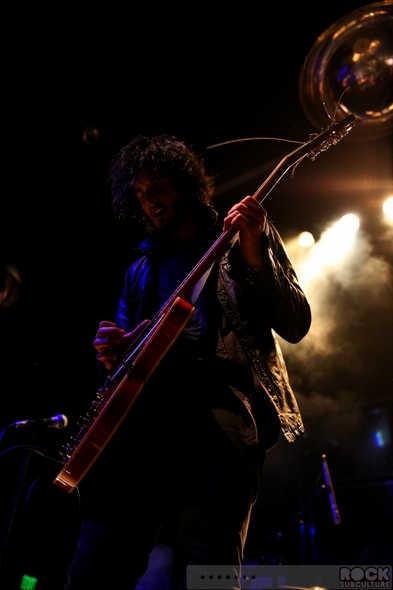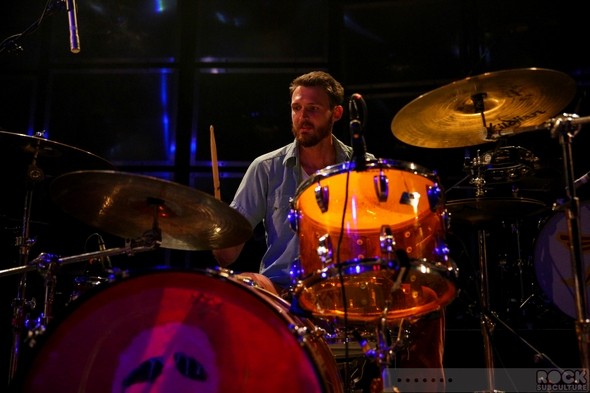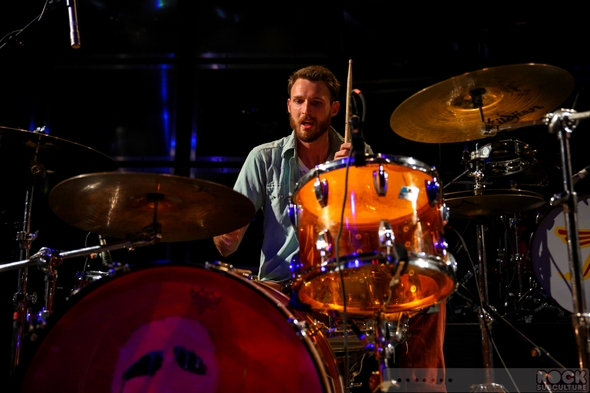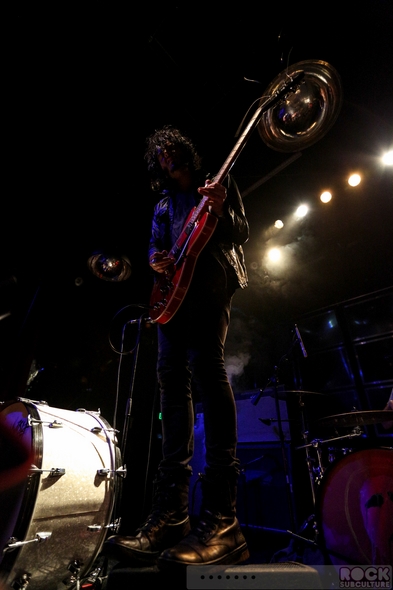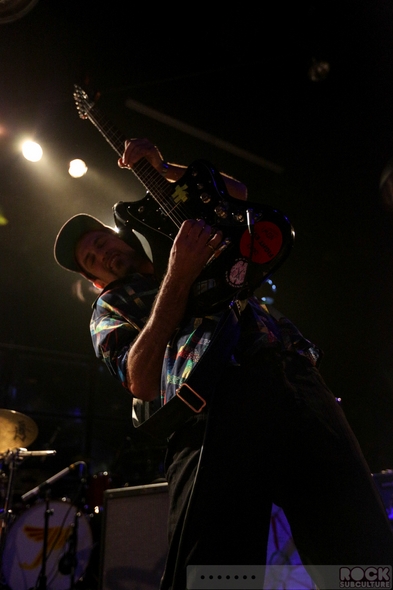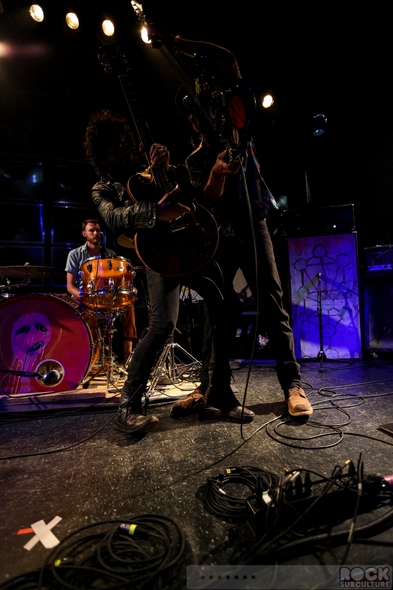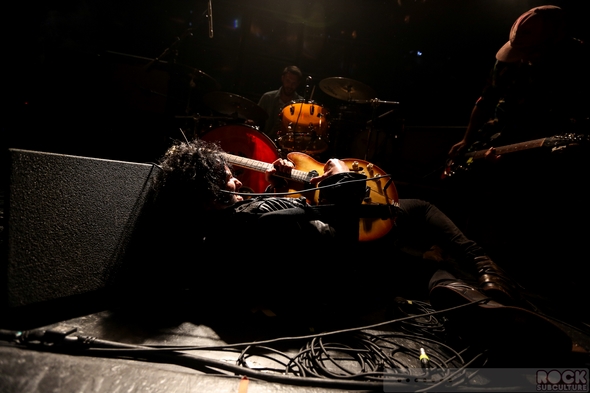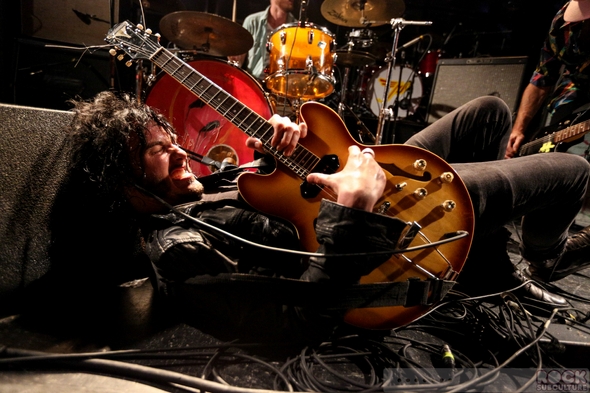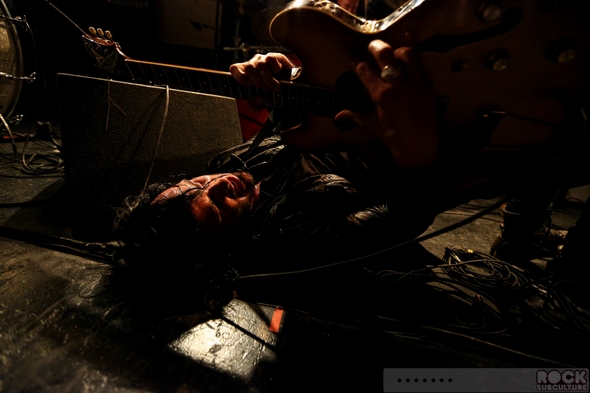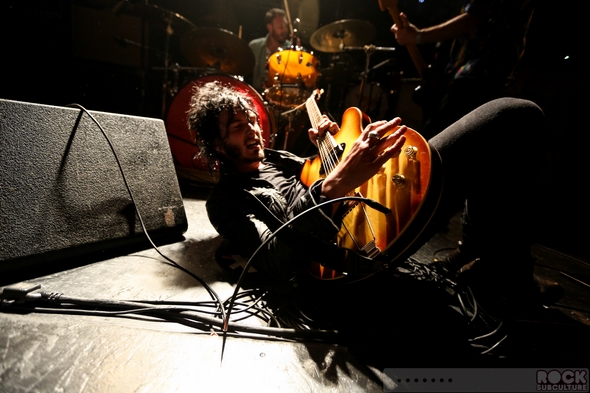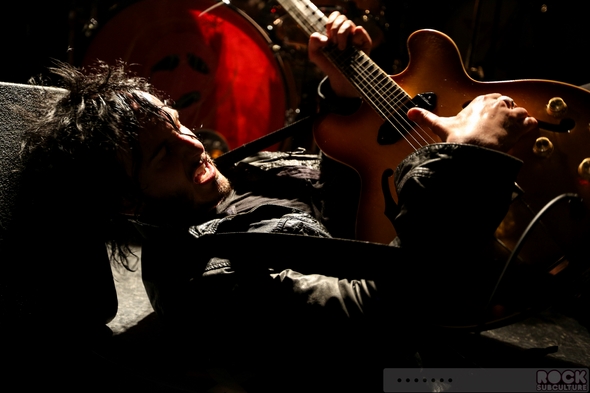 Pixies
Members
Black Francis (vocals, guitar)
David Lovering (drums)
Joey Santiago (guitar)
Kim Shattuck (bass guitar)
So it kind of annoys me that everything I read about the Pixies in the past ten weeks talks almost exclusively about Kim Deal and not much else…  so I will get that aspect out of the way and move on.  As reported in early July, Kim Deal (finally?) left the band…  and quickly thereafter, we had the first new music from ages and a replacement member in Kim Shattuck and the tour announcements and music videos and more new music…
My reaction has kind of been, well, that's a shame Kim left, but if her being with the band and the band doing has otherwise been doing nothing, well, I would call it an awesome development.
It seems like the only people who are making a fuss about it are people who probably were never really into the Pixies anyway, taking on the typical Internet-minded mantle of griping about this or that, as well as people who aren't really interested in new music or the new tour.
I think the funniest reaction I got was a friend, who said the Pixies without Kim Deal is like Journey without Steve Perry.  I kind of made myself laugh by retorting, 'no, it's like Journey without Randy Jackson'.
In any event, Kim Deal is on tour with The Breeders, and I caught one of their shows in San Francisco just two weeks ago, which was awesome.  Good for her!  I like her so much better with The Breeders than the Pixies anyway.  She seems happy with her bandmates there, and the Pixies seem happy in their current incarnation.  The best of both worlds.  Congrats all around.
For me, that's all there really is to say about that.
When they announced the tour a couple months ago, I came very, very close to buying some of the tickets to shows overseas just to ensure I saw them (much like I did with one of my other Top Three favorite bands earlier this year, when I followed Depeche Mode all over Europe and England).  Honestly the only reason I didn't is that I lost track of the timing of it all and missed ticket sales, but they announced these handful of U.S. dates leading up, so it all worked out more economically for me anyway.
First off, as mentioned last week, for me the Pixies are one of those bands in which I felt that their original works were the stuff of musical perfection, and that they should just leave it at that (kind of like the Original Trilogy with Star Wars – was better left alone)…  yes, please tour, but new music couldn't possibly measure up, and that in turn would tarnish the originals in some manner.
I'm not wrong too often, but I am so glad the Pixies proved me wrong on this one.  I loved Bagboy.  And now with the new 4-song EP, I love all of that material as well.
I never would have imagined that the Pixies could find that old magic again.  I honestly didn't care for Bam Thwok (which came out in their 2004 era reunion); not that it was bad, it just didn't do anything for me – heard it once and never cared to repeat.  Just wasn't the same.  The new material, for me, is quality just like the old, but different enough to be new, if that makes any sense.
Getting to these concerts…  I'd never actually been to El Rey Theatre before – really great venue.  Nice size, wonderful staff.  Interesting lighting (not good for photography some of the time, but excellent as a fan in the audience!).  Nice low stage with no security/photo pit (again, the latter kind of a bummer for photography, but great for fans, which counts for more even in my opinion).  Perfect intimate atmosphere.
The band did do a surprise warm-up show a few days earlier at Echo, which I did not attend, though it sounds as though it was even more of an intimate venue, which must have been awesome.
As such, Monday and Tuesday marked the second and third appearance of the band with their new member, Kim Shattuck from The Muffs.
Funny enough, Monday night I ended up standing up against the stage right in front of her, which was awesome, as it gave me an opportunity to see how she did on bass.  She played pretty flawlessly (flawlessly in the world of the Pixies, if you know what I mean), and the audience was very welcoming and supportive, shouting out to her and cheering her, which she really seemed to appreciate.
Given their time off and adjustments to a new player coming on board, I thought that they did remarkably well, and I would say that though there might have been some rust and adjustments, I didn't pick up on any weakness whatsoever with Kim herself.  She seemed very comfortable and natural playing the songs, and the Pixies is one of the few bands where the bass really stands out and matters, with a lot of showcase runs and such where all ears are tuned into the bass and anticipating each note.
Overall, I'd say Kim nailed it each night, and is an awesome, awesome choice to be a part of this band.  She seems to fit in perfectly.  So unless someone were to make the argument that maybe Kim not quite fitting in made for a dynamic that resulted in better music, I really love the idea of Kim being part of the Pixies.
The most talked about aspect of Monday night's show, in chit chat after the show (I love how fast information spreads on Facebook – even among people who weren't there1), was that the band played a solid hour and fifteen minutes, left the stage, and never came back on for the last three songs listed as an encore on the setlist.  It seemed expected, even among the crew who reset things on stage, and minutes later house music and lights awkwardly came on, confusion ensued, and the curtain dropped (literally).  Not sure what happened, but I'm positive that there was a good reason to leave it at that.  I'm sure with four back-to-back shows and with all of the changes already discussed, it is a lot to deal with for the band.  I loved the show, and didn't feel any disappointment at all (if anything some concern hoping all was well with them).
So on Tuesday night, since I was shooting and with no photo pit I always try to do what I can to get a good spot to do photography, I showed up really early – a bit before 6:00 for a show with doors at 8:00 and the two sets starting at 9:00 and 10:00.
There was already a small line-up outside – maybe a dozen people.  Cool story – there were three nice young women at the front of the line (part of that younger generation that wasn't around – maybe not even alive – when the Pixies started).  They were elated, as Black Francis stopped by and greeted them, took a nice photo with them, and signed some autographs.  How awesome is that?  I love it.  Things like that are huge for fans, and I'm sure they will never forget it.
I ended up pretty close to front row center once inside, trying to triangulate a stationary position where I could get some shots of Joey on the left, Kim on the right, Charles up front, and David on drums (always the most challenging angle).  In short, photography aside, it was the best spot I'd ever been for a Pixies concert.  Amazing.
I think I saw them maybe half a dozen times back in the late 80s/early 90s, starting with their touring of Doolittle. and everything that followed, and even opening for U2 (which was my only negative Pixies concert going experience as the U2 fans wouldn't stop talking over their performance).  I'm a bit of a pack rat with such things, and just went through some photos I posted on my Facebook page in the past and found a photo I took of some old ticket stubs and even an old "mainstream newspaper" article about one of the concerts I attended.
So how did they do, and how did Night 1 compare to Night 2?
One of the cool aspects was that the set lists were totally different (see photos further below).  So it was more like a two part concert than it was a repeat of the night before.
They were somehow sloppier in some aspects on Night 2, but not in a bad way, but in a kind of in their relaxed, organic groove sort of way.  They kind of lost their way a bit in one song early on, and later stopped and restarted another in classic Pixies form.  But it wasn't a big deal to them, and that is kind of how they've always been. Their music has a very "real" feel, and they play with each other a bit organically, like more of what you might expect a jam session might be like, only there is an audience there too.
I feel like they totally killed it on stage, and I can see the finding much success, and probably even more new (younger) fans if they keep on this journey of new music and touring with Kim.  It's really very exciting for me as a fan, as it opens up a world of possibilities.
It was pretty awesome to see it all unfold up front, and I got the sense that Black Francis truly is pretty shy and humble, and it was kind of endearing watching the way he balances in a way so that his left foot kind of hovers, slightly elevated from the ground.
Below are photos of the set lists from each night, though I know on Night 1 they flipped some songs in terms of order, and maybe there was a change last night as well.  As mentioned, with Night 1 they skipped the last three songs listed.
Pixies Set List at El Rey Theatre Night 1 on 9/9/2013: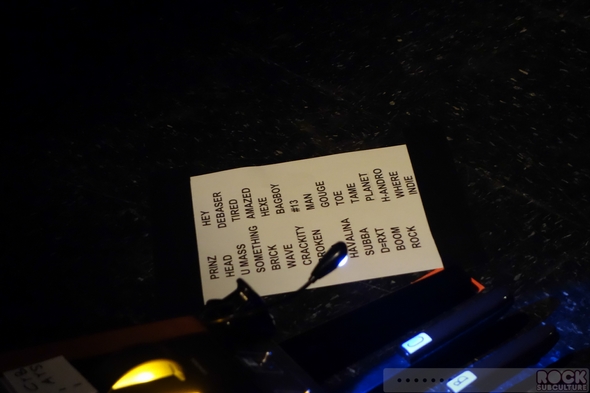 Pixies Set List at El Rey Theatre Night 2 on 9/10/2013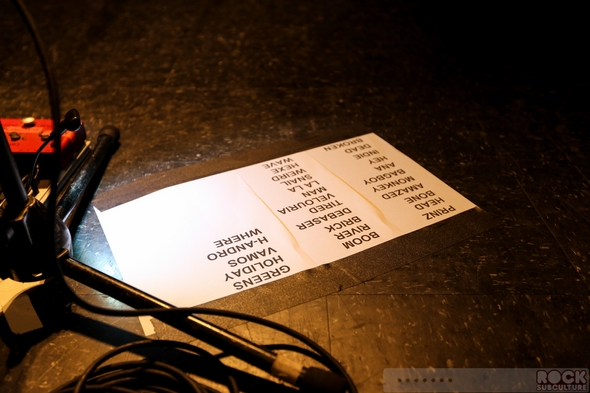 All in all, two epic and classic performances to add to the Pixies archives.  Really special events, and great crowds.  L.A. audiences on balance are usually among the worst, but the people who turned out at El Rey for Pixies this week were really great.
Below are some photos of the Pixies performing on stage on 9/10/2013 (click any image for higher resolution version of each photo):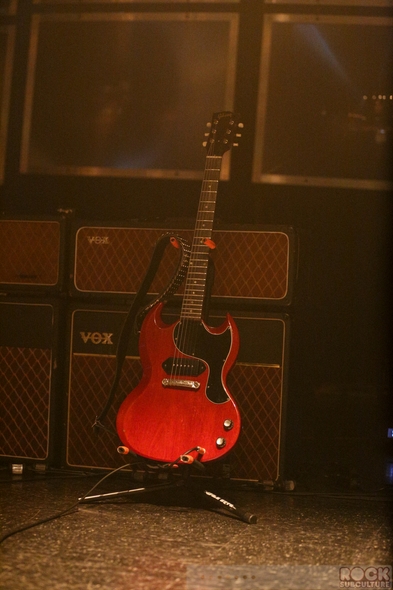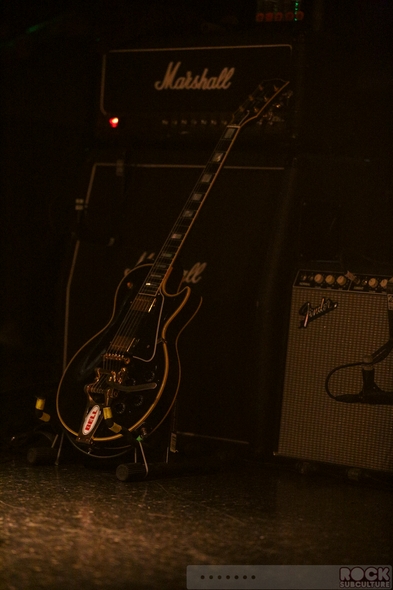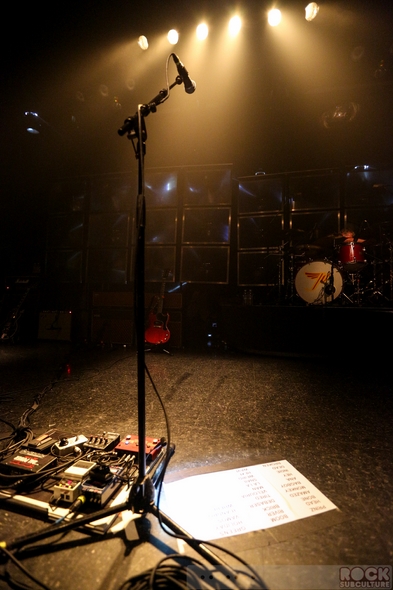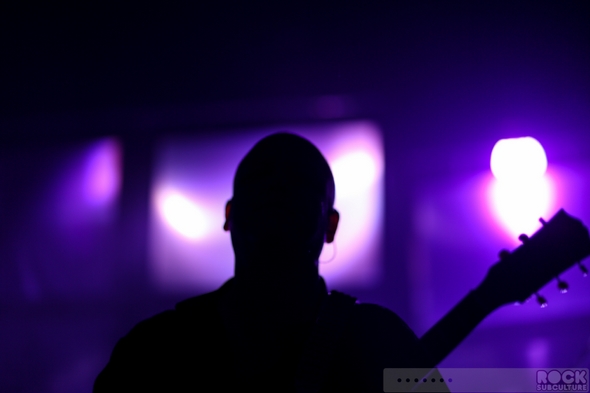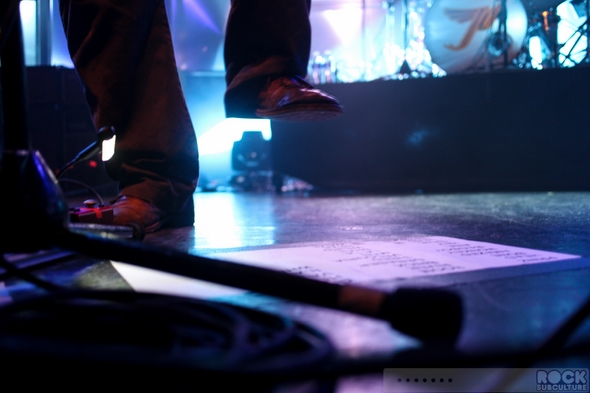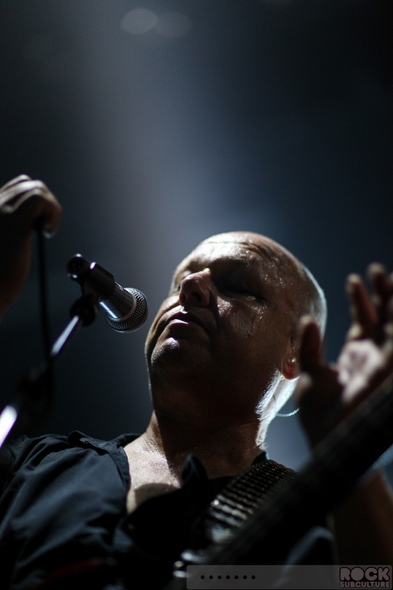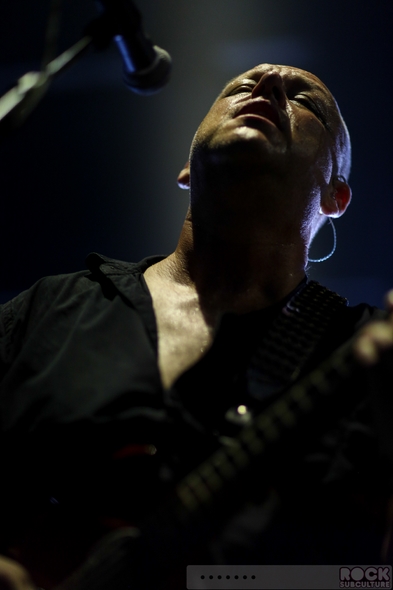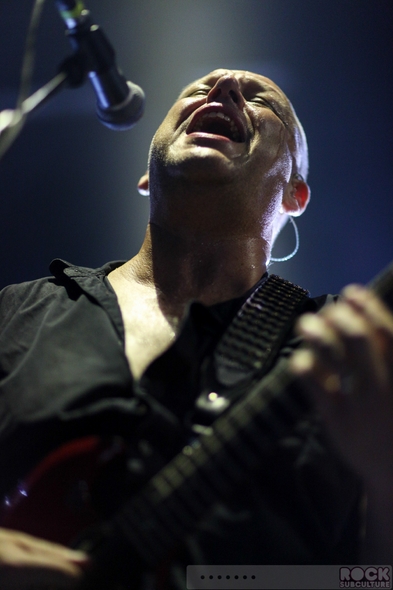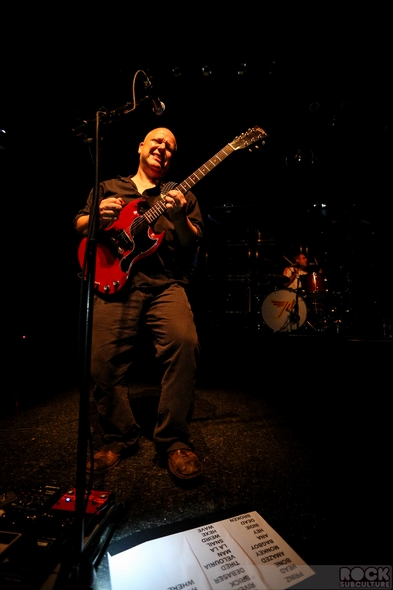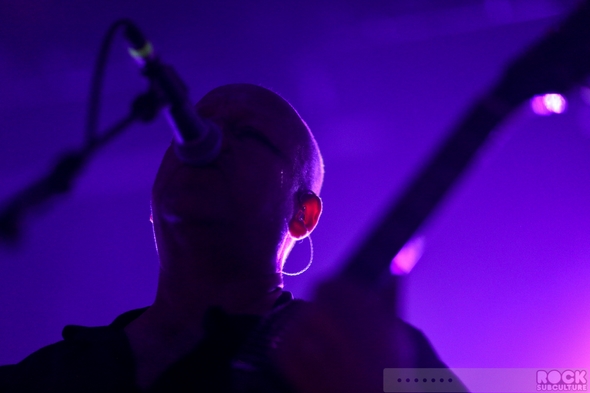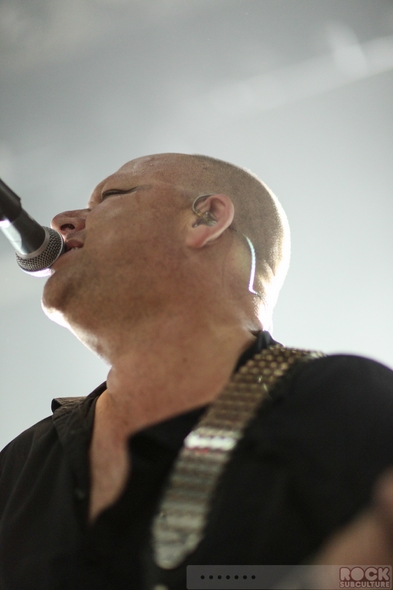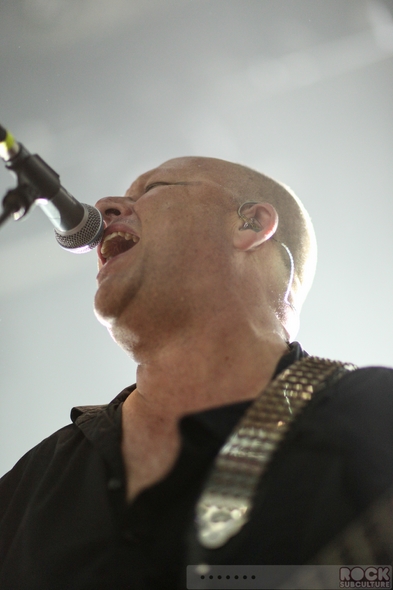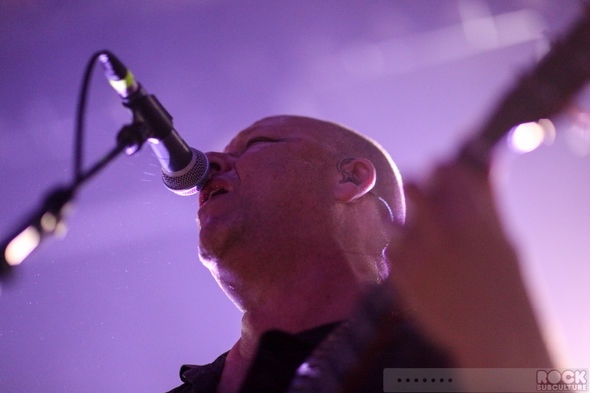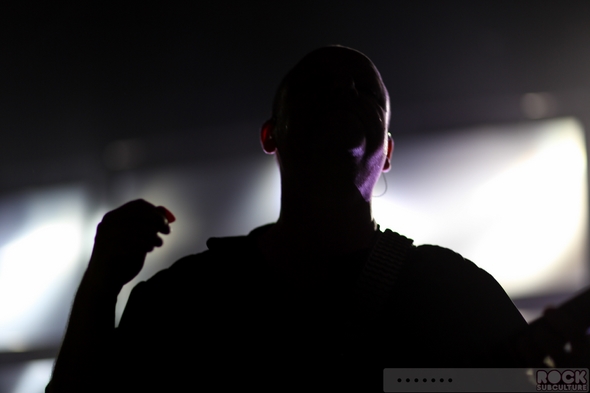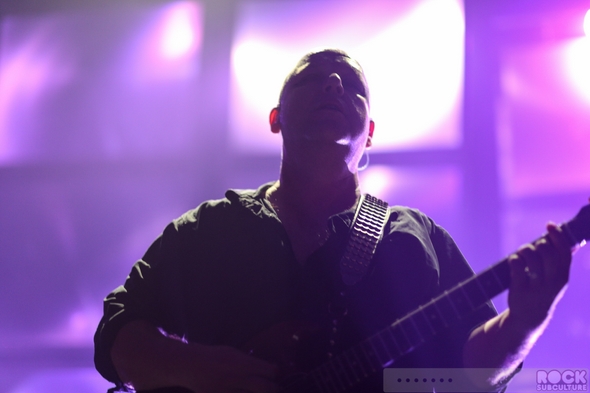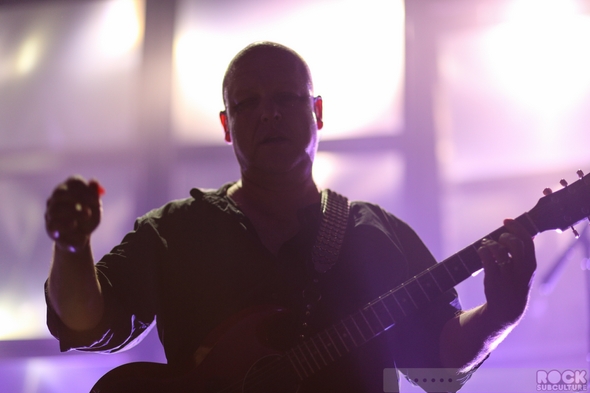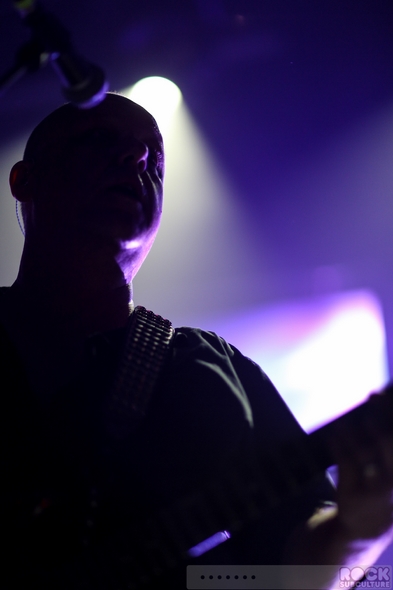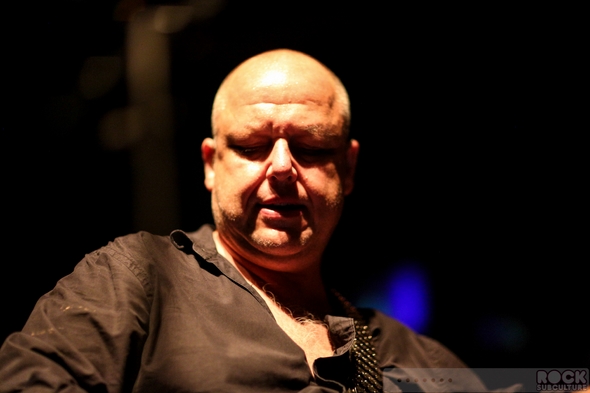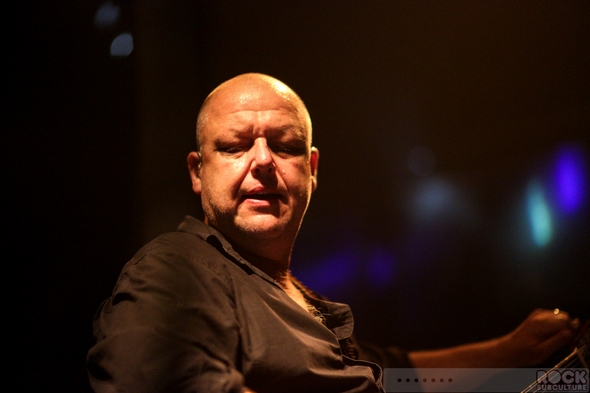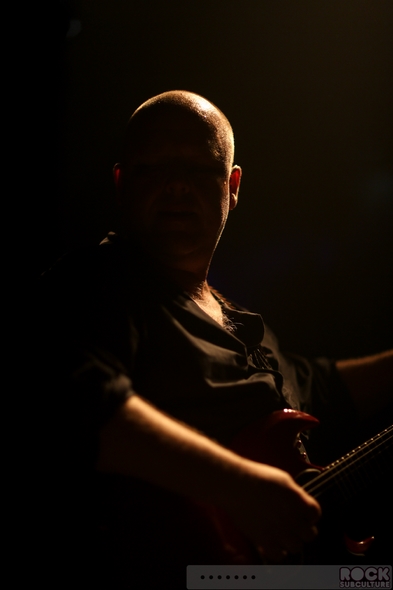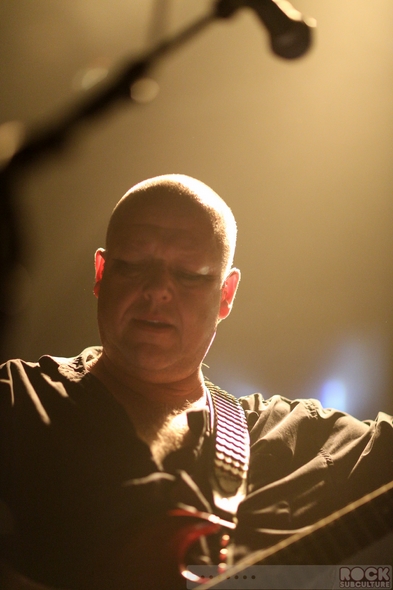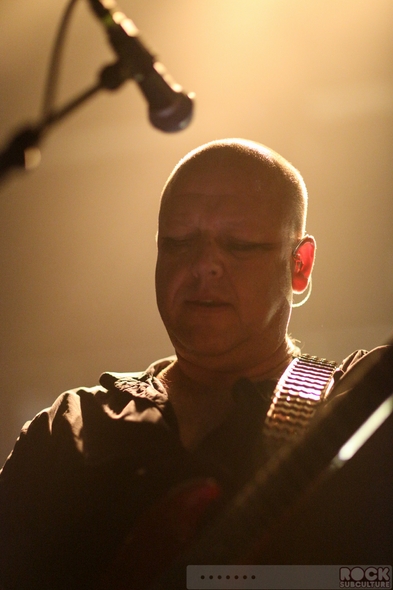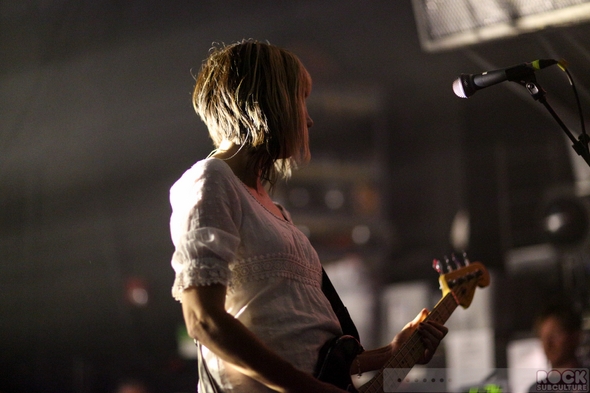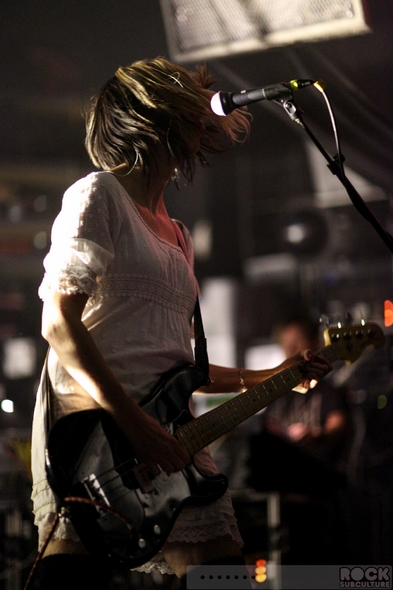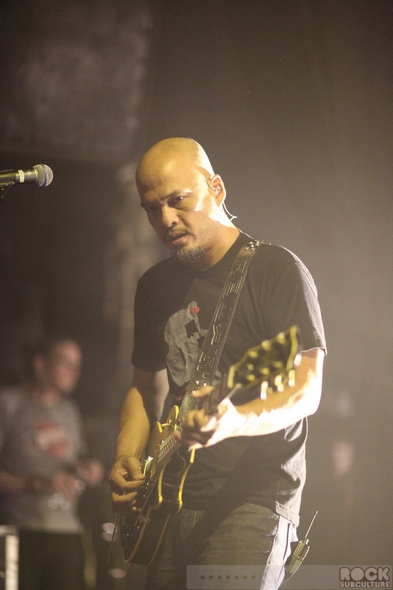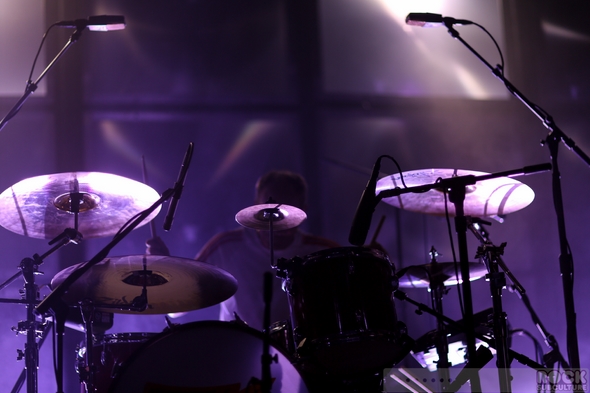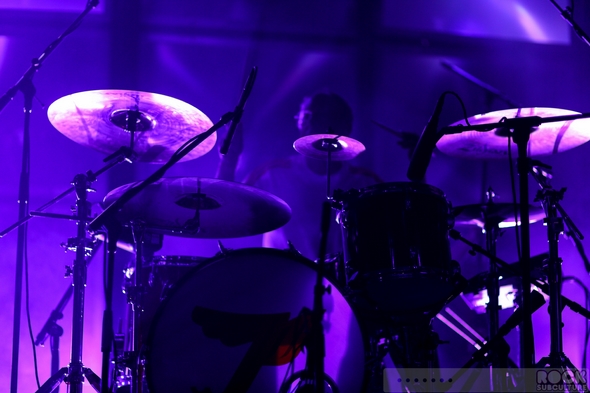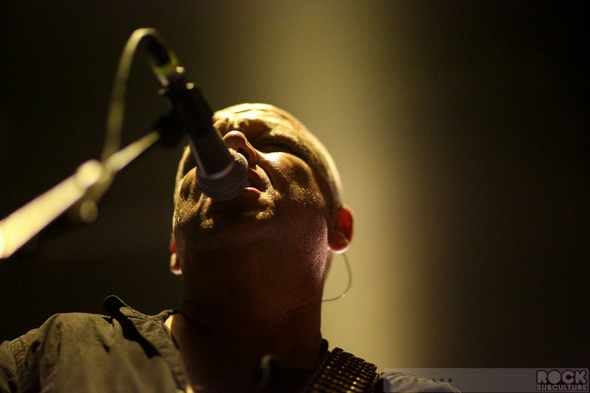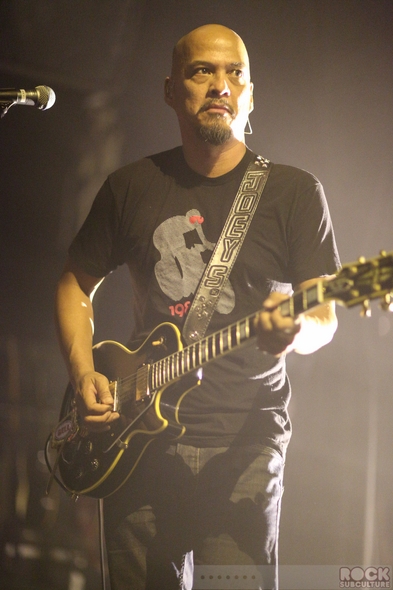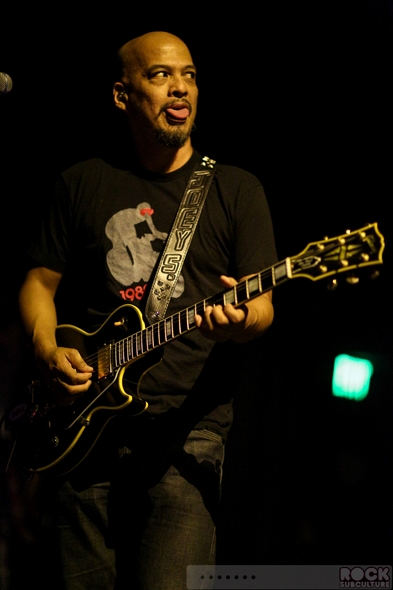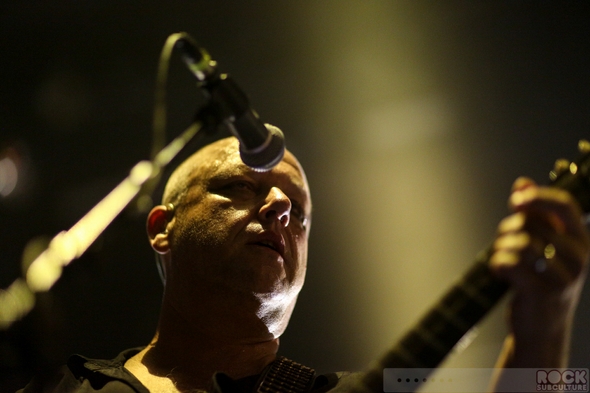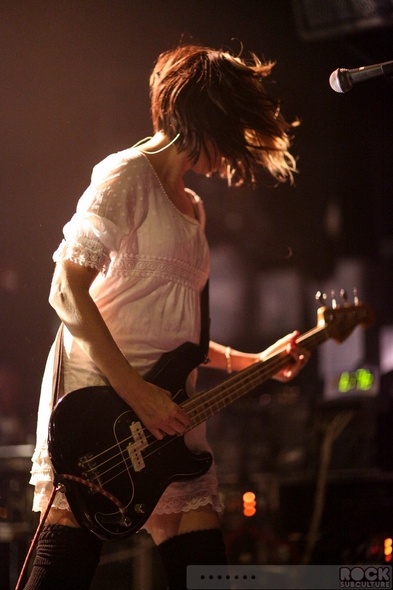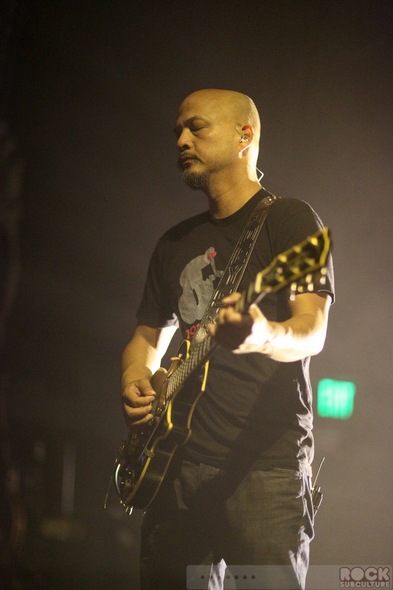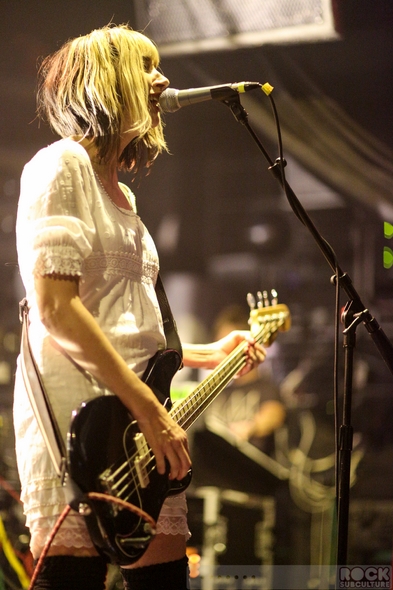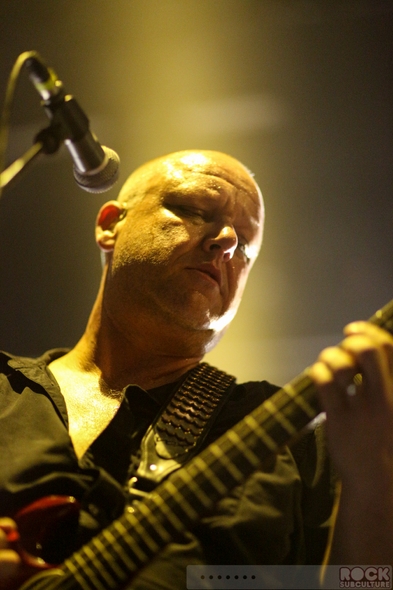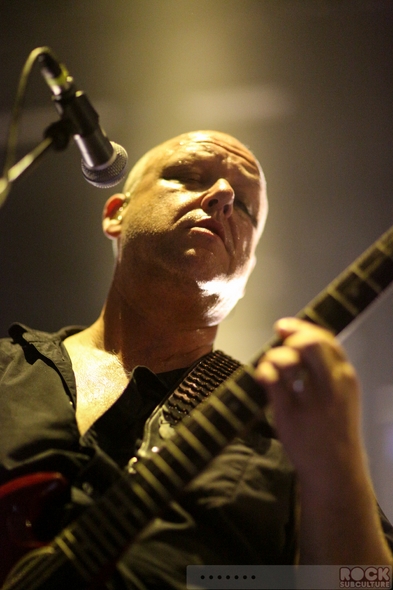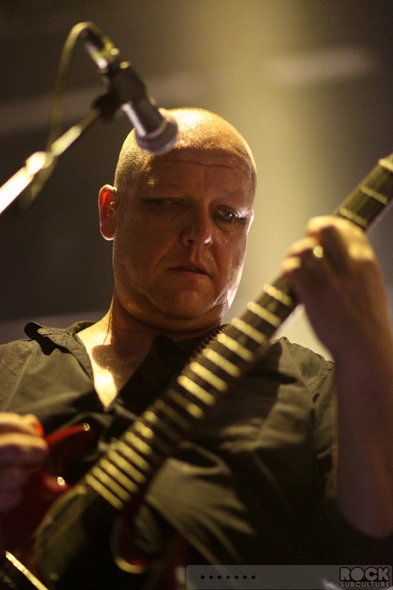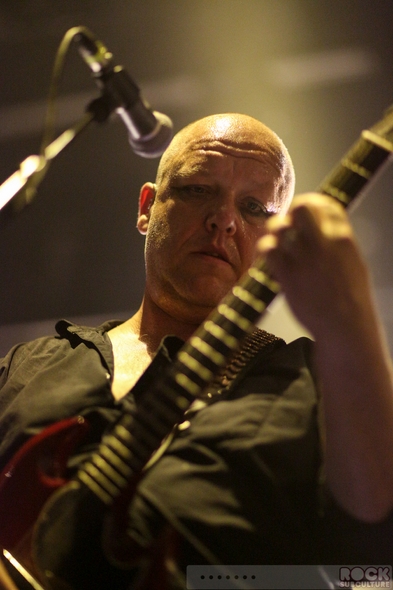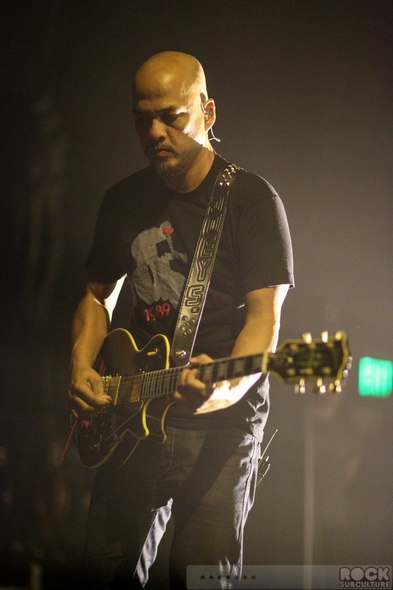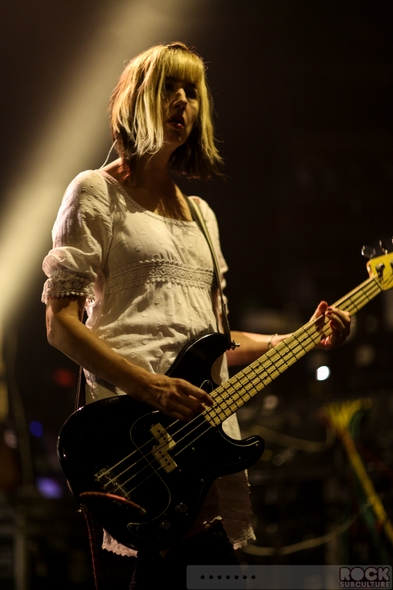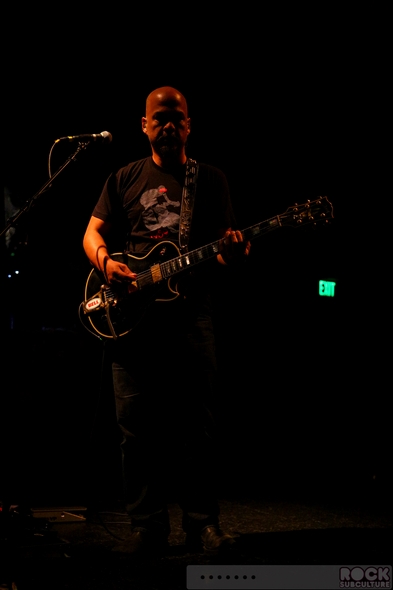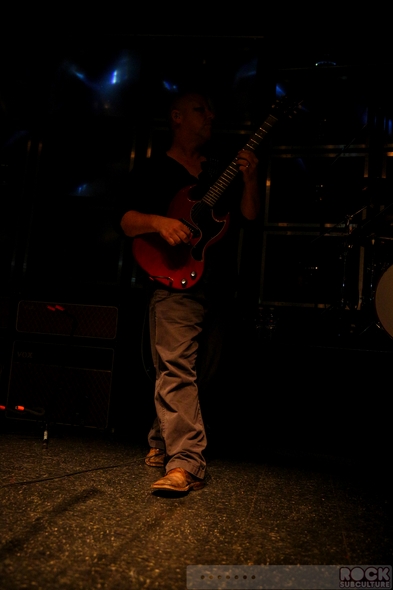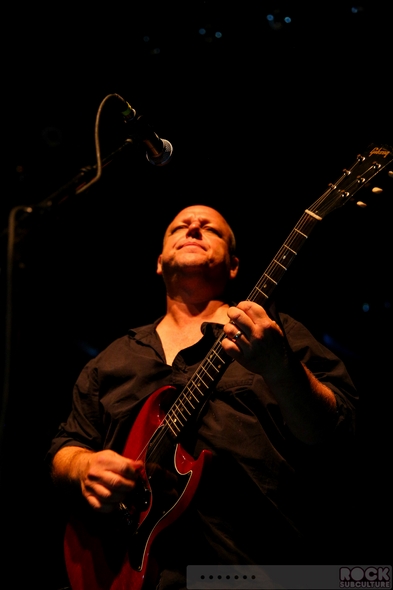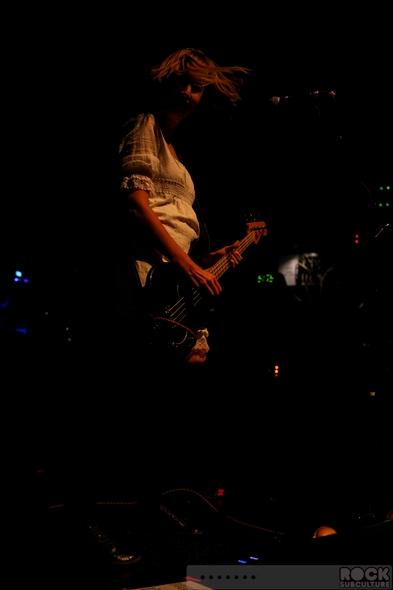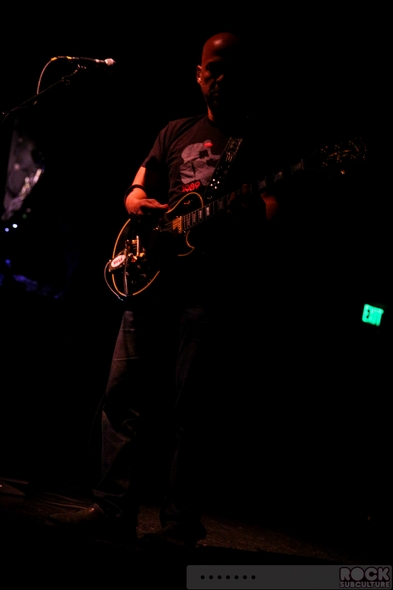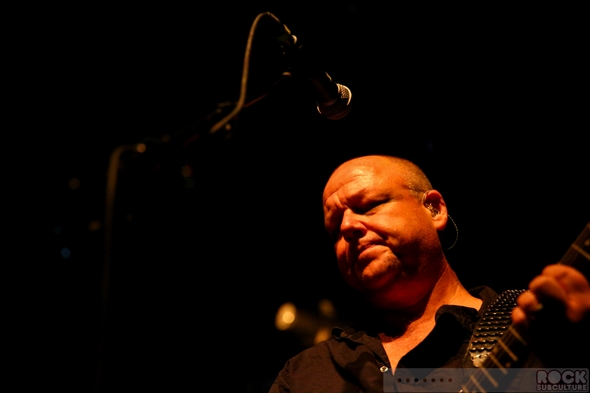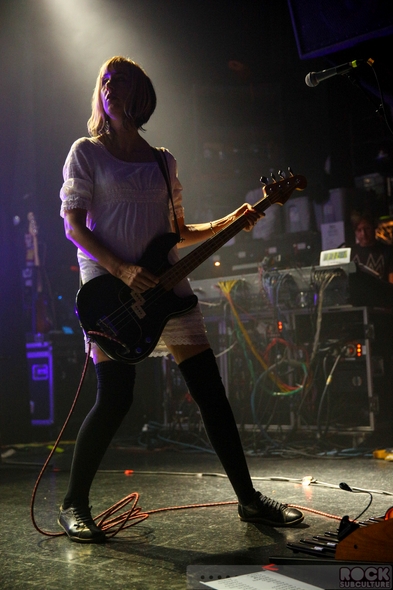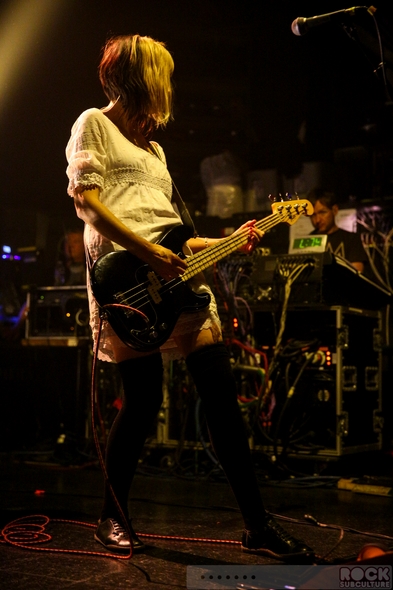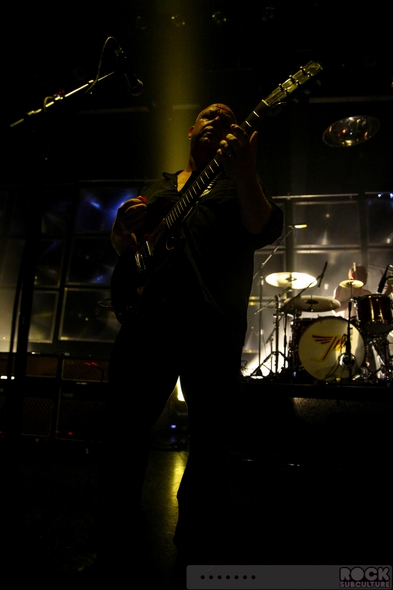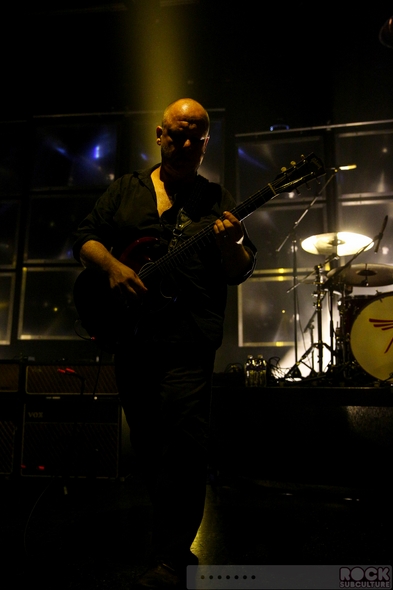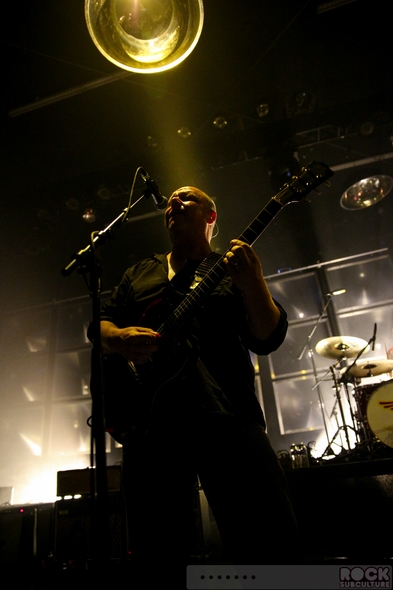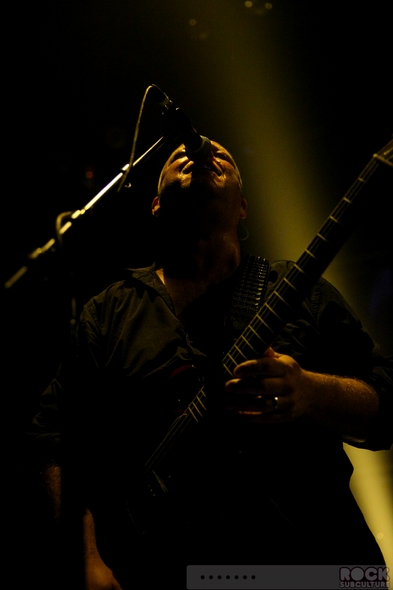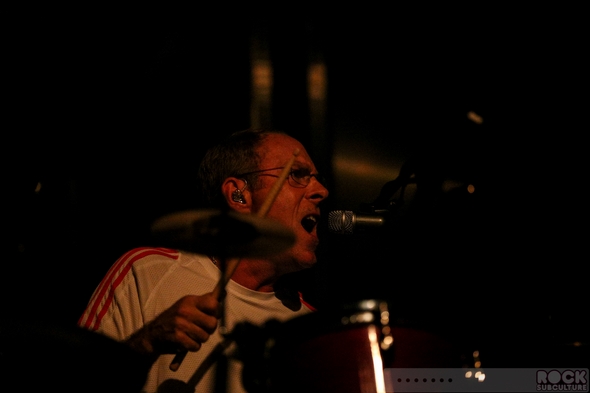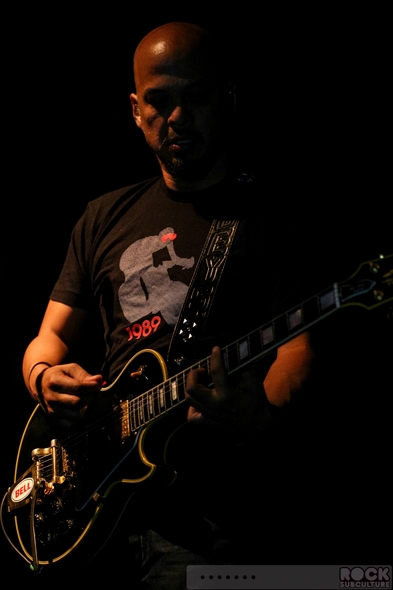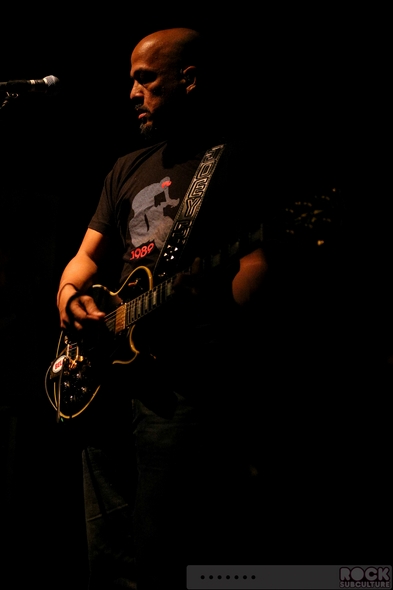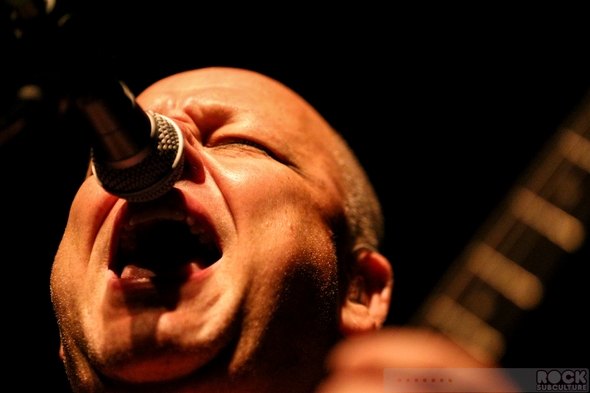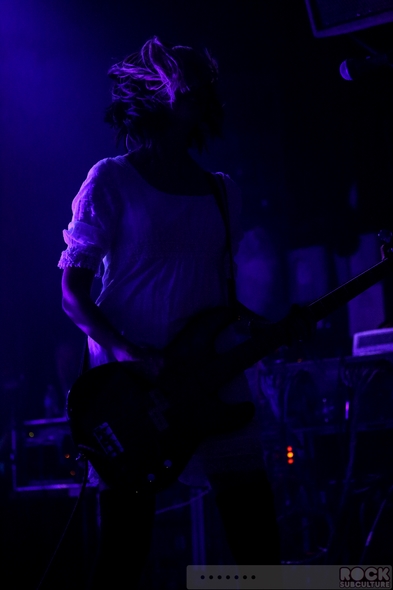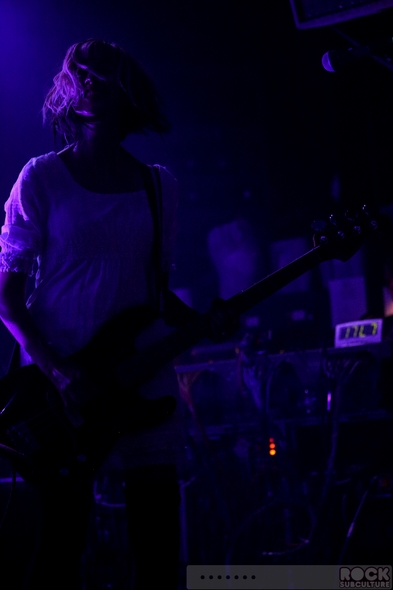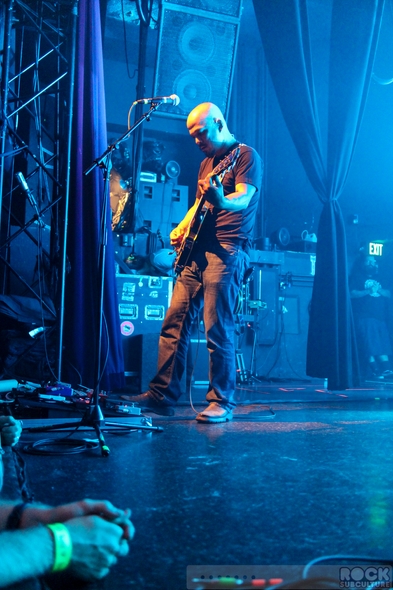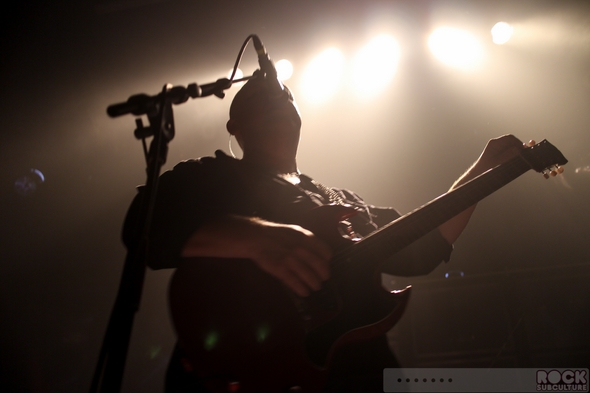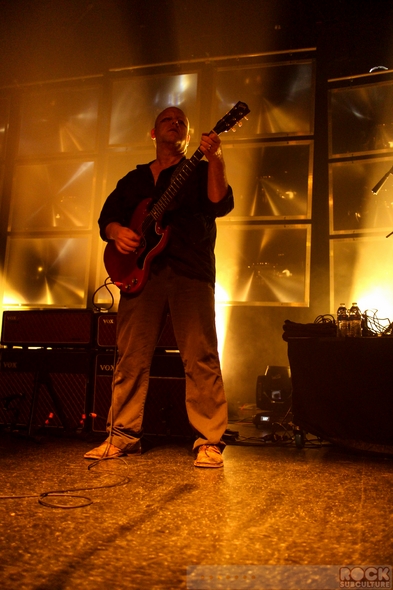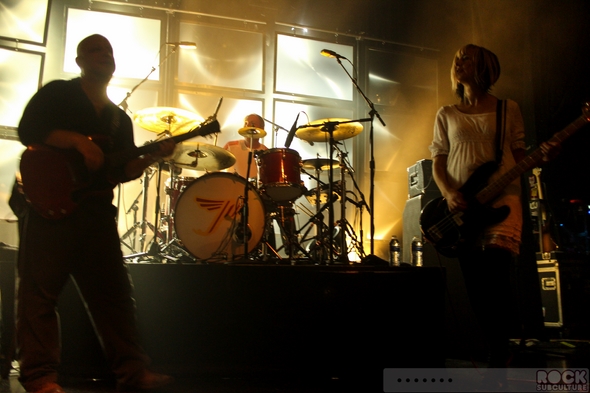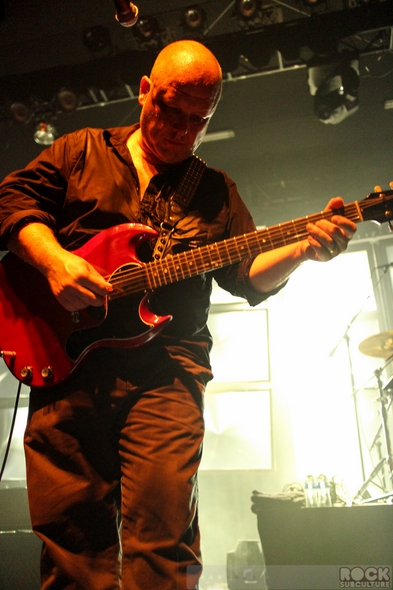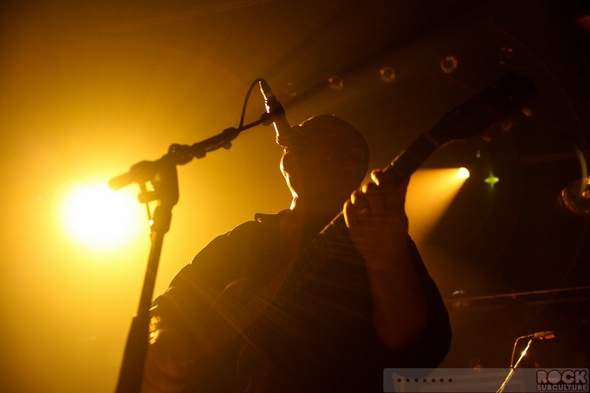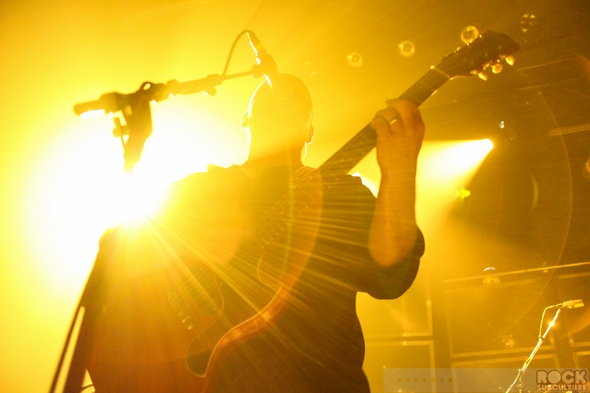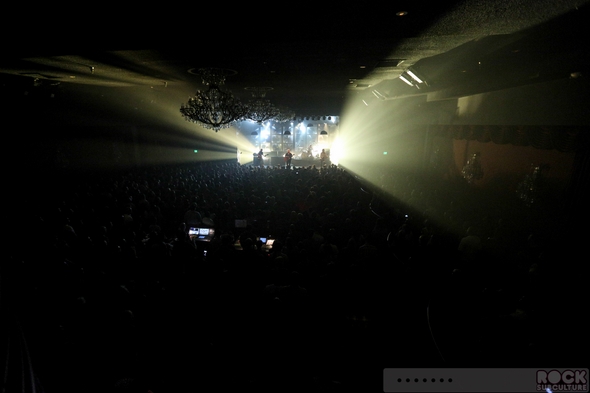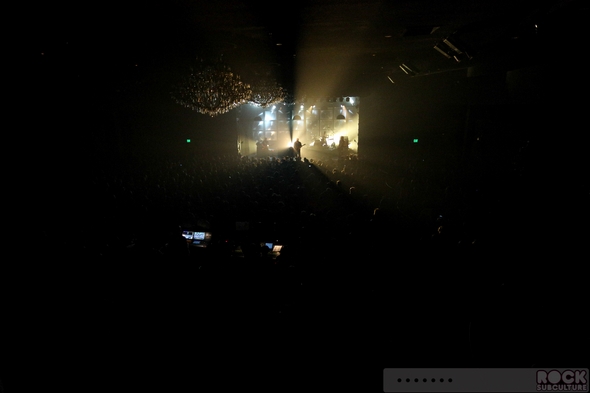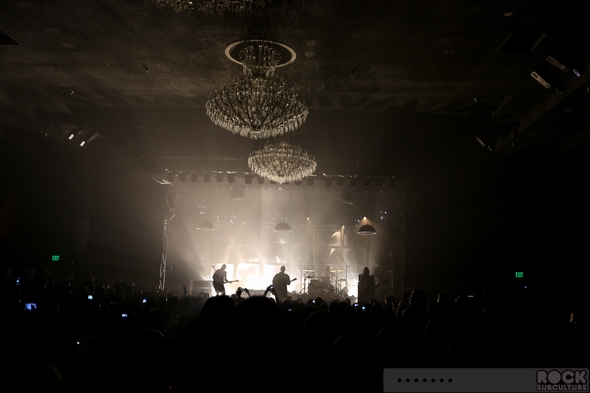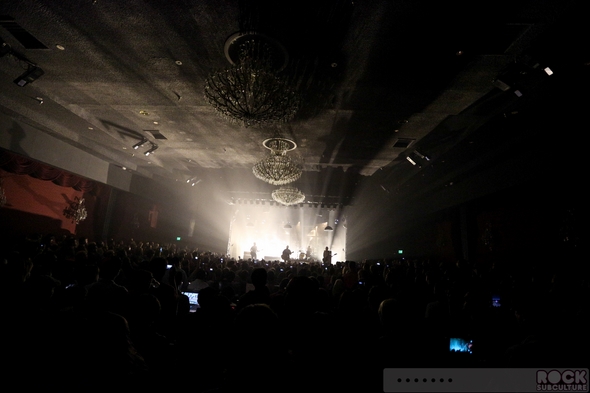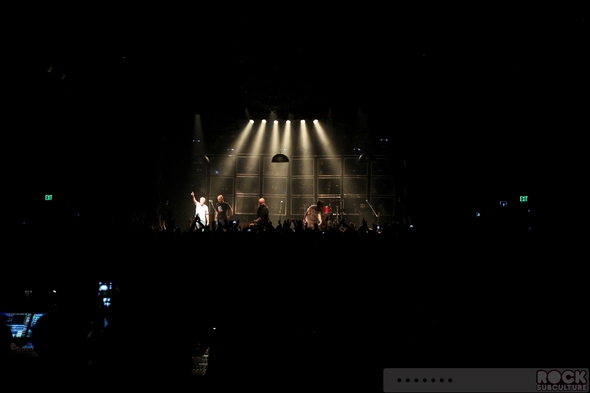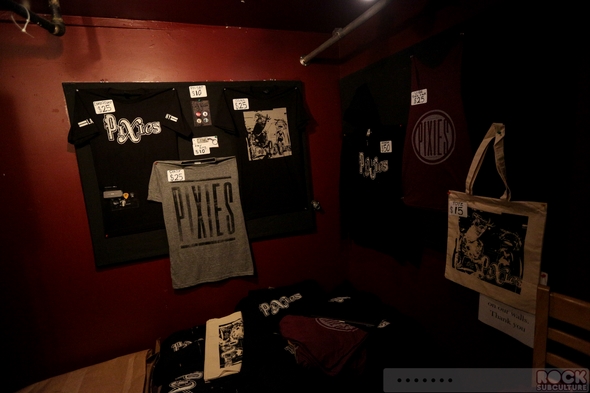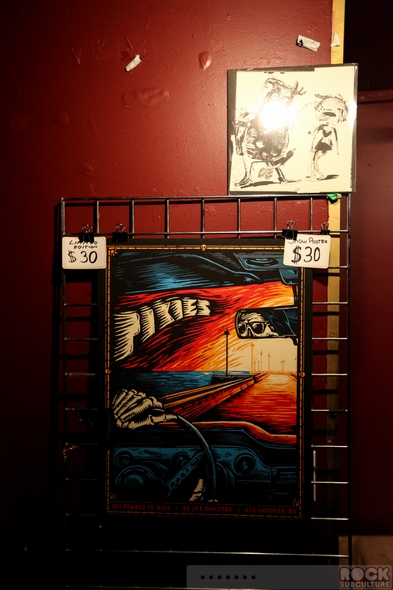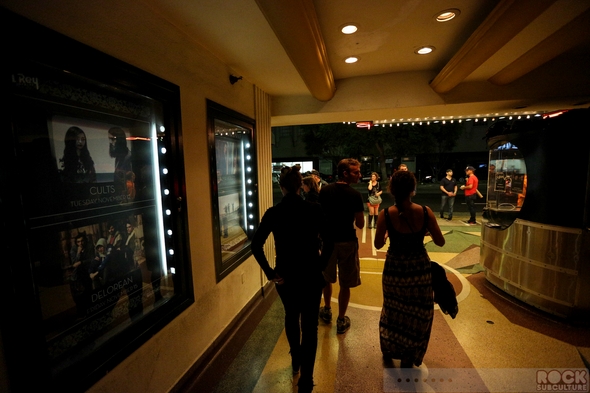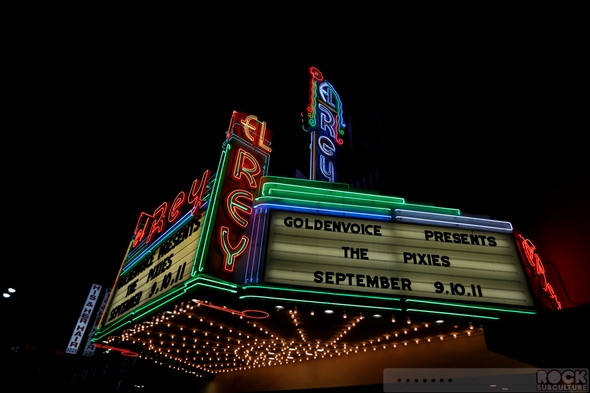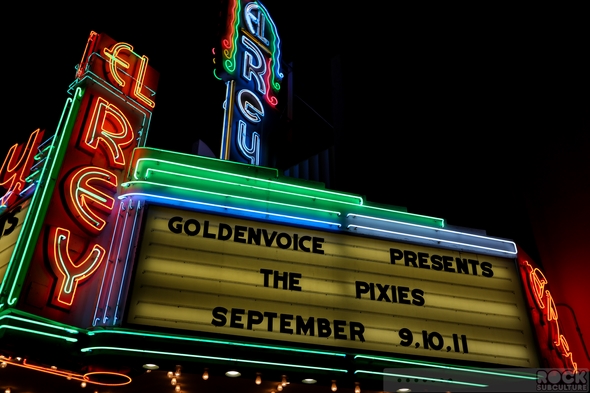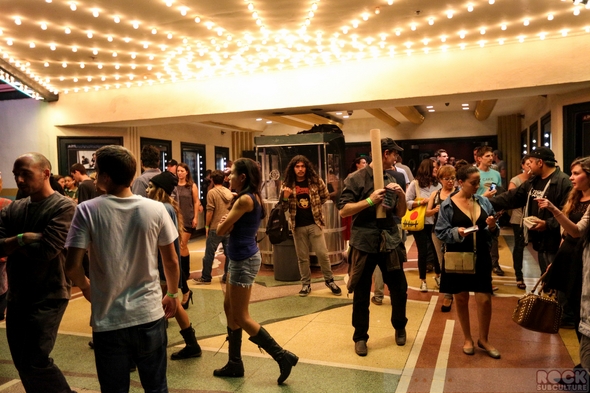 Jason DeBord