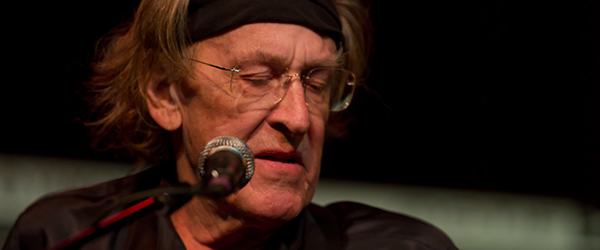 "I think Paul and I actually played this before we even picked up electric instruments, more than 50 years ago… " An intro into Buffy Sainte-Marie's "Cod-ine" by David Freiberg, who played with legend Paul Kantner in both Jefferson Airplane and Jefferson Starship.  The sold out concert at The Center for the Arts in Grass Valley last night was a celebration of both bands, as they celebrated 50 years of the former and 45 years of the later.  Coincidentally, yesterday was also the day that the great Leonard Nimoy passed away.  I made the connection in that Jefferson Airplane and Paul Kantner and Star Trek and Leonard Nimoy were both pioneers in pop culture from the mid-60's onward and remain icons of that period today.  The 60's represents many different things to different people, but as time marches on, the reality of it slips more and more into the past and that reality is transformed more and more into symbolism and ideas.  In some ways it fades, but it also becomes more powerful in that it has more of a mythic than real quality to people today, who forget…  Or, like me, were born after that time.  But Paul Kantner and David Freiberg are still on the road, keeping their music and the messages behind their art alive for those who come out to experience it.

Who: Jefferson Starship
Who or Supporting: Performs & Celebrates The Music of Jefferson Airplane 50th Anniversary
Venue: The Center for the Arts
Where: Grass Valley, California
Promoter: The Center for the Arts
When: February 27, 2015
Seating: General Admission Seating / Standing
I love The Center for the Arts in Grass Valley, and each time I come out for a show there, I ask myself why I don't come out to more of their shows.

It is a great, intimate little venue with an awesome staff and it always proves to be a great experience.  Their sound system is stellar too (quality sound and no need for ear plugs).
I feel very fortunate to have caught this show, as it is one I won't forget.  A true celebration of classic music, and played and performed with true expertise and earnestness.  A great crowd as well.
Getting back to my thoughts about the 60's and the passing of Leonard Nimoy, a contemporary of Paul Kantner and David Freiberg…  The last tweet made by Nimoy on Twitter I feel is very poignant: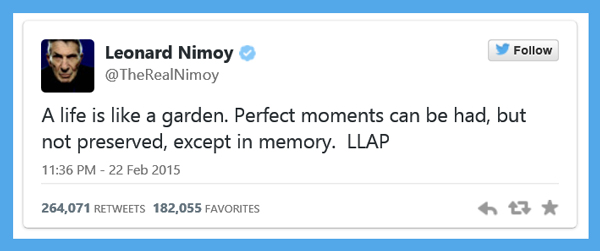 We are in part responsible for our own experiences – for ourselves and others.  I'm sure that in their many years at the center of the music world Paul Kantner and David Freiberg had some unbelievable experiences, but they continue on with performing their art to give special moments to their fans, and to continue to make those special connections that happen during a live show.  I find it all to be very positive and forward-looking, and if you have an opportunity to put yourself in the path of this band, this tour, I think that you will be rewarded with a special moment of your own.
Jefferson Starship
Touring Members
Paul Kantner (vocals, guitar)

David Freiberg (vocals, guitar)

Cathy Richardson (vocals, cow bell)

Donny Baldwin (drums)

Chris Smith (keyboards)

Jude Gold (guitar)
Jefferson Airplane is one of those bands who's music – and the artists behind the music – have endured for many, many decades.  As such, the band and the name under which band members have recorded and performed new music has gone through many changes, to the point where a chart could be very helpful to sort it all out.
The originating band, Jefferson Airplane, was founded in 1965.
Marty Balin turned a pizza parlor on Fillmore Street in San Francisco into a nightclub called The Matrix, and he and Paul Kantner met and recruited other musicians to create a house band for the club.  Signe Toly Anderson became the first female vocalist.  Also part of the original line-up was Jorma Kaukonen on guitar, Bob Harvey on bass and Jerry Peloquin on drums.The band played it's first public show as Jefferson Airplane at The Matrix on its opening night on August 13, 1965.  Soon after, Jack Casady replaced Bob Harvey on bass and Skip Spence replaced Jerry Peloquin on drums.
Music and Bay Area legend Bill Graham eventually became the band's manager, and the played the first Bill Graham promoted show at the now historic Fillmore.
The first studio album was released in late 1966, which had some commercial success.
Singe Toly Anderson left the band after having a baby and was replaced by Grace Slick of The Great Society, who often supported Jefferson Airplane at live shows.  Grace Slick contributed two songs from her own band to include on Jefferson Airplane's second LP, which proved to be two of their biggest hits, "White Rabbit" and "Somebody to Love".  These songs contributed greatly to the band's breakthrough and success.
The band went on to cultivate a legendary career in rock and roll, including an appearance at Woodstock festival and significant success through the end of the 60s, peaking by the end of the decade.
By 1972, many members had left the band for a variety of reasons and some were involved in other projects like Hot Tuna.  Their last studio album was released in this year as well.  It was during the 1972 tour that David Freiberg (who performed in Grass Valley last night) joined up with Jefferson Airplane.  Their last live performances were two shows at Winterland in San Francisco in September 1972 (until they reunited in 1989).  The band was inducted into the Rock and Roll Hall of Fame in 1996.
Jefferson Airplane was quite prolific, releasing a total of seven studio albums from 1966 to 1972.
Hot Tuna was founded by Jack Casady and Jorma Kaukonen in 1969.
In 1970, Paul Kantner released his first solo (science fiction themed) album Blows Against The Empire as "Paul Kantner/Jefferson Starship".  This collaboration included David Crosby, Graham Nash (from Crosby, Stills and Nash), Jerry Garcia, Bill Kreutzmann, and Mickey Hart (from Grateful Dead), and Grace Slick, Joey Covington, and Jack Casady (from Jefferson Airplane).
Paul Kantner and Grace Slick released the first proper Jefferson Starship album, Dragon Fly, in 1974.
Jefferson Starship broke up in 1984 when Paul Kantner, as the last remaining original member of Jefferson Airplane, left the band and took legal action against the rest of the band over use of the name.  David Frieberg was part of Jefferson Airplane as well, and parted ways along with Paul Kantner.
Ultimately, there was an out of court settlement in which it was agreed that neither side could use the names "Jefferson" or "Airplane" unless all members of Jefferson Airplane, Inc. agreed.
Paul Kantner, Marty Balin, and Jack Casady formed KBC Band in 1985, releasing just one self-titled album in 1987.
The band Starship was established in 1985 and included some members of Jefferson Starship with a significant change in musical direction.  Their sound reflected more pop/rock of the mid-80s, and they found mainstream success with a number of singles including "We Built This City", "Sara", and "Nothing's Gonna Stop Us Now".
Of course, this represents just the briefest of overviews of these bands, the details of which would I'm sure are quite fascinating.
Getting to the show from last night, it was incredibly impressive.  While only two members have direct ties to Jefferson Airplane and Jefferson Starship (prior to the initial break-up in 1984), the line up for the current tour is extremely impressive.  They put on a blazing performance, and far exceeded my own expectations going in.
Paul Kantner was very quiet and reserved in-between songs, with no real banter with the audience or stories.  I found myself dreaming about all of the experiences he's had in his life, and was really just in awe of his accomplishments.
He seemed to be having a great time and real chemistry with his bandmates.  Most of the show he was perched atop an equipment case, and took lead vocals on just a few of the songs.
David Freiberg had a somewhat contrasting stage presence – a real firebrand on guitar but especially vocals.
After the first set, the band came back on stage sans Paul Kantner for three songs, and one was a showcase by Freiberg – Buffy Sainte-Marie's "Cod'ine" – and I think that might have been the highlight of the night for me.  He absolutely killed it with conviction and incredible vocals.  Stunning, really.  A virtuoso performance.
Lead vocalist for much of the show was Cathy Richardson.  She has a fantastic voice and really authentic delivery, but she is very funny as well.  My fiancee made the observation that she is kind of Jack Black-like with her humor, and I think that fits her onstage personality well.  She brought a lot of fun to the party, but rocked all those classic songs very hard.
Jude Gold is an amazing guitarist, and brought a lot of charisma and flair with his playing to the game.  He could really nail those classic riffs but in a way that reflects more modern playing, so he had his own signature on the familiar songs.  He also did a fantastic solo on "Embryonic Journey" in that middle break of the show.
Donny Baldwin on drums and Chris Smith on keyboards filled out the songs beautifully with the non-guitar instruments on stage.  Funny enough, Chris Smith is from Grass Valley!
All in all, it was a very unique evening of music in a fantastic venue with high quality sound.  Definitely a must-see tour for 2015.
Below is a photo of the set list from the show: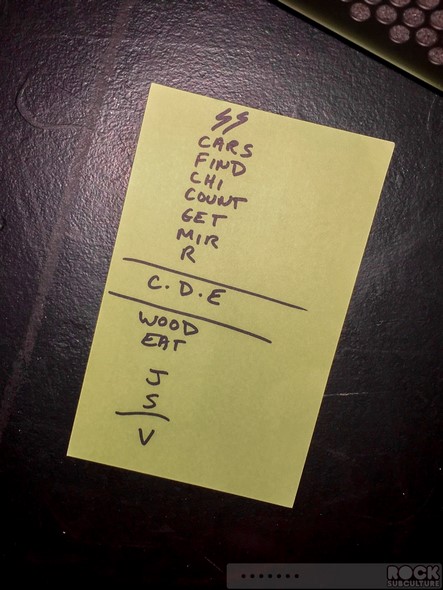 Set 1:
Have You Seen The Saucers? (Jefferson Airplane)
She Has Funny Cars (Jefferson Airplane)
Find Your Way Back (Jefferson Starship)
Sketches of China (Jefferson Airplane)
Count on Me (Jefferson Starship)
Let's Get Together (The Kingston Trio cover)
Miracles (Jefferson Starship)
White Rabbit (Jefferson Airplane)
Set 2:
Title Unknown (Macrodots cover)
Cod'ine (Buffy Sainte-Marie cover)
Embryonic Journey (Jefferson Airplane)
Set 3:
Wooden Ships (Crosby, Stills & Nash cover)
Eat Starch Mom (Jefferson Airplane)
Jane (Jefferson Starship)
Somebody to Love (Jefferson Airplane)
Encore:
Volunteers (Jefferson Airplane)
Below are some photos of Jefferson Starship performing on stage (click any image to open a virtual lightbox to view larger resolution versions of each photo):
Jason DeBord