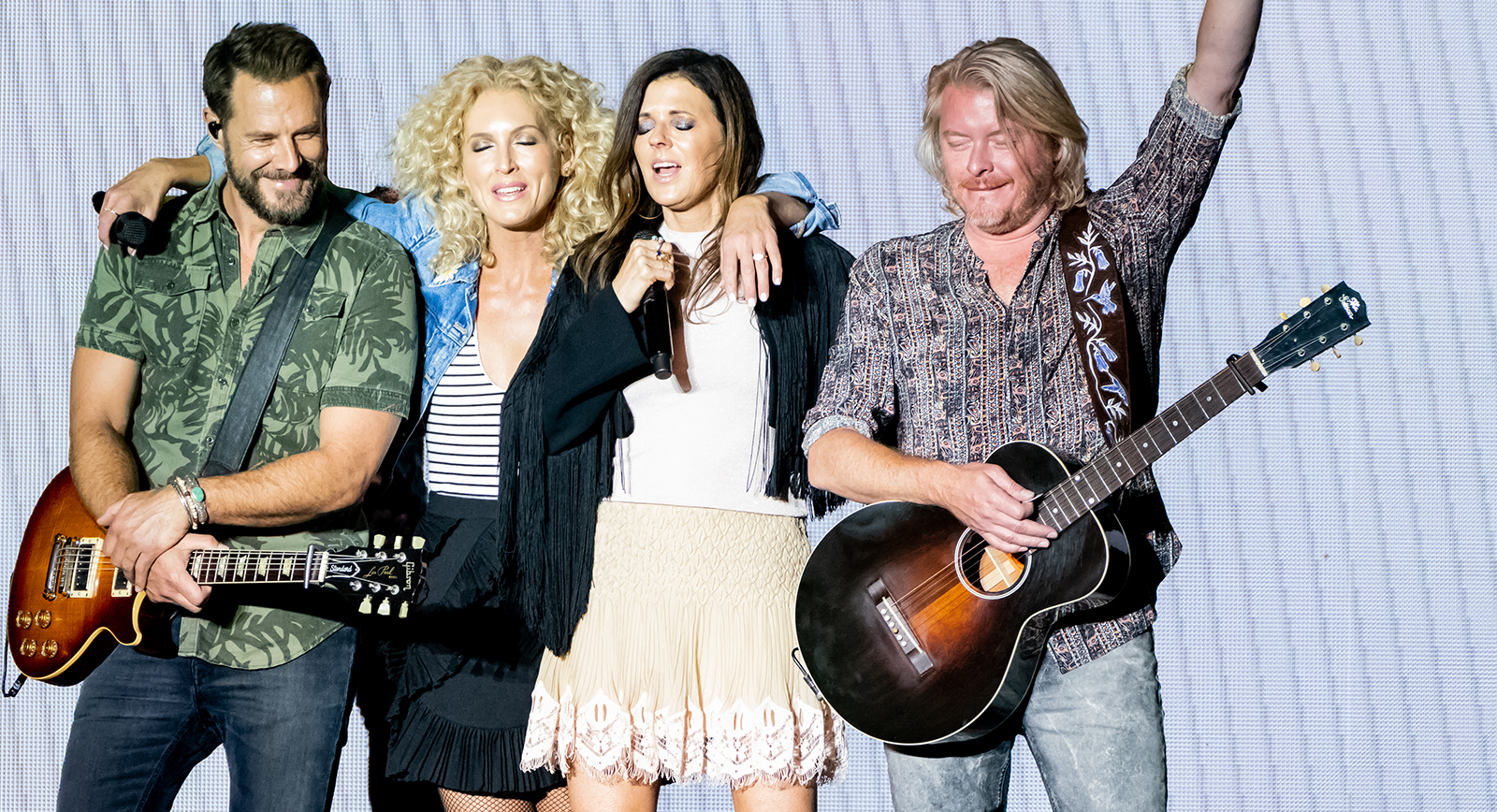 "I mean, I don't think there's anything that we love more than California, drinking wine, and singing some songs…" Karen Fairchild of Little Big Town, performing before a massive crowd at Ironstone Amphitheatre Sunday night.  It seemed to be a sentiment shared by all in attendance as the band played through their own hits as well as some interesting cover songs, putting on a show that really impressed.
Who: Little Big Town
Who: Granger Smith
Venue: Ironstone Amphitheatre at Ironstone Vineyards
Where: Murphys, California
Promoter: Richter Entertainment Group
When: July 1, 2018
Seating: (house photographer)
Richter Entertainment Group's Summer Concert Season at Ironstone Amphitheatre in Murphys began in mid-June with Toby Keith, so this was the second show of the season. Artists to be featured in 2018 include Toby Keith, Little Big Town, The Isley Brothers, The Commodores, The Family Stone, Willie Nelson, Alison Krauss, Foreigner, Jason Bonham's Led Zeppelin Experience, Queensryche, Counting Crows, Live, Creedence Clearwater Revisited, America, Stone Temple Pilots, The Cult, Bush, Culture Club, The B-52s, Tom Bailey from Thompson Twins, and more!
Richter Entertainment Group assembles an eclectic mix of musical artists, styles and genres every year, all benefiting from the state-of-the-art concert facility with top quality sound and lighting to placed each artist in the spotlight to showcase their music.
The amphitheater features traditional assigned seating in the section directly in front of the stage, with a vast area behind that is designated general admission and allows patrons to bring their own lawn chairs and blankets with an opportunity to find the best spot from which to enjoy the show.
The greater setting of Ironstone Vineyards is stunning a beautiful – one of the rare concert venues where you can show up hours early and just take in the scenery, do some wine tasting, as well as have a stellar meal.
Learn all the details about this year's concert line-up and where to buy tickets on the official REG website at www.richtergroup.net.
With this show on Sunday night, being that both artists are country bands, this one was a bit outside of my wheelhouse.  While I am open to all genres of music, country is one area that I do not follow at all. However, I am one of the house photographers for Richter and this summer concert series, so I thought that at the very least some fans in attendance may appreciate some of the photos, so I thought I would share those with a more abbreviated than usual set of thoughts about the show as well – I am just not at all qualified to have much to share about this particular show, other than that I enjoyed it.
Granger Smith
Granger Smith, also known as Earl Dibbles Jr is a country singer songwriter who performed with his band in support of Little Big Town on Sunday night, and has been active about as long as well (since 1998).
He has also been prolific with nine studio album; most recently When the Good Guys Win put out last year.
Granger Smith and his band definitely seemed to have quite a few dedicated fans in the crowd as well, which was most evident when he performed one of his songs out in the crowd, with fans shaking his hand or taking selfies as he toured around the audience.
Below are some photos of Granger Smith performing on stage (scroll downward and photos will begin to appear – click any image to open a virtual lightroom with higher resolution versions of each photo):
Little Big Town
Members:
Karen Fairchild (vocals)
Kimberly Schlapman (vocals)
Phillip Sweet (vocals, guitar)
Jimi Westbrook (vocals, guitar)
Little Big Town was founded by the four principal members twenty years ago.  All of the members perform lead vocals in different songs.
They have a very warm and engaging style, which I think comes through the most (for someone like me, not familiar with their work) via their cover versions of songs by other artists.
They are today an extremely successful band, with incredible sales and critical acclaim and awards.
They've released eight studio albums in total, the most recent being last year's The Breaker.
Set List:
Rocket Man (Elton John cover)
Pontoon
Happy People
Front Porch Thing
When Someone Stops Loving You
Little White Church
Acoustic Set
Bring It on Home
Sober
When The Doves Cry (Prince cover; partial)
Lord I Hope This Day is Good / I Believe in You (Don Williams cover)
Wichita Lineman (Jimmy Webb cover)
Wonderwall (Oasis cover)
~
Save Your Sin
Better Man
Can't Go Back
Rollin'
Tornado
Day Drinking
Stay All Night
Girl Crush
Boondocks
Below are some photos of Little Big Town performing on stage (scroll downward and photos will begin to appear – click any image to open a virtual lightroom with higher resolution versions of each photo):
Jason DeBord