"We have to love one another.  We can always find a way.  We can always find a way".  Ziggy Marley at Veteran's Memorial Auditorium in Grass Valley on Sunday night, before a crowd of people that seemed to be very receptive to his messages and ideas shared throughout his set.  Playing in support of his latest album, Rebellion Rises, Ziggy Marley brought a message that seems to run counter to the general vibe that we encounter day to day in the U.S., which I found both refreshing and timeless.  He is all about positivity and the power behind everything that is about, rather than the current climate permeating social media and the news that is more about dividing and judging one another and being intolerant.  Personally, I would choose to stand beside Ziggy Marley and celebrate his music and his message of coming together with one another, and I think that would hold true for the fans in attendance at this concert.  The show was excellent and I am really enjoying the new music, which mixes together well with his massive catalog of work as well as the handful of covers done in tribute to his father's work as well.  Really a fantastic experience and nice escape from the day to day negativity found out in the "real" (and not so real) world.  This is definitely a tour to come out to see if it is headed to a city near you in the next couple of months.
Who: Ziggy Marley
Supporting: Sista Kat
Supporting: Jah Mikey One
Venue: Veteran's Memorial Auditorium
Where: Grass Valley, California
Promoter: The Center for the Arts
When: August 12, 2018
Seating: General Admission (photo pass first three songs)
The Center for the Arts is one of my favorite concert promoters – the people behind it and the on site staff are always awesome.
They have two great venues in Grass Valley, both within an hour drive time of my house (which is a rare thing!).
This show was at the larger of the two, Veteran's Memorial Auditorium.
This was a rare "dance event" show for them with no floor seating and general admission bleachers in the back.
The place was packed on Sunday night with Ziggy Marley fans.
Check out all the upcoming shows and events by The Center for the Arts on their official website at www.thecenterforthearts.org.
Sista Kat
Sista Kat with Nikila and Jah Mikey One (who provided the opening DJ set) supported the show with a popular live set that got things going on Sunday night.
Below are some photos of Sista Kat performing on stage (scroll downward and photos will begin to appear – click any image to open a virtual lightroom with higher resolution versions of each photo):
Ziggy Marley
Supporting the release of his seventh solo studio album, Rebellion Rises, Eight-time GRAMMY® award winning musician and reggae icon Ziggy Marley just kicked off his North America tour, which will be running throughout August and September.
You can check out the title track from the new album on Spotify, Pandora, and Apple Music, as well as the official music video on YouTube:
Ziggy on his latest album:
"The theme behind the album is really the voice of humanity and also representing humanity, and the rebellion is the awakening of the humanity within us so that we can balance the world with more love, with more unity, less divisiveness, less hate. So that's what we're rebelling for, and that's what the theme of the album is about. We don't want to focus on what we're against; we'd rather focus on what we are for".
Born to parents Bob Marley and Rita Marley in Jamaica in 1968 as David Nesta "Ziggy" Marley, Ziggy has be a pioneer in music in his own right since the late 70s.
The name Ziggy was given to him by his father Bob Marley, which means "little spliff".  ZIggy and his siblings Sharon, Cedella and Stephen formed as the Melody Makers in 1979.  Their debut song was "Children Playing in the Streets", a song written for them by Bob Marley, with all royalties from the release provided to the United Nations in support of the International Year of the Child.
The Melody Makers found much commercial and critical success throughout the 80s and 90s, and Ziggy Marley thereafter struck out with his solo career, releasing his debut album Dragonfly in 2003.  His second album in 2006, Love Is My Religion, won a Grammy Award for Best Reggae Album (his 4th win of many throughout his career).
He has been very active and prolific throughout his life, and this year saw the release of his seventh studio album, Rebellion Rises, which was written, recorded, and produced by Ziggy.
The concert Sunday night was awesome, and I had the opportunity to bring along family members spanning three generations, making it all the more fun.  As mentioned, the music style and messages are timeless, and it even inspired a six year old in our group to head out to the dance floor to dance and make new friends.
Ziggy Marley himself brought two children onto the stage to sing along early in the show, so it all seemed like a family affair on the stage and in the crowd.
This was my first time seeing Ziggly Marley live, and I really look forward to doing it again in the future.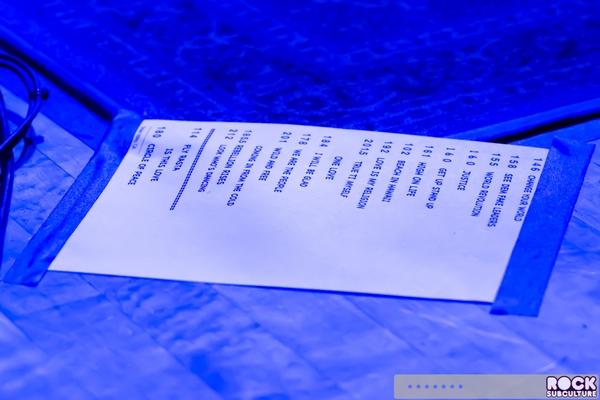 Set List:
Change Your World
See Dem Fake Leaders
World Revolution
Justice (Ziggy Marley & The Melody Makers song)
Get Up Stand Up (The Wailers cover)
High on Life
Beach in Hawaii
Love Is My Religion
True to Myself
One Love (The Wailers cover)
I Will Be Glad
We Are the People
Wild and Free
Coming in from the Cold (Bob Marley & The Wailers cover)
Rebellion Rises
Look Who's Dancing (Ziggy Marley & The Melody Makers song)
Encore:
Fly Rasta
Is This Love (Bob Marley & The Wailers cover)
Circle of Peace
Below are some photos of Ziggy Marley performing on stage (scroll downward and photos will begin to appear – click any image to open a virtual lightroom with higher resolution versions of each photo); apologies to the artists at the back of the stage for the lack of photos (due to angle and light):
Jason DeBord