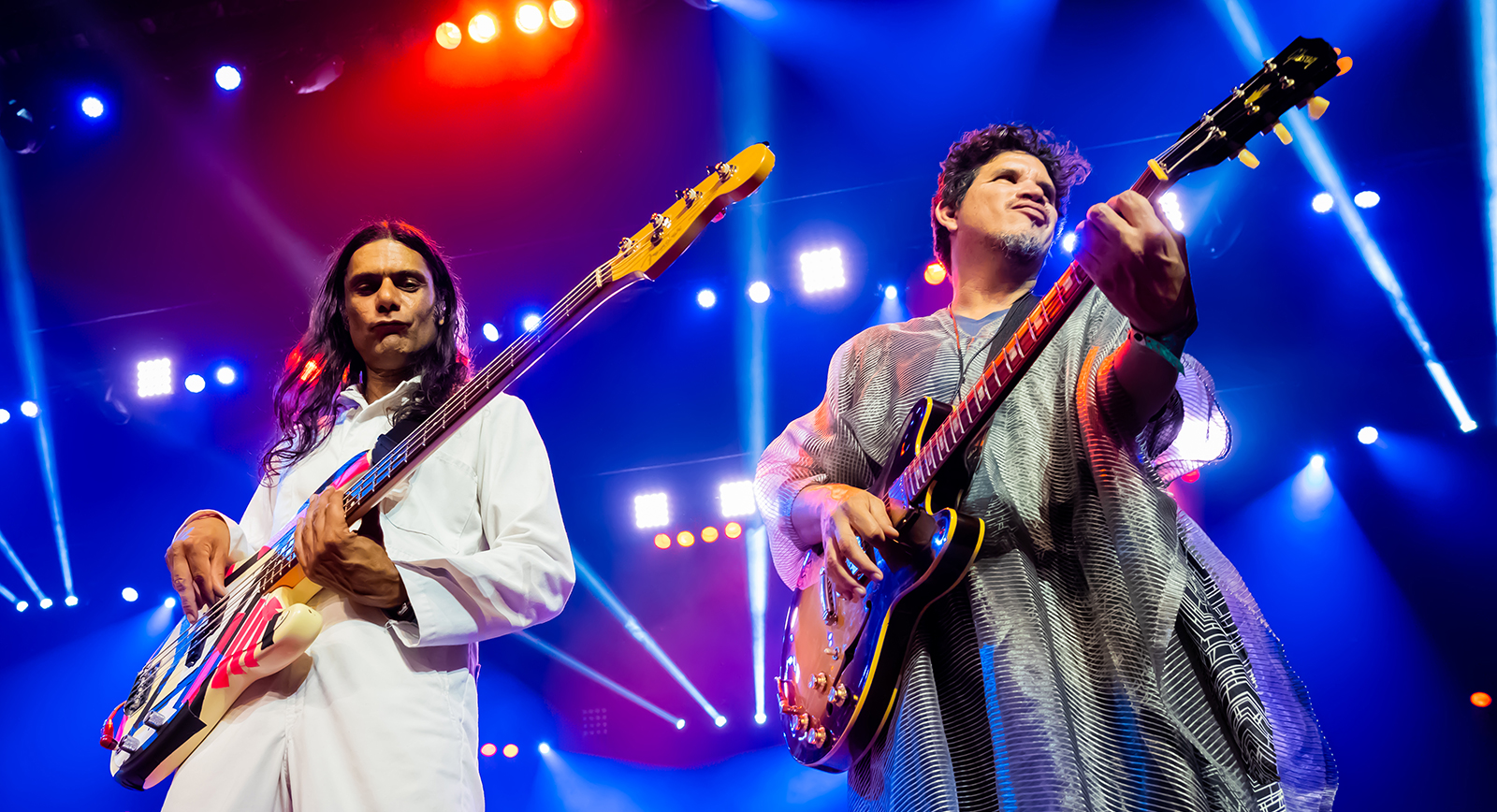 Music from the future.  I'm not sure how else to describe Thievery Corporation and their live show at the Grand Theatre at Grand Sierra Resort & Casino this week.  I've followed them casually for many years now, but never made a concerted effort to dig into their many releases put out on their own label going back a few decades now… but their live concert sure inspired me to do so.  Their music is so rich with influences, at once it feels like it is from everywhere and no where familiar all at once.  It doesn't feel "American", it feels more like it is from the planet Earth.  It is what I imagine popular music might sound like many, many decades from today.  But it is here and now.  In any event, whatever it is and wherever it came from Rob Garza and the many artist who work with him and tour with him put on one of the best shows I've seen this year, and turned me into a fan.  I have a lot of catching up to do, which is a good thing.
Who: Thievery Corporation
Supporting: Love Struck
Venue: Grand Theatre at Grand Sierra Resort & Casino
Where: Reno, Nevada
Promoter: Grand Theatre at Grand Sierra Resort & Casino
When: September 4, 2018
The Grand Theatre at the Grand Sierra Resort and Casino in Reno remains one of my very favorite venues, and increasingly they have brought out more and more quality shows since their renovation back in 2015.
The concert venue is built around a one acre large stage (one of the largest in the world) that from 1978 to 1987 was host to MGM's "Hello Hollywood Hello".
The entire venue has been redesigned, with a standing room-only GA floor space in front of the very wide and deep stage (though with some artists and shows, the GA area is replaced with assigned seating).  The venue also features theater-style seating going up to the back of the venue. There is also special VIP seating areas up higher on the far sides of the two walls.
The venue also has some of the best concert lighting and sound around.  I've never been disappointed in either, and lights and sound was absolutely sublime for this Thievery Corporation show.  In fact, I would easily rate this show's lighting in my top ten of best lighting at any show I've ever attended.
As with my past experiences, the staff at Grand Sierra Resort impress. I attend a lot of concerts, and the staff at the GSR are consistently very friendly and professional. I give the venue my highest recommendations!
Doors opened at around 8:00 for the 9:00 show start time.  Opening DJ duo Love Struck played from around 9:00 to 9:50.  Thievery Corporation came on a 10:25 and played until a little past midnight.
Love Struck
The supporting set was from a DJ duo I've since learned go by Love Struck, though I've not been able to find anything about them online to link to for more information.
Below are some photos of Love Struck performing on stage (scroll downward and photos will begin to appear – click any image to open a virtual lightroom with higher resolution versions of each photo):
Thievery Corporation
Members & Live Performance Troupe:
If you visit the official website, you can check out the bios (as linked above) of the vast number of artists who have contributed to the music of Thievery Corporation
Thievery Corporation was founded as a duo in Washington D.C. in 1995 by Rob Garza and Eric Hilton, the co-owner of Eighteenth Street Lounge; they created the Eighteenth Street Lounge Music record label the following year.
Their wide-ranging musical influences – jazz, bossa nova, dub, reggae, hip hop, electronica, Jamaican, Middle Eastern, Brazillian, Indian and more – can be heard in their own work.
They've put out ten studio albums to date, most recently this year with Treasures from the Temple.  I've listed to this album a lot in the past week, and absolutely love it.  It will definitely make me Top 10 list for new albums released in 2018.  So much variety yet there is commonality as well.  It is cohesive and includes one fantastic song after another, from beginning to end.
For a band that seems to place a large emphasis in the production of their work in the studio, they have such an impressive live show.  Rob Garza is literally at the center of it all pulling together all of the sounds that aren't played with real instruments live on stage, but the sound is full and real, with players on drums, bass, guitar and percussion.  Which of course leaves the vocals… and that was one of the most impressive elements of the concert, with a different vocalist (and sometimes more than once) coming out to perform each song.  Just as their albums are varied in style and sound, so, too, are their live shows.
It was all fantastic, and the group had boundless and endless energy driving the show for over and hour and a half, while playing a ton of material.
Rob also left his position at the center of the stage from time to time to come out to play acoustic guitar as well, and jam with his fellow musical artists.
In any event, these guys turned me into a huge fan with just this one show, and Thievery Corporation is now on my radar going forward as something not to be missed when they are playing in my area.
They have a big North American tour kicking off in early October, so I can't recommend enough checking them out if you have the opportunity.  They will not disappoint.
Set List:
Marching the Hate Machines (Into the Sun)
True Sons of Zion
Voyage Libre
Letter to the Editor
Culture of Fear
Illumination
Until the Morning
Take My Soul
Ghetto Matrix
Amerimacka
History
Hare Krishna
The Heart's a Lonely Hunter
Fight to Survive
Warning Shots
(The Forgotten People)
Road Block
Sweet Tides
Lebanese Blonde
The Richest Man in Babylon
Waiting Too Long
Facing East
Encore:
Weapons of Distraction
Depth of My Soul
All That We Perceive
La Femme Parallel
Sol Tapado (The Covered Sun)
Heaven's Gonna Burn Your Eyes
Unified Tribes
Below are some photos of Thievery Corporation performing on stage (scroll downward and photos will begin to appear – click any image to open a virtual lightroom with higher resolution versions of each photo):
Jason DeBord