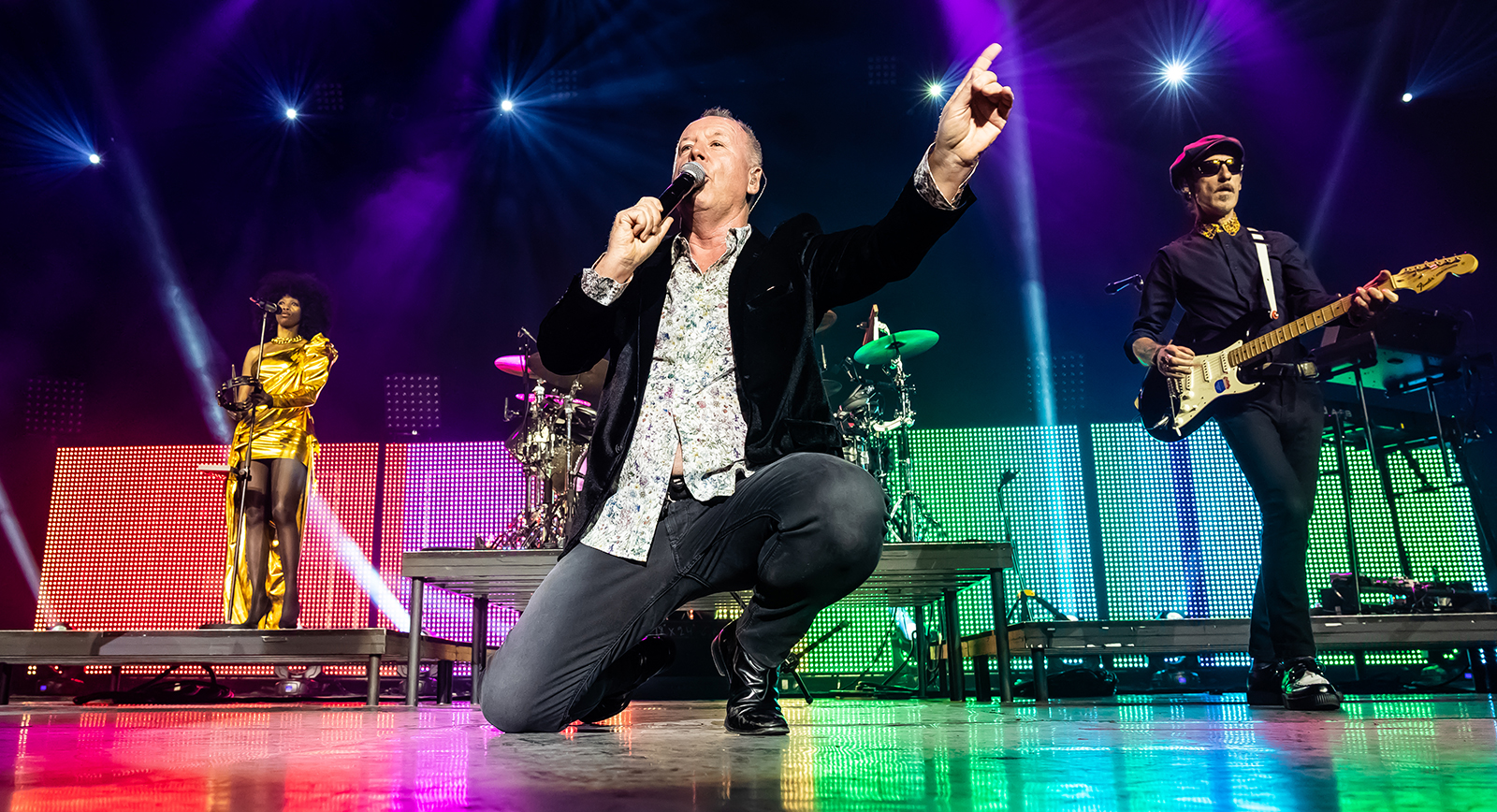 "Can't believe it's been, I don't know, one or two decades since we've been able to tour the States extensively… we count our blessings.  I can tell already we'll all have a great time tonight.  We know that people have traveled from all around to come here tonight, so we really appreciate that as well.  I should tell you that, because we don't get to come here…  because we haven't been able to come here as much as we would have like – would have loved – we're going to go the extra mile tonight." Jim Kerr, front man and vocalist of Simple Minds at the Grand Theatre at Grand Sierra Resort & Casino on Saturday night, before a crowd that was on it's feet for two full sets from the band.  Simple Minds – led by Kerr and co-founder and guitarist Charlie Burchill – have been recording and performing for 40 years.  And they show no signs of slowing down (and after seeing them live, I imagine that going "the extra mile" is a way of life for them).  Incredible music – old and new – stunning work on guitar by Burchill, and that voice of Kerr's…  still absolutely captivating.  The duo have an amazing band and this is one concert I will never forget.  Highest recommendation to get out to see this band in a very rare North American tour.  It was a transcendent experience.
Who: Simple Minds
What: "Walk Between Worlds Tour"
Venue: Grand Theatre at Grand Sierra Resort & Casino
Where: Reno, Nevada
Promoter: Grand Theatre at Grand Sierra Resort & Casino
When: October 20, 2018
Seating: (photo pass first three songs front of house; seat Section OC, Row A, Seat 19 & 20)
The Grand Theatre at the Grand Sierra Resort and Casino in Reno remains one of my very favorite venues, and increasingly they have brought out more and more quality shows since their renovation back in 2015.
The concert venue is built around a one acre large stage (one of the largest in the world) that from 1978 to 1987 was host to MGM's "Hello Hollywood Hello".
The entire venue has been redesigned, with a standing room-only GA floor space in front of the very wide and deep stage; the show with Simple Minds on Saturday night was an all seated affair, with seating in place of the usual GA floor (also resulting in a stage lower in relation to the floor).
The venue also has some of the best concert lighting and sound around. I've never been disappointed in either, and lights and sound was excellent for this concert.
As with my past experiences, the staff at Grand Sierra Resort impress. I attend a lot of concerts, and the staff at the GSR are consistently very friendly and professional. I give the venue my highest recommendations!  I just realized with this concert, that my last three shows have been at GSR, and I don't even live in Nevada.
Doors opened at around 7:00.  Walking into the venue, I saw far and away the longest line for the merch table I've ever seen at this venue.  It was "an evening with…" style show with no supporting artists or DJ.  Simple Minds started the first of their two sets at around 8:00, finishing at close to 11:00 (with an intermission of around 20 minutes).
Simple Minds
Members:
Jim Kerr (vocals)
Charlie Burchill (guitar)
Ged Grimes (bass)
Sarah Brown (vocals)
Gordy Goudie (keyboards, guitar)
Cherisse Osei (drums)
My own earliest memories of Simple Minds are those seminal hits of the 80's.  I remember being a geek in middle school in the mid-80's (when being a geek wasn't cool) and going to school dances and standing back in the corner taking it all in, afraid to dance or approach any girls (like those nerds famously portrayed in Sixteen Candles).  But I turned out for those lame school dances, because it was an opportunity to hear some of my favorite songs on a loud speaker system.  So with each of those dances that I would shop up for, I was guaranteed to hear songs by Simple Minds like "Alive and Kicking", "Sanctify Yourself", and "Don't You (Forget About Me)".  Even being a nerd, these songs filled me with hope and optimism, allowing me to transcend the otherwise lonely and awkward moment and overall existence as one who didn't quite fit in with the cool kids (think of a younger Brian Johnson as portrayed by Anthony Michael Hall in Breakfast Club).
Of course, Simple Minds literally intersected with those fictional but believable and relatable worlds preserved in celluloid by the late, great John Hughes.  What were then characters in movies are now regarded as archetypes from relatively simpler times.
So an opportunity to see Simple Minds live in concert for those from my generation (Generation X) in particular provides a unique opportunity.  A Simple Minds concert, for us, is not just a concert.  It is an experience that in a crazy way brings the past to the present… or transports us back to the past?  One way or another, the mix of nostalgia and feelings is intense and real.
Standing at the center of the stage at Grand Sierra Resort on Saturday night was Simple Minds' front man Jim Kerr.  Yes, older than we remember from those MTV music videos… but his spirit and smile seemed relatively unchanged.  Timeless.
In thinking about my experience at this concert, I Googled "Simple Minds" and "Religion"…  if I was interviewing Jim Kerr, the first thing I would ask him about his how his faith and his music intersect.  Why?  I don't know.  That was just at the forefront of my mind leaving the concert.  There is the music…  and the concert itself.  There was something about it.  I was curious.
One of the top search results was a Rolling Stone article by James Henke from May 1984 titled "Simple Minds Prove There's Power in Positive Thinking".
Reading the article – literally a snapshot in time from the heart of the 80s – reading it more than three decades later, from a completely different perspective from the audience it was written for at the time, is kind of surreal.
The interview with Jim Kerr was during a time when Simple Minds had "massive commercial successes in Britain" with speculation "that a stateside breakthrough is imminent".  This interview was done prior to the release of some of the bands biggest hits… "Don't You (Forget About Me)", "Alive and Kicking", "Sanctify Yourself", "All the Things She Said"…
I tend not to read much about artists unless I am doing a concert review (I prefer some mystery), and that was the case here with Simple Minds.  I've always taken their music out of context from the history and story and intentions of the individuals who created it.
So I went into the concert on Saturday night not really knowing too much about the band, other than that the two original members were Jim Kerr on vocals and Charlie Burchill on guitar.  And what I remember of their music videos back in the 80s.  In particular, I remembered "All the Things She Said", which seemed cool and weird at the time (what was up with the birds?).  And of course the video for "Don't You (Forget About Me)".
In terms of the music, it always felt as though it had some kind of religious influence…  not so much in lyrics but just in how it made me feel.  It was very grand and positive and celebratory.  I've always been drawn to "anthemic" alternative pop music, and Simple Minds was an early find for me in my childhood.  I was curious about the magic behind what made these songs so powerful.
So reading this old Rolling Stone article was interesting, because it certainly filled in the background at least a little, noting that Kerr was "born into a Catholic working-class family" in Glasgow.  I feel like this comes through in the music, even if it's not overt.  Maybe it's pure earnestness?
And in the interview in that article, Kerr's positivity shines.  And though the classic music videos were admittedly a bit cheesy, as nearly all were back in the early days of MTV, the one thing that struck me about Kerr in those videos and stayed with me all these years is how he just seemed so joyful.  A certain flash of smile that came through at moments.  It wasn't a put on – it felt so real.  Not as if he was looking into the lens of a camera, but he was looking at me.  This sort of omnipotent smile.  It conveyed joy… hope… optimism.  Kerr was a messenger, and his music was his gift; his power.  And his use of it came across to me as purely altruistic.  He found a way to spread this joy, hope and optimism beyond his circle, his home, his town, and even his country… to people around the world.  And he's never stopped.
Fast forward many decades to this current tour, and Kerr on stage has over the years retained that contagious joyousness.  He is absolutely beaming when he performs.  And in-between the songs, he shares his current thoughts and feelings with the crowd, engaging everyone on yet another level.
So I have many thoughts about this concert.  I have had so many thoughts since it ended that they've just been pouring out of my head (many already lost to sleep).
One that I won't forget is Kerr's relationship with his audience.  He is one of those very rare performers who has this incredible, real-time, direct, one on one connection with fans in the crowd.
The other two artists who I've seen perform live enough times that come to mind in this regard are Prince and Lindsey Buckingham.  Each of these artists really seek out fans one by one, locking on them with their eyes and sharing little moments, each feeding the other in a symbiotic relationship of pure emotion and adrenaline.  I should actually also mention Florence from Florence + the Machine in this unique group as well, as she literally comes down from the stage and takes fans' heads into her hands in a kind of rock and roll mind meld that's unlike anything I've ever seen.
But each of these are very rare artists that truly have a unique, direct connection with their fans.  It's as though the shared experience elevates each concert into a real "moment" that transcends what we all get listening to a favorite song or album alone.  This is why, in my opinion, music really stands apart among the arts as it has this incredible opportunity for artist and fan to fuse.
Getting back to that relic of rock and roll journalism from 1984, the closing passages really hit home:
"People ask me if I've been born again," he says, "and I say, 'No. I didn't have to be born again. I didn't go away.' But I think it's dead naive to think that these four walls are the only thing. I refuse to drift through life without a vision, or without hope."

"I've always maintained that a whisper could be more than a scream," says Jim Kerr.

Onstage at the University of Leeds, he puts that belief into action. Crouching near the edge of the stage, he peers intently into the audience, determined to draw each and every fan into his world. By the end, he's captivated the crowd.

As is the case with U2 and Big Country, a Simple Minds show transcends the boundaries of the usual rock & roll concert. It's more like a celebration. For Kerr, it's imperative that Simple Minds continue to make music that can evoke that kind of feeling.

"It's a challenge to sell a million records or more and to do it with dignity, style and grace," he says. "To do it with music that doesn't patronize, doesn't condescend, doesn't tranquilize. We make music that embraces. Just as the noises of those men and those trains reassured me, the noises of these songs make you know you're alive."
It's so amazing to me that these ideas from Kerr and characterizations about him and the band still hold true today, all these years later.
This is the only show I've ever attended at GSR in which nearly every person in the audience was up on their feet for the entire concert (and two full sets long at that)!  People were, I think, excited at the idea of seeing this classic band that almost never comes to the U.S., but at the same time, it takes a lot to not only meet expectations but exceed them.  Simple Minds led by Kerr after all these years fueled these people for hours, captivating them and moving them.  No one wanted it to end.  A stranger standing next to Shelley and I several times turned to us in amazement, asking if we could believe what we were seeing.
But it's fascinating to me that Simple Minds was accomplishing the same all those years ago, even with their biggest hits yet to be born.
I feel this can all be attributed to Kerr and his approach to life, to his art, and his partnership with Burchill going back 40 years.  It's quite incredible.  And both of these gentlemen must be quite amazing men, to carry on this working relationship in the arts for all of this time.  They've known each other since they were 8 years old.
And that history is rich.  Wikipedia can be hit or miss, but there is quite a vast and detailed accounting of the band and their efforts which is a must read if you have any interest in Simple Minds.  As a side note, I had no idea that Jim Kerr and Chrissie Hynde from the Pretenders were married.
I did know that Billy Idol turned down "Don't You (Forget About Me)", which resulted in Simple Minds exploding in popularity in the U.S. (and which was their only #1 single in the U.S.).
I've always felt that if the 80's as an overall decade had a theme song, that was it.  Nothing else comes close.  It at once captured and created the spirit of the time.  It's a vital artifact of our popular culture heritage who's importance cannot be undermined or overstated.  I love that song.  It's not my favorite 80's song.  It's not even my favorite Simple Minds song.  But it's importance is monumental.  And when the band was performing it on Saturday night, and Kerr was right in front of me a few feet away singing, I had one of those rare moments where adrenaline rushes over me, overwhelmed by the moment.
For me personally, a vital contributor to the work of the band back in those earlier days was vocalist Robin Clark.  Her vocals brought so much to songs like "All the Things She Said"… the songs would not have been as great without her participation.
But the band (particularly with Kerr and Burchill as more or less a duo) has been very prolific over the years, with 17 studio albums, most recently Walk Between Worlds.  Seemingly never ceasing in moving forward, there are even talks of the next album coming in 2021.  The new album is great – check it out.
It's really astounding taking in all of the band's accomplishments over all these years (most of my lifetime – I'm 45 as I write this).
On stage, the band still have it.  Yes, there are some younger faces among the older familiar ones, but it really all comes together quite beautifully.
The stage itself was clean, with an LCD backdrop showcasing the "tech rainbow" sort of motif from the latest album.  The sound and lighting was phenomenal.
While I've focused a lot on Jim Kerr as front man, I absolutely loved watching Charlie Burchill on guitar.  Shelley and I were lucky enough to have front row seats in the center floor section, to the left of the section which put us directly in front of Burchill.
Like Kerr, Burchill just seems to love being on stage performing this wonderful music.  And his work on guitar is just amazing.  He is one of those guitarists who somehow makes it all appear effortless, yet we hear these complex and layers of guitar…  it's magical.
Joining founding members Jim Kerr and Charlie Burchill was Ged Grimes on bass.  He has been with the band since 2010, and brings with him a wealth of music experience.  With some bands, bass is kind of inconsequential.  You can literally watch the bass player do his thing, and struggle to hear the bassline in the song…  bass is quite central in the music of Simple Minds, and Grimes excels.
Sarah Brown on vocals brings a unique take on those songs, and she really shines with her different take on those familiar works with a different range and rendition that exudes confidence.  Throughout the night, she was given opportunities to showcase her vocals, both as compliment to Kerr's as well as in some stand alone pieces.
Gordy Goudie was maybe the most fun performer to watch on stage.  Playing acoustic and electric guitar as well as keyboards, he showed so much range in his ability to fill in on such important elements of each song.
Cherisse Osei on drums was completely mesmerizing.  She obviously was born with a gift, yet she brought such joy and enthusiasm to it all, it was a remarkable thing to behold.  Drums have always been central to the music of Simple Minds, and I really can't imagine anyone today besting her ability to capture the soul of the band with her work.  Brilliant.
One of the most intriguing things to me about Simple Minds is that they arrived on the scene when New Wave was all the rage, particularly songs with overwhelming layers of synth sounds pushing the music.
Simple Minds and their music fits into what was happening on a large scale at the time… but their music is quite unique, and it is not synth heavy.  They were always a "real" band playing real instruments. Yes, there is some synth and keys, but none of it was ever the primary driver in the music.  It was mostly vocal driven, with all other elements of the songs – guitar, bass, drums, keys – given fairly equal weight overall, even among lots of changes.  Because of this, their music has aged well and I would argue is timeless.  This can't be objectively said about a lot of music from the early to mid-80's.  There is such musicianship behind their works.  Their music would have been successful in any decade.  In my opinion.
In any event, this article has quickly grown longer than most…  but I just loved this experience that much.  It was a remarkable and unforgettable show.  If you ever have ANY chance to get out to see this band live, I give my absolutely highest recommendations.  We don't want to wait another decade or two to see them again.  Support this band and inspire them to come back again, to inspire us all.
Set List:
Set #1
The Signal and the Noise
Waterfront
Love Song
Let There Be Love
Up on the Catwalk
Sense of Discovery
Promised You a Miracle
The American
Hunter and the Hunted
Stand by Love
Dirty Old Town (Ewan MacColl cover)
Set #2
Theme for Great Cities
She's a River
Walk Between Worlds
Someone Somewhere in Summertime
See the Lights
All the Things She Said
Dolphins
Don't You (Forget About Me)
New Gold Dream (81-82-83-84)
Encore:
Midnight Walking
Alive and Kicking
Sanctify Yourself
Below are some photos of Simple Minds performing on stage (scroll downward and photos will begin to appear – click any image to open a virtual lightroom with higher resolution versions of each photo):
Jason DeBord