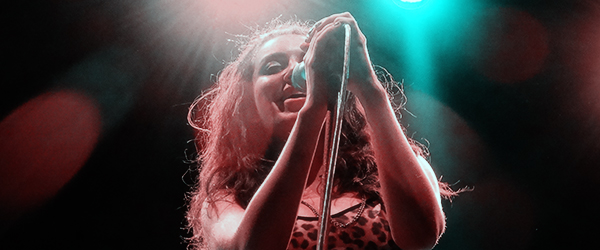 20-year old Brit pop singer-songwriter Charlotte Aitchison – known by her stage name Charli XCX – will be returning to the North America in a few months for her own headlining tour, and is also appearing at several festivals worldwide.  Having released her debut commercially released studio album True Romance via IAMSOUND Records, she will be at the top of the bill, having supported top acts in the past two years including Coldplay, Santigold, and Marina & The Diamonds. Emerging band Kitten will be supporting with their amazing live show.
You can find full details at her official website, www.charlixcxmusic.com: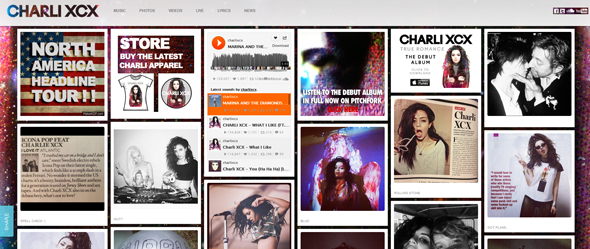 I saw Charli XCX
opening for Santigold at Club Nokia in Los Angeles
last year, and she was an amazing performer.
Kitten will be touring with Charli XCX many of the dates, and is also one of the most exciting live bands touring today – I saw them open for No Doubt at the Gibson Amphitheater in Los Angeles last year and Garbage at the Pearl Theater in Las Vegas a few months ago.
Below is the list of upcoming dates, current as of the time of this article publication date:
Thu 06/27/13 Norrkoping, Sweden – Norrköping-Bråvalla airfield (Appearing at "Bravalla Festival")
Sun 07/07/13 Turku, Finland – Festival Grounds (Appearing at "Ruisrock Festival")
Tue 07/09/13 Rome, Italy – Pop Circus Festival Grounds (Appearing at "Pop Circus")
Fri 07/12/13 Traena, Norway – Festival Grounds (Appearing at "Trænafestivalen")
Sat 07/20/13 Salacgriva, Latvia – Festival Grounds (Appearing at "Positivus Festival")
Sun 07/21/13 Gräfenhainichen, Germany – Ferropolis (Appearing at "Melt! Festival")
Fri 08/23/13 Leeds, United Kingdom – Bramham Park (Appearing at "Leeds Festival")
Sun 08/25/13 Reading, United Kingdom – Richfield Avenue (Appearing at "Reading Festival")
Note – below are the updated/rescheduled dates for the U.S. headlining tour:
Sun 10/27/13         Las Vegas, NV     Downtown Las Vegas
Tue 10/29/13          Portland, OR     Star Theater
Wed 10/30/13          Seattle, WA     Neumos
Fri 11/01/13          San Francisco, CA     Slim's
Mon 11/04/13         Los Angeles, CA     El Rey Theatre
Wed 11/06/13          Chicago, IL     Schubas Tavern
Fri 11/08/13         Columbus, OH     A & R Music Bar
Sat 11/09/13         Toronto, ON     Wrongbar
Mon 11/11/13         Montreal, QC     La Sala Rossa
Tue 11/12/13         Cambridge, MA     The Sinclair
Wed 11/13/13         New York, NY     Irving Plaza Powered By Klipsch
Sat 11/16/13          Washington, DC     U Street Music Hall
Mon 11/18/13         Nashville, TN     The Mercy Lounge
Tue 11/19/13         Atlanta, GA     Vinyl At Center Stage
Wed 11/20/13         Orlando, FL     The Social
Fri 11/22/13         Houston, TX     Fitzgerald's
Sun 11/24/13         Austin, TX     The Parish
Mon 11/25/13         Dallas, TX     Dada Dallas
Sat 11/30/13          London, United Kingdom     O2 Academy Islington
The Rock Subculture Journal will be covering the show at Slim's in San Francisco.
Click on the image below for the latest and up to date full Rock Subculture Journal schedule of pop and rock music concerts/tours coming up for review (2013 Rock Subculture Schedule):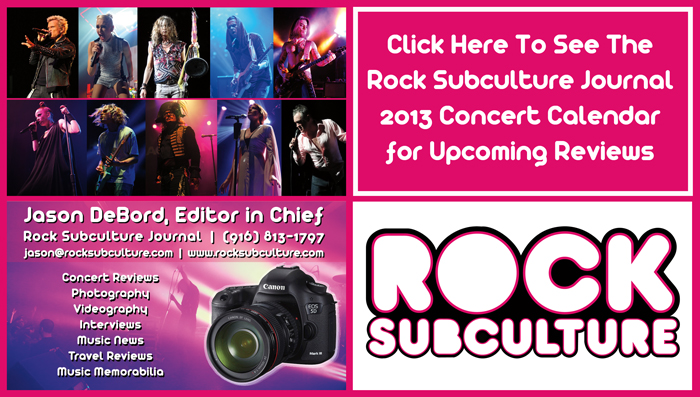 Jason DeBord